Who needs a gravel bike to win one of the most prestigious gravel races? This year's winners did not.
Rob Squire secured a threepeat at the 2017 Crusher in the Tushar riding his Felt F1x cyclocross bike and cyclocross tires.
Janel Holcomb won the women's race also on a cyclocross bike, reinforcing the message that for gravel racing, cyclocross bikes fit the bill just fine. Today we take a look at her winning Focus Mares.
A Mares Ready for Col d'Crush or 'Cross
Sometimes, a cyclocross bike is best or most suitable offering from a bike sponsor, other times it's what a racer already owns. In the case of Holcomb and her Mares, it's both.
The Mares cyclocross frame remains the most versatile option from Focus. The endurance road Paralane has more limited tire clearance, while the metal "All Around" models are built around flat bars. Holcomb showed off the versatility of the Mares, taking a common cyclocross build and adding Panaracer SK (small knob) Gravel King tires and a SRAM XD 10-42 cassette to conquer her first Crusher in the Tushar.
[caption id="attachment_102406" align="alignnone" width="750"]
Janel Holcomb's 2017 Crusher-winning Focus Mares cyclocross bike.[/caption]
Holcomb's ride, which now has both DK200 and Crusher pedigree, shares a few similarities to Squire's winning ride. Although Squire used Shimano Di2 and Holcomb relied on SRAM Force 1, both riders, of course, used carbon cyclocross frames, pedaled 1x drivetrains and SRM power-measuring cranksets and Wahoo ELEMNT Bolt head units.
Unlike Squire, Holcomb opted for alloy wheels, more traditional tubeless gravel tires, mountain bike pedals and an XD cassette. Holcomb's wheels were the new Mavic Allroad Pro UST model, and for tires, she went with the Panaracer GravelKing SK 35c tubeless tires. Holcomb said she was happy with the tire choice and did not lose much traction with the low-profile treads.
[caption id="attachment_102404" align="alignnone" width="750"]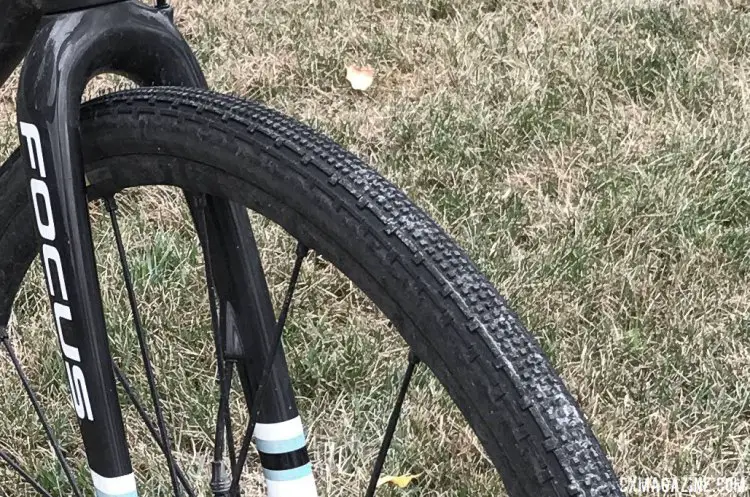 Panaaracer Gravel King SK 35mm tubeless tires kept her flat-free. Janel Holcomb's 2017 Crusher-winning Focus Mares cyclocross bike.[/caption]
Holcomb opted for a 42T chainring and 10-42 rear cassette to balance climbing with a little extra power on the long descent down the Cul d'Crush. She also said this about her gearing choice, "The 1:1 ratio was awesome. I like to spin but even in the 42-42 there was no spinning up Col d'Crush."
Have a look at her equipment choices in the brief photo gallery below.
Check out all our coverage of the 2017 Crusher in the Tushar.
Janel Holcomb's 2017 Crusher in the Tushar-Winning Focus Mares Bike Specs Highlights:
Frame: Focus Mares carbon
Fork: Focus
Handlebar: 3T
Seatpost: Focus Concept CPX
Pedals: Shimano XTR 9000
Shifters / Brake Levers: SRAM Force 1 DoubleTap HydroR
Front Derailleur: N/A
Rear Derailleur: SRAM Force 1
Brakes: SRAM Force 1
Cassette: SRAM 10-42 XD
Crankset: SRAM Force with SRM power meter, 42t X-Sync ring
Wheels: New Mavic Allroad Pro UST Wheels
Tires: Gravelking SK 35c tubeless tires
Extras: Lezyne Flow Cage SL bottle cages, Wahoo ELEMNT Bolt computer
Janel Holcomb's Crusher-Winning Focus Mares Photo Gallery: