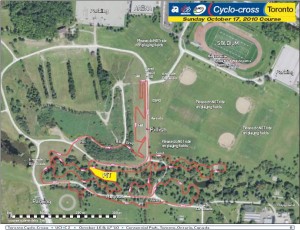 Davide Frattini (Hudz-Subaru) went back-to-back in Toronto, but Sunday's win on a flatter, more technical course proved more challenging for the Italian rider who was able to use the hills in Saturday's race to separate himself from the fray.
Derrick St. John (Garneau-Club Chaussures-Ogilv) and Andrew Watson (Norco Factory Team) hung tough until the very end, and Frattini and St. John traded attacks throughout the event before Frattini was able to get a gap late. St. John, who raced aggressively, suffered a bobble in a corner on the last lap, which provided Frattini all the room he'd need. Watson claimed third in front of Mark Lalonde (Specialized).
In the women's race, Natasha Elliott, the 2009 NACT series champion continues her comeback from illness and improved upon yesterday's second place by turning the tables and snagging the win in front of mountain biker Katy Curtis (Cmc/Bow Cycle). Pepper Harlton (Juventus) again took third, 27 seconds behind Elliott's pace, and a full 1:30 in front of Melissa Bunn (Stevens Racing P/B The Cyclery) in fourth.
Men's Results:
| | | |
| --- | --- | --- |
| 1 | Davide Frattini (Hudz-Subaru) | 56:45 |
| 2 | Derrick St. John (Garneau-Club Chaussures- Ogilv) | 00:11 |
| 3 | Andrew Watson (Norco Factory Team) | 00:32 |
| 4 | Mark Lalonde (Specialized) | 01:38 |
| 5 | Mark Batty (Spidertech Powered By Planet E) | 02:20 |
| 6 | Kevin Noiles (La Bicicletta Pro Shop) | 02:24 |
| 7 | Aaron Schooler (Team H&R Block) | 02:25 |
| 8 | Osmond Bakker (La Bicicletta Elite Team) | 02:26 |
| 9 | Evan Mcneely (Emd Serono – Specialized Cc) | 02:27 |
| 10 | Derek Hardinge (Lapdogs Cycling Club) | 02:31 |
| 11 | Zachary Hughes (The Hub Race Team) | 03:18 |
| 12 | Erik Box (Cycles Devinci) | 03:23 |
| 13 | Jared Stafford (Bikesports Racing Team) | 03:40 |
| 14 | Peter Mogg (The Hub Race Team) | 04:31 |
| 15 | Adam Morka (Trek Canada) | 04:40 |
| 16 | Peter Mancini (Esteemtraining.Com) | 04:56 |
| 17 | Greg Reain (Ride With Rendall) | 05:23 |
| 18 | Tyson Wagler (3 Rox Racing) | 05:30 |
| 19 | Nathan Underwood (Ride With Rendall) | 06:02 |
| 20 | Imad El-Ghazal (Kunstadt Sports Cycling Club) | 06:08 |
| 21 | Kevin Black (Wheels Of Bloor) | 06:14 |
| 22 | Conor O`Brien (Emd Serono – Specialized Cc) | 06:49 |
| 23 | Thomas Devisscher (Ride With Randell) | 07:01 |
| 24 | Marco Li (Darkhorse Flyers) | 07:04 |
| 25 | Andrew De Cal (Shorthills Cycling Club Race T) | 07:11 |
| 26 | Glen Rendall (Ride With Rendall) | 07:24 |
| 27 | John Roden (Handlebars Cycling Company) | 08:08 |
| 28 | Johnson Lance (Handlebars Cc) | 08:30 |
| 29 | Timothy Carleton (Trek Store Race Team) | -1 lap |
| 30 | Mark Brusso (Lapdogs Cycling Club) | -1 lap |
| 31 | Preston Wagler (3 Rox Racing) | -1 lap |
| 32 | Kiernan Orange (Ride With Rendall) | -1 lap |
| 33 | Justin Henri (Handlebars Cycling Company) | -1 lap |
| 34 | Cameron Jette (La Bicicletta Elite Team) | -1 lap |
| 35 | Philip Cates (Lapdogs Cycling Club) | -2 laps |
| 36 | Jayden Aldrich (Cyclocross World) | -2 laps |
| 37 | Guy Vankrimpen (St. Catharines Cycling Club) | -2 laps |
| 38 | Casey Roth (Ride With Rendall) | -3 laps |
| 39 | Danny Zotter (Gvcc/ Team Rog) | -3 laps |
| DNF | Nathan Chown (Handlebars Cycling Company) | -3 laps |
| DNF | Peter Morse (Jet Fuel Coffee) | -3 laps |
| DQ | Kyle Douglas (3 Rox Racing) | -3 laps |
Women's Results:
| | | |
| --- | --- | --- |
| 1 | Natasha Elliott (Garneau-Club Chaussures- Ogilv) | 36:24 |
| 2 | Katy Curtis (Cmc/Bow Cycle) | 0:17 |
| 3 | Pepper Harlton (Juventus) | 0:27 |
| 4 | Melissa Bunn (Stevens Racing P/B The Cyclery) | 1:58 |
| 5 | Marne Smiley (Scott/Ollett Coaching) | 3:15 |
| 6 | Laura Bietola (3 Rox Racing) | 3:33 |
| 7 | Amanda Sin (3 Rox Racing) | 3:57 |
| 8 | Sophie Matte (Stevens Racing P/B The Cyclery) | 4:25 |
| 9 | Leigh Hobson (The Hub Race Team) | 5:18 |
| 10 | Christiane Knobbe (7Thgroove/Re:Form Body Clinic) | 5:57 |
| 11 | Briana Illingworth (True North Cycles Race Team) | 6:33 |
| 12 | Emily Flynn (Emd Serono – Specialized Cc) | 6:52 |
| 13 | Emily Fisher (Cycle Solutions/Angry Johnny's) | 8:10 |
| 14 | Aimee Allen (Maple Leaf Cycling Club) | 9:31 |
| 15 | Shannon E. Ford-Smith (Lapdogs Cycling Club) | -1 lap |