As we initially guessed last month, Fox has built and today officially released an "Adventure Cross" or AX version of its lightweight 32 Step-Cast cross country fork.
The new fork, perhaps most accurately described as the "32 FLOAT 27.5″ 40mm Step-Cast AX," is intended for 700c drop bar gravel and adventure bikes.
[caption id="attachment_99547" align="aligncenter" width="750"]
The 32 Step-Cast AX (Adventure Cross) suspension fork is at home among any of Mother Nature's spring surprises. © Cyclocross Magazine[/caption]
Two Worlds Collide
Fox is a billion-dollar publicly-traded company, with 55 percent of its revenue coming from bicycles, and the rest coming from power sports including motocross, snowmobile and a 10-speed bird of prey with 13 inches of travel.
Of the 55 percent of sales that are from the bicycle industry, exactly zero percent of those sales have been from the road, cyclocross or gravel market. Fox's bread and butter are its suspension forks and rear shocks, and thus it should be no surprise that the majority of its cycling employees lean towards dirt when given a choice of terrain.
[caption id="attachment_99550" align="aligncenter" width="750"]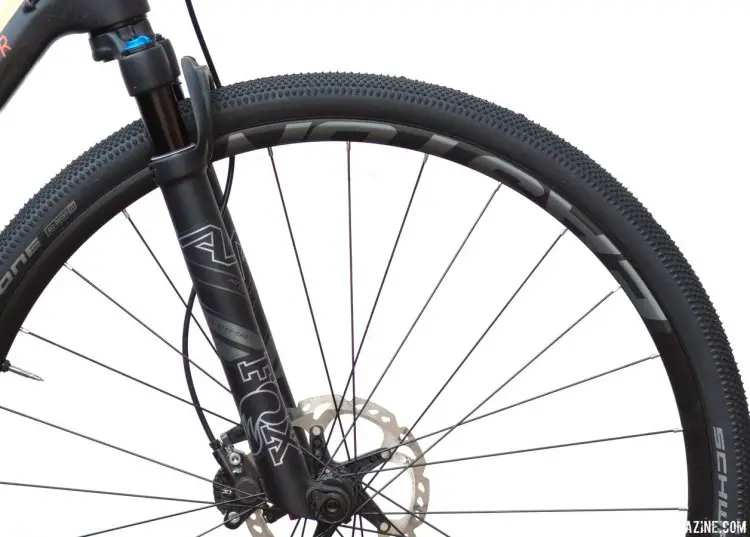 The 32 Step-Cast AX (Adventure Cross) suspension fork for gravel bikes slackens the head angle of a typical bike by a bit more than a degree. © Cyclocross Magazine[/caption]
These employees couldn't resist dipping a toe into gravel and adventure riding, but because smoothing out bumpy terrain is in their blood (and pays the bills), independently employees in both Europe and in California started dreaming of a way of adapting one of the company's existing products to their gravel bikes. Naturally the company's lightest fork, the 32 Float 27.5 Step-Cast fork was the logical platform, but with 100mm of travel, the fork would drastically alter any gravel bike.
Air springs were chopped, positive air chamber spacers were added (to increase progression and avoid bottoming out), fork crown clearance was confirmed, and within a few months of each other, two employees on both sides of the pond were riding short-travel versions of the Step-Cast, unaware of the other's underground project.
The News of 40mm Travels
"The enjoyment they found riding it and the positive reactions by others [who] saw it in the wild got around the office and we decided to delve further into the possibilities," Fox recalls.
Did the project and initial testing justify a production product? The company wasn't sure, and it was late in the 2018 model year development cycle. Starting a new product line would take two years, involve an order of magnitude of additional costs, and might lock the company into an outdated axle, brake mount, rake or steerer standard in a rapidly-evolving bike category.
[caption id="attachment_99557" align="aligncenter" width="750"]
The 32 Step-Cast AX (Adventure Cross) suspension fork for gravel bikes relies on the trusted post-mount brake mount, set for 160mm rotors, and 15mm Kabolt thru axles. © Cyclocross Magazine[/caption]
Rather than take such a risky approach, the company made the bold decision to simply offer a refined version of the skunkworks fork its employees developed as personal projects. A short-travel version of the Step-Cast fork only required a shorter air spring for the 27.5" 100mm (travel & hub width) model, meaning that near-instant production was possible, and a 2018 model year launch could happen as quickly as a publicly-traded company could approve it.
Not a 30-Year-Old Step-Back
We can hear the old-timer reader comments already, and we'll beat you to it. Yes, the short-travel Step-Cast AX Adventure Cross fork, at least on paper, seems all-too-similar to the first and second generation mountain bike forks of the late 80s and really early 90s.
The 40mm of travel puts the AX between the original Manitou M1 (38mm/1.5″ travel) and the original Rock Shox RS-1 (49mm/1.9″ travel) and Mag 20 (45mm/1.8″). John Tomac won races pairing drop bars with the 38mm travel Bradbury Manitou fork.
Heck, even Tim Johnson won his first Cyclocross National Championship with a 50mm travel Headshok and hydraulic brakes way back in 1995.
At 2.9 pounds with a cut steerer, the AX fork also tips the scale at similar weights to these early forks, weighing just a bit less than the M1, and a bit more than the Mag 20.
Number nerds can point out that even the 45mm offset (rake) of the Adventure Cross is no different than that offered by the original RS-1. And while the new AX Step-Cast fork boasts a lockout dial on the right leg, old-timers will be quick to point out that early Rock Shox forks featured dial-based "Automatic Lockout" systems as well.
[caption id="attachment_99551" align="aligncenter" width="750"]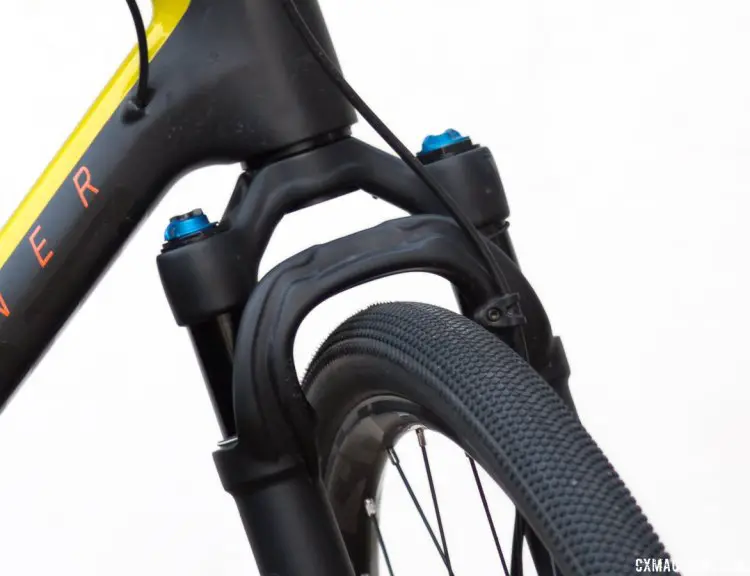 The 32 Step-Cast AX (Adventure Cross) suspension fork for gravel bikes is ready for adventure and will smooth out the bumps with 40mm of travel and fully-adjustable spring rate, damping, lockout and rebound. © Cyclocross Magazine[/caption]
However, that might be where the similarities end. In every way but travel, the Fox AX Step-Cast fork inherits modern mountain bike suspension technology. Robust 32mm stanchions, a self-equalizing Float EVOL air spring, Fit4 closed cartridge damping with 24 damping settings, and 15mm Kabolt thru axle are just some of the Fox technologies that bring this short-travel fork into this millennium (you can geek out on the Step-Cast fork technologies here). And lest we forget, gone are the cantilever brake posts found on old short-travel forks in favor of a post-mount disc brake.
[caption id="attachment_99573" align="aligncenter" width="750"]
The 32 Step-Cast AX (Adventure Cross) suspension fork has an open, medium and lockout damping settings, and the Open setting has 22 micro-adjust steps. © Cyclocross Magazine[/caption]
Even the target wheel and tire size has changed. While this fork is based on the 27.5″ wheel version of the Step-Cast fork, it's designed for 700c/29er (622mm) rims but narrower tires. The company says it will "easily fit 40c" tires (which means 40mm, if you're still confused by that letter C), but we're guessing you could squeeze bigger rubber at your own risk. Surprisingly, tires may first hit the crown in compression before the bridge, which obviously moves with travel.
This is not Ned Overend, Jacquie Phelan, John Tomac or your dad's old suspension fork. It's a smaller travel version of Emily Batty's plush ride.
Search around the web and you'll find plenty of more-affordable short-travel forks aimed at mixed terrain, albeit for "hybrid" bikes. Internals are different, price points are different, and geometry varies, but the concept in a way has long-been validated through this category.
Smooth Launch but Watch the Rough Corners
Fox is the first to admit that by pushing the project through to become a 2018 model year product, it didn't cut corners but instead left some sharp ones that reveal the fork's mountain bike roots.
The most noticeable one is that the fork's crown will not fit on some gravel bike frames because it will hit the down tube when turning the handlebars. This will be an issue on many smaller sizes of bikes, but it is highly dependent on the head tube and down tube junction design.
[caption id="attachment_99546" align="aligncenter" width="750"]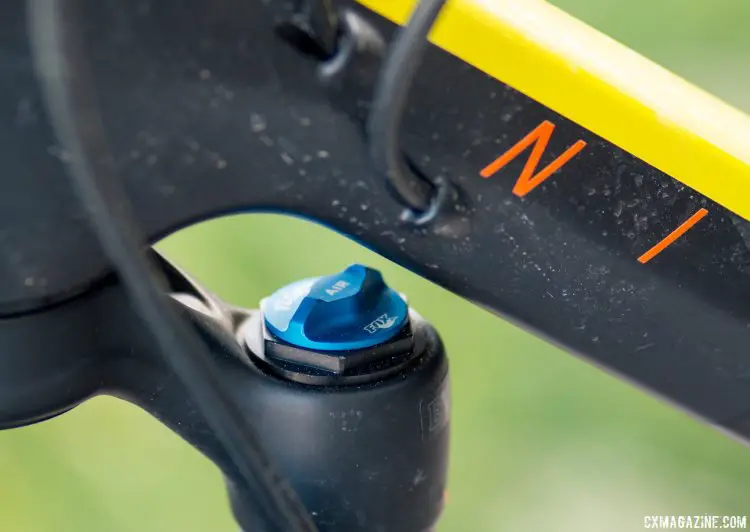 The 32 Step-Cast AX (Adventure Cross) suspension fork for gravel bikes may have clearance issues on some bikes, especially smaller frame sizes, but clears this 56cm Niner RLT, thanks in part to a taller crown race. © Cyclocross Magazine[/caption]
On our test Niner carbon RLT frames, the Fit4 knob hits the down tube on frame sizes 56cm and smaller, while on alloy Garneau Garibaldi gravel bikes, the fork fits on all frame sizes without issue. A fork crown or adjustment knob hitting the down tube is obviously a major safety issue, but on the Niner bikes, it's so close that a slightly taller fork crown race for the headset adds enough clearance to do all the bar spins you want, if your cables and hoses weren't in the way.
[caption id="attachment_99574" align="aligncenter" width="750"]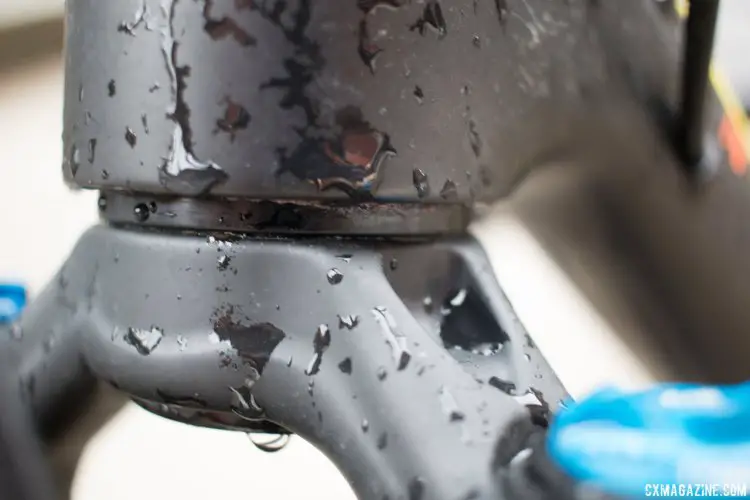 The 32 Step-Cast AX (Adventure Cross) suspension fork may require a thicker fork crown race for your headset to have adequate down tube clearance. © Cyclocross Magazine[/caption]
How will you know if the AX fork will fit your bike? Fox plans to have a template you can print out at home that will mimic the profile of the crown and help you estimate whether down tube clearance will be an issue.
Fox also knows that the 15mm thru axle front and post mount disc brake aren't the flavor of the month in the cyclocross and gravel world. However, even though 12mm and flat mount appears to be winning out, neither variable is actually performance-impacting and compatible components are widely available.
Reverting Back to a 30-year-old Dilemma
If the fork fits your frame, you've got a heavy decision to make.
The irony is that even though cross country mountain biking is a shrinking segment of the market, with enduro, all mountain and plus bikes commanding more attention and sales, the adventure and gravel bike market is growing and has blurred the lines between mountain bikes and cross/gravel bikes and made it more about labels defined by handlebar type.
Fox's Adventure Cross fork blurs the lines even more, and by doing so, brings back a 30-year-old dilemma mountain bikers faced when confronted with the possibility to switch to a short-travel suspension fork. Is the weight penalty, and potential geometry and handling change worth it?
[caption id="attachment_99572" align="aligncenter" width="750"]
The 32 Step-Cast AX (Adventure Cross) suspension fork pairs well with the Niner RLT and Easton cockpit, AX wheels and Cinch-based crankset and power meter. © Cyclocross Magazine[/caption]
There were plenty of naysayers and skeptics back then. There were also a lot more long fire road, point-to-point and giant loop mountain bike races back then too (not all that different from today's rougher gravel races). History repeats itself, with just a few more bends in the handlebar.
Rock Shox back in the day attempted to answer such common questions about weight, performance, and whether the suspension was only suited for racers, stating in 1990:
"Even though racers use them because they increase their speed over rough terrain, our recreational customers find they have a lot more fun and a safer ride since they don't get beat up."
Although words from a competitor nearly 30 years ago, they can certainly apply to Fox's entry into the rigid-fork-dominated gravel bike segment with a similar weight and travel fork.
It's admittedly hard to weigh such a decision without specifics, and the real numbers say that the fork with a typical cut steerer tips the scales at around 2.9 pounds. If you're swapping out a carbon fork, that's probably nearly a two-pound difference, but if it's a steel or alloy fork, perhaps less than an extra pound.
[caption id="attachment_99553" align="aligncenter" width="750"]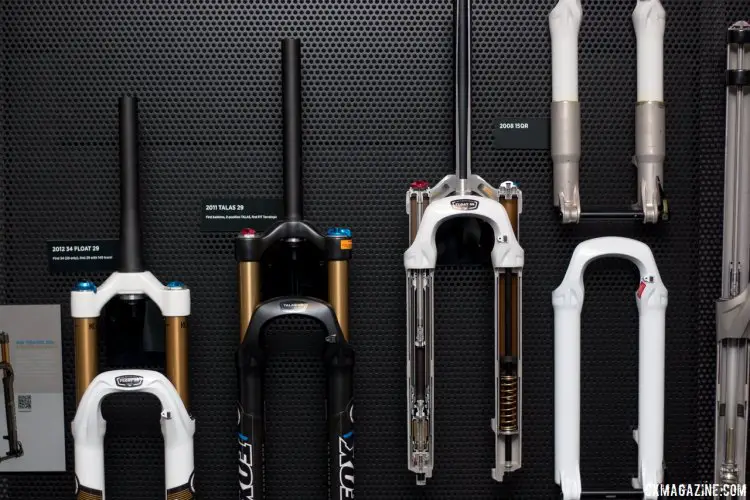 The 32 Step-Cast AX (Adventure Cross) suspension fork for gravel bikes isn't in the Fox museum yet, but if it gains traction, it might be one day. © Cyclocross Magazine[/caption]
Geometry wizards will take note that the fork features a 427mm axle-to-crown (without sag), and a 45mm rake. Fox estimates that the fork will slacken your frame's head angle by 1-1.5 degrees if you swap out a typical 395-405mm axle-to-crown rigid fork, but points out that some gravel forks feature a 47mm rake, and thus the 45mm rake of the Step-Cast AX trims the impact on the trail just a bit. It's also worth noting that a bit of fork sag (7-10mm is recommended) will also reduce the effective impact on your bike's front end geometry.
Ned Overend winning mountain bike Worlds on a suspension fork quieted some of the suspension naysayers, and a test ride or a major gravel victory could so the same here. We can't really accomplish the latter (one of our ride companions is Amanda Nauman, who might succeed this weekend), so we set out on the former this past Monday.
Adventuresome AX Validation
Have you ever finished a ride or descent when your hands and triceps hurt more than your legs? If so, perhaps the Adventure Cross fork is made for you.
If it's possible to adequately test a concept and "adventure" product on one ride, our four-hour dirt ride through the hills and rain of unincorporated Santa Cruz county certainly provided a robust testing ground. With 4000 feet of climbing and descending on eroded, rutted dirt roads, slick rock, gravel and mini water slides, there were enough bumps to offer up bruises or test the AX's capability.
[caption id="attachment_99567" align="aligncenter" width="750"]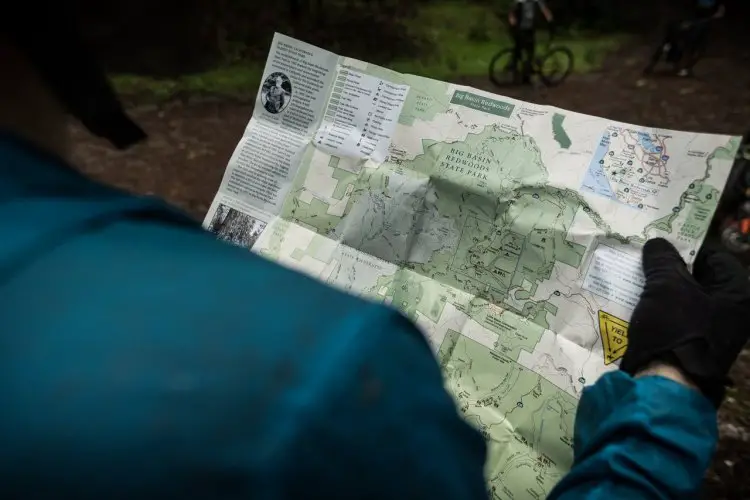 Preparing for a big ride in the woods. Fox AX Adventure Cross Fork test ride. photo: Connor Macleod[/caption]
Set to 130 psi (for this 165-pound tester), and left fully open for most of the ride, the Step-Cast AX certainly took the edge off what Mother Nature has left behind after a record-setting wet winter.
Natural water bars, rocks, sticks and logs left behind from storms, and wheel-eating puddles and potholes were no longer pucker-inducing or tire-piercing obstacles, and the tad-slower steering (compared to a stock carbon Niner fork) was even welcomed on longer descents. The rubber O-ring indicated I used all 40mm of travel, but I don't ever remember feeling like I bottomed out.
[caption id="attachment_99560" align="aligncenter" width="750"]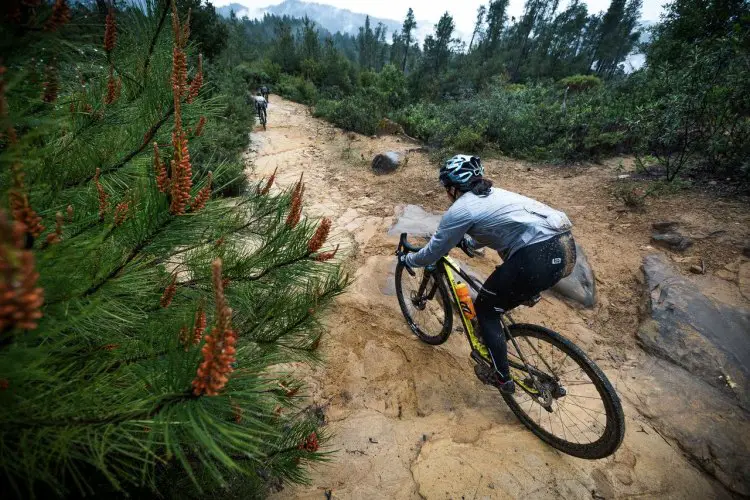 Amanda Nauman tests her new Fox AX Adventure Cross Fork down wet Santa Cruz county slickrock. photo: Connor Macleod[/caption]
Such a ride can be murder on an injured body, but the fork was a godsend for this tester with a partially-separated shoulder and bad knee. Two-time Dirty Kanza winner and pro cyclocross racer Amanda Nauman joined us on the ride, and also was amazed at how the hand she injured last year at CrossVegas didn't throb after the same long test ride.
[caption id="attachment_99561" align="aligncenter" width="750"]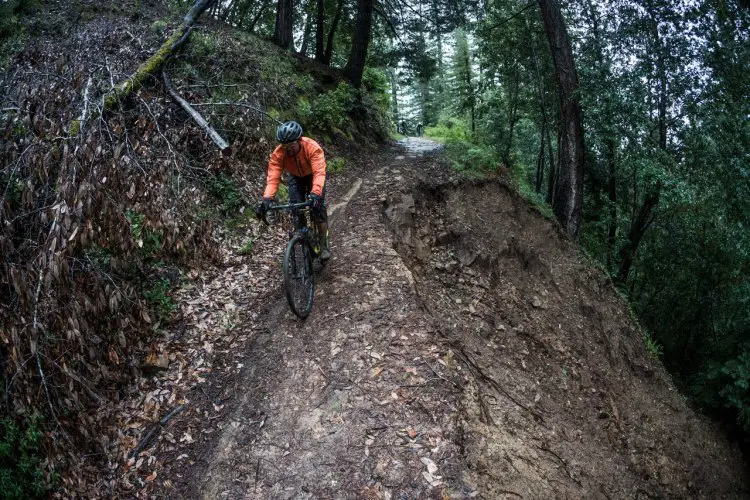 Fox AX Adventure Cross Fork test ride down whatever Mother Nature presented (or removed). photo: Connor Macleod[/caption]
Sure, the two pounds were noticeable on the climbs, just as was the better tire-to-ground contact on the bumpy uphills. It was an adventure ride, not race, after all. We were only racing fading daylight, and the smoother ride of the fork just might have prevented any of us from taking unwelcomed ride-extending crashes. We all survived the wet, sloppy ride relatively unscathed, with big smiles and huge appetites – two big metrics of success.
The Fox 32 Step-Cast AX fork could either be seen as breaking the mold of gravel forks, or as a minor refinement of something that's been done for 30 years. It's funny—consumers and product reviewers are always trying to put products in a box—even when our riding is all about escaping such walls. If the Step-Cast AX fork enables venturing further from these walls, can anyone argue against that?
Riding in unfamiliar terrain on unfamiliar bikes may not be the most rock-solid environment to test a bump-smoothing product, but so far I'm impressed. Thankfully, we've got the same test bike on hand for a longer-term test on familiar terrain. Stay tuned.
Fox 32 Step-Cast AX (Adventure Cross) Suspension Fork Specs:
MSRP: $819
Travel: 40mm, via Float EVOL air spring
Compression: Fit4 closed cartridge damping, Open, Medium and Lock-Out settings, with 22 fine-tuning clicks on Open mode
Axle: 15mm thru axle, Kabolt
Tire clearance: 700c x 40mm with room to spare
Brake mount: Post-mount, 160mm rotor minimum
Axle to crown: 427mm
Rake: 45mm
Availability: May
More info: ridefox.com
Fox 32mm Step-Cast AX Adventure Cross Suspension Fork & Test Ride Photo Gallery: