Our own Josh Patterson has been testing a disc brake equipped Salsa La Cruz, and so disc brakes have been on his mind. And while the brakes that now dominate the mountain bike market are banned from UCI cyclocross events, he weighs in on the future of the brakes in our beloved sport: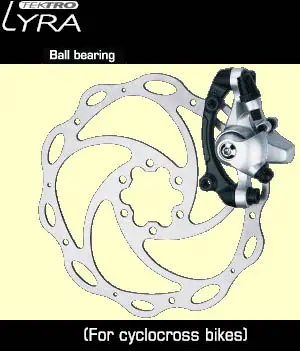 Disc brakes banned from cross? Well kinda. Depends on who you are and the sanctioning body under which you race.
Discussions of the pros and cons of disc brakes generally ignite heated debates among members of the cyclocross community
Many of the reasons given for not using disc brakes – weight penalty, overkill for road and cyclocross racing – have less to do with using disc brakes than using brakes designed for mountain bikes.
There's no way around it, discs will always weigh more than canti's. But they don't have to weigh as much as they do now. When it comes to using disc brakes with road levers there's very little selection. Last time I checked the number of mechanical disc brakes designed for use with road levers was two: the road version of the venerable Avid BB-7 and Tektro's Lyra.
Per wheel the road BB-7's weigh in at 361 grams. The Lyra has a published weight of 148 grams per wheel. These weights include caliper, rotor and mounting hardware. The Lyra is sign of things to come; 140mm rotors instead of the traditional 160mm sizing reduce weight as well as stopping power. The reduction in braking power is not necessarily a bad thing. Disc brakes with equipped with 140mm rotors can provide more stopping power than cantilever brakes while decreasing the weight penalty.
There's a lot more that has to happen than designing road and 'cross-specific disc brakes. Frames, forks and rims all have to be strengthened. Even though it may be small, there's a weight penalty incurred in a disc-specific road or cross bike frameset and wheelset.
There are significant benefits. Disc brakes outshine rim brakes when conditions turn nasty. Mud, water, sand and ice wreak havoc on rims and brake pads while decreasing braking performance. Discs are less effected by adverse conditions. Wheel changes can be faster with discs, flip the quick release, pull the wheel out – no fussing with the brakes.
If I were to make a prediction, it would be that as commuter bikes become more prevalent, so too will disc brakes for road and cross. I don't think Sven Nys or Tim Johnson will be straddling disc-equipped race bikes anytime soon, but for the the weekend warrior – for whom a cyclocross bike is a commuter / utility bike first and a race bike second – discs make perfect sense.
Think the UCI is wrong to ban them? Or such modern technology has no place in 'cross? Disagree with Josh? Join the banter in our beta forums.