Corey Coogan Cisek is a master of overcoming barriers. Last week, readers enjoyed her tales of jumping through bureaucratic hoops and canceled flights to return to the cyclocross hotbed of Belgium. 
Now, she finds herself in Europe's latest COVID-19 hotspot trying to race her bike.
Belgium now leads all of Europe in per-capita COVID-19 cases, recently passing the Czech Republic (the two countries host four of the five UCI World Cup Cyclocross races this season).
Catch up on her latest adventures in today's Cyclocross Apprenticeship column.

European Cyclocross in the age of COVID-19
If you have been paying attention to European news, you've heard: once again, COVID-19 has overwhelmed Europe.
Remember in the summer when we looked at Europe with envy? They had beaten down the virus. No longer. It seems to me that they might have opened up too completely. Restaurants and bars were fully open when I arrived.
Belgium's positivity rate is sitting at approximately 18% with about 12,000 cases/day, around 50 cases per 100,000. It's now worse than the U.S. on a per-capita basis.
Yet, as of now, we are still racing.
Belgium has taken aggressive action to slow the spread and prevent hospitals from being overwhelmed. Further, the Flanders region has imposed measures that exceed those of the federal government.
All restaurants and bars are fully closed for a month, teleworking is imposed, and overnight curfews are in place. All sports competitions are canceled except professional events, which must take place without an audience.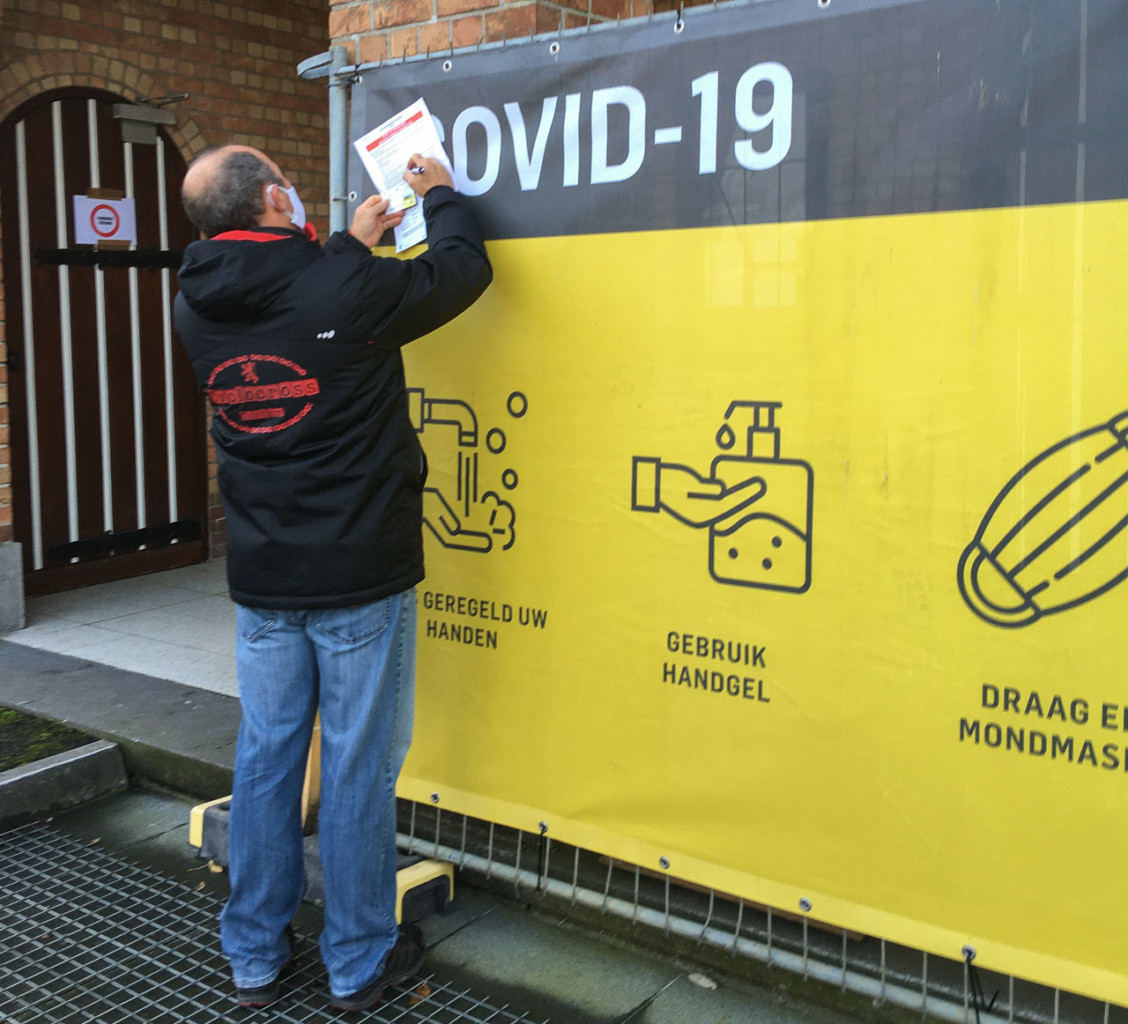 And, yet, I feel quite safe.
Our day-to-day life remains unchanged. My Velo Revolution Cyclocross Custom teammate, Michelle Geoghegan and I train, get groceries one or two times a week, and otherwise stay home. Per Flanders health measures, group rides of more than four are prohibited and the gym is closed. Even before the restrictions, we made the health decision to forgo the large "Scheldepeloton" group ride, as well as the gym. We are utilizing a single six-kilo kettlebell and laundry detergent bottles to maintain strength creatively.
I've attended two races, one domestic and another UCI. Each was, frankly, impressive in terms of COVID-19 protocol.
Agter de Berg Cyclocross—Hechtel
I've done very few non-UCI races in Belgium in recent years. Yet, knowing that I've arrived in Belgium under-raced, it made good sense to start the season with a domestic calendar, "B-race."
"Back in the day," women's fields at B-races used to be far more "B-like." In fact, circa 2015, I won a B-race. I mean, never say never, but I have a sneaking suspicion I won't see the podium at a B-race again!
Likely as a result of adding a U23 and then junior women's race to Worlds, B-races races have become a platform for young riders to develop the skills/speed for UCI racing. Unique to this year, each of the early B-races drew a handful of pros. They went there seeking race form in light of the sparse UCI calendar.
All this to say, there were 60 riders in our field and the race organization/professionalism was on par with the average American UCI race.
The B-race gridding procedure provides a bit of difficulty for those who do not regularly participate. In theory, it's a random draw. In practice, the best Belgians in attendance "draw" spots in the top-3 rows. After paying a "foreign-rider surcharge" to enter the race, Michelle and I drew a midpack start position. Given the tight and twisty course, we spent more than a lap fighting through the "scrum."
Hechtel is a sandy area east of Antwerp. As a rule, if the race is east of Antwerp, it's likely to be sandy. Hechtel delivered on this promise. After a summer spent riding sand ruts on tiny Minneapolis beaches, my sand skills have improved. That said, relative to a Belgian sand course, city beaches are comically inadequate.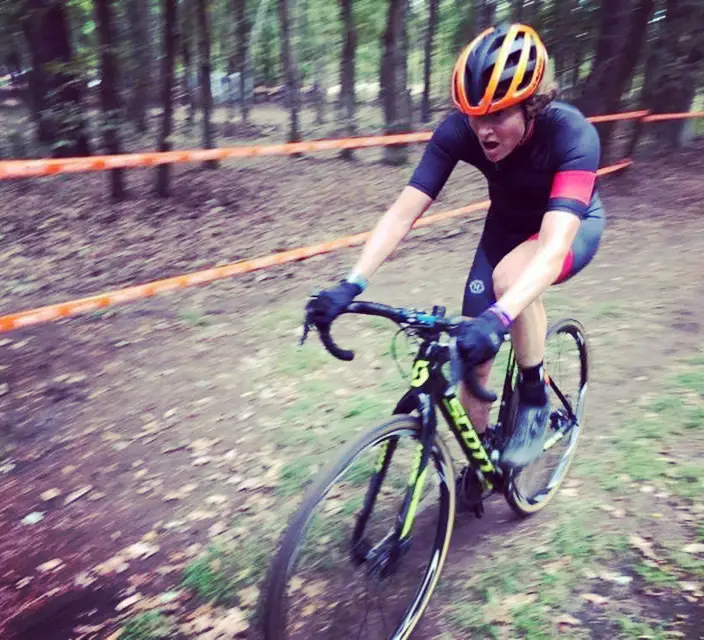 At the end of the day, my overwhelming emotion was happiness. It felt amazing to truly suffer, Belgian-sand style and race amongst a large field.
Honestly, I never even looked at the results. Any result would need to be analysed relative to the disadvantaged start position. I was happy to feel "better than expected" given my lack of racing.
SuperPrestige Ruddervoorde
Control the controllables? The controllables felt quite tightly controlled at the SuperPrestige.
Nowadays, each rider must sign on with her staff of no more than three. Everyone arrives at sign-on masked, and they hand out nifty SuperPrestige masks for riders and staff at the door. From there, we proceed through temperature check, turn in health/contact tracing forms and receive numbers and passes. The process is one-directional and socially distant. I was, frankly, impressed.
On-site, the number of vehicles is limited to one per rider, to prevent parking from becoming its normal squeezed chaos. There is universal masking, excluding racers pre-riding and racing. We keep masks on at the start until we hand off our jackets.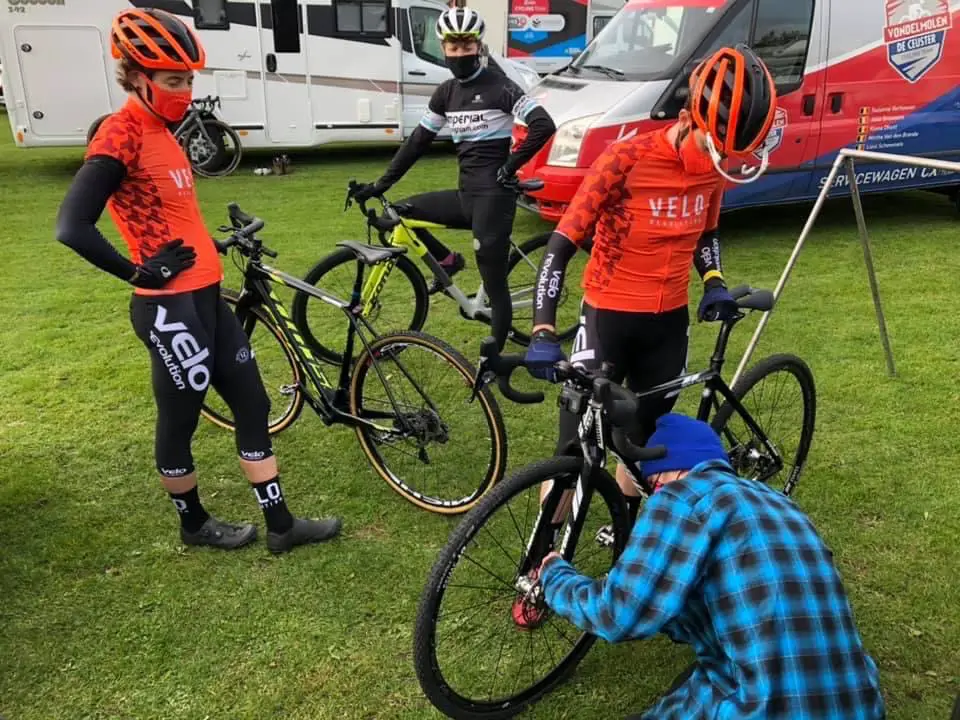 I don't feel like racing is a public health hazard. Between the many procedures (detailed in a nifty,19-page guide), the outdoors and the lack of fans, it feels far safer than many settings.
Maybe I will be proven wrong regarding the safety…I certainly hope not!
My perspective from this side of the pond? At the moment, I feel safe.
My result at Ruddervoorde? Ouch. It was the normal "welcome back to Euro-UCI racing" wake-up call. Each year, I still need to be reminded to fight for every…single…inch. There were nearly one hundred entrants on a course with many bottle-necks. I "lost" too many fights for position, burning matches heedlessly.
I also struggled with the speed. This is not a surprise given a summer with no road racing, no group rides and no motorpacing. North Americans were more impacted by COVID-19 restrictions and stresses. While the European-spring was similar, they've had racing opportunities since August. In light of this, I have vowed to be patient and give myself some grace early on. The challenge is living up to that vow!
The Shapeshifting Season
By the time I hit submit on this rider diary, something I've said will be out-of-date.
Here's how it stands now:
The federal measures, as well as those of Flanders, have had a large impact on cyclocross. Those B-races, I spoke of above, are gone. Because of the mandate to only allow professional racing, U23 and junior races are canceled. This includes the junior females who compete in the Elite women's field: they may not race. Due to the need to limit field size, strict entry conditions have been imposed. These entry conditions prioritize those in the top-50 of the UCI ranking followed by Belgian teams and riders. I could go on…..
It seems daily, even hourly, things shift for or against one's favor.
I've hit the point where I basically don't worry.
If you sign up for this season of racing, you sign up for quite a bit of madness. This is a season to expect the unexpected and take the opportunities as they come.
Thanks for reading.
Catch up on Coach Corey Coogan Cisek's earlier columns here.