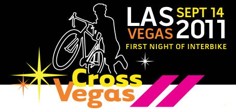 JULY 23 – Signaling that both the cyclocross season and Interbike are approaching, registration for CrossVegas opens Tuesday August 2nd.  The biggest cyclocross race in America takes place for a 5th year on Wednesday September 14 following the first day of Interbike.
The elite men's and women's field is drawing considerable interest, especially with the participation of a contingent of Belgian cross stars lead by two-time world champion Bart Wellens of the Telenet-Fidea Team.  But among industry cross fans it's all about the Wheelers & Dealers Race presented by Bicycling Magazine.
The bicycle industry's race for yearlong bragging rights includes overall titles for women and men.  On the women's side Katy Steudel of the Hayes Bicycle Group has dominated the race. The only 3-time winner of CrossVegas, Steudel is undefeated in the women's Wheelers & Dealers race while Jon Cariveau of Moots holds two men's Wheelers & Dealers titles.
Added this year to the Wheelers & Dealers race is the Mechanics Challenge presented by Feedback Sports. "We needed to share some love with the guys who keep the wheels turning and make the service departments profitable for retailers," said Brook Watts, CrossVegas organizer.
Feedback Sports, maker of bicycle repair stands and measurement tools based in Golden Colo. founder and president Doug Hudson commented "CrossVegas is such a fun event and adding the mechanics category will step up the competition for bragging rights even more.   We are stoked to be sponsoring the mechanics category and  I can't wait for the race."
For the "shiftless crowd" the Single Speed Challenge presented by Raleigh returns for a second year to satisfy the growing interest in single speed racing in cyclocross.
Other Wheelers & Dealers categories include Media, Retailer, Manufacturer, Distributor and Advocacy.
All registration is online at www.crossvegas.com.  Fields are limited to 100 riders.
Sponsors include Clif Bar & Company, Raleigh Bicycles, TRP Brakes, Sierra Nevada Brewing Company, Bicycling Magazine, Vermarc Sportswear and Interbike and others
About CrossVegas
CrossVegas takes place Wednesday evening September 14th following the first day of Interbike.  The race is organized by Watts Marketing Inc. of Longmont Colo. and has become a fixture on the U.S. cyclocross calendar attracting 10,000 spectators to Desert Breeze Soccer Complex in Las Vegas. Complete information including schedule, admission information and VIP hospitality packages is available at www.crossvegas.com