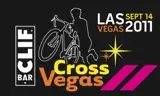 Longmont, Colorado —  Luck really is a lady this year at CrossVegas. Crankbrothers has stepped up to support women's cyclocross racing at Clif Bar CrossVegas by sponsoring the crankbrothers ladylucx elite women's race. The ladylucx race will offer prize money to the top 5 women finishers that's equal to the men.
Crankbrothers will be on-site at the annual season-opener on Wednesday, September 14, promoting their new pro women's race team, called the race club. Crankbrothers will have a course-side VIP race club lounge area, complete with race club cocktails and great views of the action.
The race club is a new kind of race team. It is in one manner a world cup racing program, and it is also an exhibit of crankbrothers' love for simple, classic design. The race club began with Amy Dombroski, and now she will be joined by Chloe Forsman, who will make her race club debut at Cross Vegas. Both Amy and Chloe will be chasing down the ladylucx prize on their beautiful Ibis Hakkalugi cross frames.
Crankbrothers' marketing manager, Amanda Schaper, had this to say about the race club and CrossVegas: "The race club is first and foremost an elite women's race team, but it's so much more than that. We call it 'the club' because it's inclusive. There's no velvet rope keeping the fans out. We want people to be a part of it. Our racers are super fun, and at events we want people to come hang out with us. That's why we have the VIP race club lounge at CrossVegas. Kicking back at a cross race with a bunch of fans and some race club cocktails—what more can you ask for?"
"What a perfect way to support women's racing," CrossVegas Director Brook Watts commented, "equal prizes for the Top 5 places shows the efforts that cyclocross is taking to bridge the gender gap.  Crankbrothers understands that and turns it into a fun promotional opportunity."
The vision for the race club is an inclusive racing organization linking the program partners with riders, racers, passionate fans, and enthusiasts through a love of speed, design, and beauty. The organization prides itself on its simplicity, design, and love for classic beauty.
"I get asked a lot why we created a women's team. The answer is simple: the race club is about the beauty of cycling, and there's nothing more beautiful than a woman on a bike" commented Schaper.
Let luck be a lady at Cross Vegas …