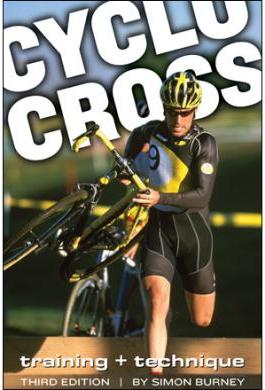 Today, we caught up with Simon Burney, the author of the seminal "how to" book on cyclocross, Cyclocross Training and Technique, now in its 3rd edition. He is a former professional cyclocross racer and has spent more than 20 years managing professional cyclocross and mountain bike teams, working with some of the top cyclocross racers in the world. Simon served as the performance manager for mountain bike at British Cycling and has raced, wrenched, or managed the national team at the Cyclocross World Championships for 28 years. He's spoken with us before, but since the season is about to stat, we wanted to pick his brain for some tips for our new-to-cyclocross readers and get an idea of what he's been up to lately.

Cyclocross Magazine: First of all, you've been a major figure in cyclocross for a long time. We'd love it if you could reflect on how the sport has been growing and changing in the past few years.
Simon Burney: I think the major changes and growth are generally well known; it's the big rise in participation in the US and the growth of popularity of the sport on television and for the general public in Belgium. Outside of those two areas there is probably only limited growth or change in other countries apart from a small ebb and flow in the number of races and participants year to year. But those two growths are significant and have had a big impact for the sport.
CXM: Do you think that overall, it's changing for the better?
SB: Yes I think so; I mean it's hard to see a downside to so many people taking up the sport in the US isn't it? It's added a new dimension to the US industry too with new bikes and components which is healthy, and simply getting more people involved in 'cross — whether new to cycling or coming from the road or mountain bike — is a great thing. The growth of the sport and the stars in Belgium is also a good thing for the sport and the Elite riders in that particular country, but I do think that there is a small downside to the Belgian dominance. So much focus is there it seems like it might restrict development in other countries because, frankly, as a professional rider if you aren't competing in Belgium you won't be making the same money that is available there, which is solely down to sponsors attracted by television.
Maybe it's like American Football; it's played in other countries but only in the US can players maximize their earning potential.
CXM: When you first started in cyclocross, Switzerland was the hub, much like Belgium is now. How do you think that shift happened?
SB: When I first started it seemed like it was split more evenly; I don't think Switzerland was necessarily the same as Belgium is now. There were big races every weekend in both countries, plus other big events in places like The Netherlands, Czech and France. There was no World Cup then and the Super Prestige was an important series and it seems like it was a bit more international. There were some great Swiss riders then; Zweifel, Richard, Wabel, Breu, Honegger, Busser, Frischknecht … It was a long list and if that caliber of rider can race against one another each weekend in their own country and make good money then there is little reason for them to travel. As that generation retired it just seemed like there were no riders coming through to take their place, the races gradually reduced by one or two each year, and suddenly 10 to 15 years down the line there are very few Swiss 'cross specialists and very few races on the UCI calendar.
CXM: Do you miss the "good old days" of cyclocross?
SB: Its easy to get misty-eyed and think that it was better in the old days, but no, I don't miss it. I loved that period of the sport and that stage of my life but life and sport moves on and if you get stuck in a moment then it's hard to progress. I had to keep up with the changes in the sport to satisfy what I was trying to do in my life and be as successful as I could be managing teams and riders.
CXM: Your career in cycling has been a long and varied one. Do you have any regrets about it, anything you would have done differently?
SB: I regret crashing and having an early termination to my racing life but when one door closes another one usually opens. Without that incident then I doubt my career path would have developed as it did, and I've had a great time since. I've always tried to have a "glass-half-full" attitude and while in hindsight some decisions might seem wrong, at the time you make decisions based on how you feel in that moment so you make a decision and make the most of it and regretting something doesn't help make the most of what you decided to do.
CXM: What was one of your favorite memories, as a manager or a racer, during the nearly 30 years you've been involved in cycling?
SB: I've got a ton of great memories and if someone starts off on a "do you remember when …" conversation then I've got a good memory of most races I've ever been at. My most satisfying day as a manager was the mountain bike race at the Commonwealth Games in Melbourne in 2006 when the English pair finished first and second. We had worked hard on getting everything right for that day, as we did for every big race, but on that day it all came together and we were successful. I know it's not a cyclocross memory but it is an off-road bike race so it's close enough!
CXM: Are rumors that cyclocross in the UK is "exploding" true? If so, what does that mean for you?
SB: I really hope so but that's the first I've heard of it! The UK scene has been pretty much the same for a while time now; a National Series of five or six rounds that get reasonable attendance depending which part of the country they are held in, and some regional series that get great numbers of local riders, but I think talk of an "explosion" might be exaggerated. Again, as in some other countries we had some classic big races a few years ago on some really good circuits that sadly no longer exist either due to lack of sponsorship or tighter control of venues. There were some great international races that attracted some big names and they had good crowds and some television coverage, and it would be great to see some of those come back. I was working with the Federation last year to get a World Cup round in the UK but at the last minute the funding from the town we were working with to host it was no longer available just as the bid was due to go in so it didn't happen. I think British Cycling would still like to see it happen and they have an events department that has done a great job hosting track and mountain bike World Cups so it just needs the right partners and the stars aligning and it could become a reality.
CXM: The big question. When are you going to have the fourth edition of the book?
SB: Well it was seven years between the first and second Edition, and around 12 years between the second and third Edition, so based on that I guess it should come out in around 2018! Really it's time for someone else to have a go; there are people way more qualified than me now to write in more detail, especially as training and equipment evolve so specifically to the discipline. I do have another 'cross book project on the go but not training and technique; I've just got to make the time to get it done.
Now, a few training questions for our readers:
CXM: When is the best time to start a cyclocross training routine?
SB: That's a tough question because it depends so much on what else you have going on — whether you race the road, have commitments to a team or club, or what your attitude to cyclocross is and where you see your strengths and weaknesses. If 'cross is a focus then it makes sense to ramp up the riding and racing as the summer progresses and to start including some technique work in July and August. The US season is still relatively short with a lot of races crammed in the early part of the season so if you don't get on your 'cross bike off-road until September or October, before you know it the season will be half done and you'll still be playing catch up trying to get your feet in the first time and jump barriers efficiently. Working with a coach or planning your year effectively will take care of getting you in the best shape you can be in for your target races. Getting off-road and practicing during the height of summer takes some commitment but will probably make a big difference.
CXM: When picking a cyclocross bike, what should a new rider pay attention to?
SB: I'd suggest having a budget in mind and researching well what is available for that price then getting some advice from someone who knows the sport and equipment demands well. Firstly, when choosing a brand make sure the size you need is available, as a lot of manufacturers maybe only have a reduced number of sizes available compared to their road lines. I personally still think good wheels and tires make a big difference for speed and comfort, more so than an expensive group set. So for example, pick a cheaper Rival or 105 group but get good wheels and tires and this will give you a better ride experience than a top of the line group and mediocre wheels and tires.
CXM: In really simple terms, what should a training week look like for someone just starting out?
SB: I think it's about maximizing the time you have available and training specifically for the demands of the races that you are doing. A 'cross race for a beginner is 30-40 minutes long of trying as hard as you absolutely can, so this is what you should initially train for. Most beginners who don't have much time can make the biggest improvements by training hard — and by hard I mean with a lot more intensity than they think they can — by resting and recovering from this intensity, and by getting off-road and practicing some simple techniques such as hurdling, dismounting and remounting, and cornering faster and faster until they feel comfortable and more confident about doing this in a race.
CXM: What about for someone who has been racing for a few years?
SB: If you've been racing a few years you should know what works and what doesn't work for you. If you've stopped improving look back at old training diaries and see what worked, drop doing what didn't work and don't be afraid to try new sessions or ideas. There's no magic formula and every single person reacts differently to a given training session or workload.
CXM: What's the most important thing for a new racer to work on?
SB: Technique.
CXM: Any secret tips or tricks that you live by when it comes to training?
SB: Nope. There are no secrets, every bit of information is out there. Simply work hard when you do train, think about what you are doing and most importantly why you are doing it, break down the race into its component parts and cover all of them in training, rest more than you think you should, and make training something that is fun and you look forward to by mixing it up.
A huge thank you to Simon for his wisdom and advice, and here at Cyclocross Magazine, we're excited to see what his new book project shapes up to be!