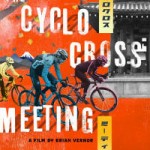 Chicago-area cyclocross fans have a chance to get up close and personal with acclaimed filmmaker Brian Vernor (Pure Sweet Hell, We Just Work Here) and one of the stars of the film, pro rider Barry Wicks. Both will be on hand October 25th at the Music Box Theater to answer questions after the premier.
The Cyclocross Meeting is a documentary meditation on the sport of cyclocross and the human connections it inspires around the world. The film follows pro Barry Wicks and rising star Adam McGrath to Japan where they compete with seven time Japanese National Champion Keiichi Tsujiura and the up and coming talent Yu Takenouchi….
A lushly textured paean to the hardships and joys of the excruciating sport, the film explores the challenges and personal narrative behind the pursuit of the "perfect ride." Also featured is a rare interview and visit to the shop of 35 year veteran framebuilder, Shigeru Nakagawa.
See also CXM's interview with Brian Vernor and our feature on the film's world premier.
The Cyclocross Meeting
Music Box Theater
3733 N. Southport Ave.
Chicago, IL 60613
Monday, October 25 at 7:30pm
Tickets available at online here
Cost: $10
Seating is limited. Advanced purchase is recommended.
Presented by SRAM and Bicycling Magazine