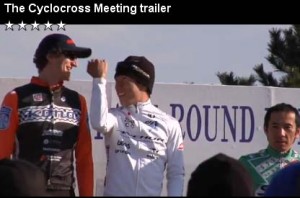 As Brian Vernor, director of the new film The Cyclocross Meeting, said while introducing his latest release in front of a packed house in Bend, Oregon's Tower theater, "This sure feels different than when I brought Pure Sweet Hell to a hotel basement in Portland."
The Cyclocross Meeting's world premier, held  in conjunction with the U.S. National Championships, offered a pre-party shmooze fest as well as a warm-up act by Talkdemonic, a violin and drum duo playing over electronic samples while cyclocross footage played on the big screen. But the attraction was the new 'cross film, and Vernor was right, he's come a long way since his first filmmaking foray with Pure Sweet Hell, a gritty, black-and-white depiction of cyclocross shot on Super8 film.
View the The Cyclocross Meeting trailer here.
The premise of the film is to take two Elite American 'cross racers, Barry Wicks and Adam McGrath, bring them to Japan, and explore that country's cyclocross scene. The Cyclocross Meeting centers on its lush, beautiful cinematography. Vernor admits that he has been heavily influenced by the surf film genre, and it shows; the film is laden with stunning cyclocross race action shots and glorifying slow-motion with a soulful soundtrack.
After kicking off by following our two American protagonists to a series of domestic races, the crew heads to Japan and visits with the eight-time-running Japanese national cyclocross champ Keiichi Tsujiura. Tsujiura discusses his dedication and attitude towards the sport, and why he returns to Europe every year to race against the best and continue to improve his game.
McGrath and Wicks tour a series of Japanese 'cross races and we get a taste of the flavor of the sport there, still living in the shadow of the Keirin track events. We also get some of McGrath's backstory – he's a full-time mechanic for the Maxxis-Rocky Mountain mountain bike team in the summer but then hangs up the wrenches to focus on his own riding in the fall as one of the country's top 'cross talents.
Although the film has already had its inaugural screening, it's still evolving. Vernor reports that he still has more footage that he plans to add, including some from his recent trip to Japan.
Expect the film to make the rounds over the next year, stay tuned to your local bike events, film festivals and Vernor's website. Cyclocross Magazine also has a feature article on Vernor coming up in Issue 8!