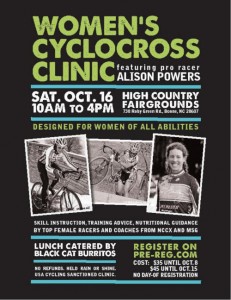 Pirate Race Productions is excited to announce that Alison Powers, America's number one female cyclist, is coming to Boone this Saturday to host a Women's Cyclocross Clinic. With over 10 years of professional sports experience, two national championships, and a love of the sport, Alison brings an unparalleled knowledge base to cycling.
The clinic is designed to appeal to women ranging from raw beginners to seasoned vets who are interested in improving their skills, knowledge and confidence. The clinic will be held at the Boone Fairgrounds, home of the High Country Cyclocross Training Series every Wednesday night in October, as well as the Appalachian State University Cycling Team's home course, where they will host a race on their way to defending their national title. The cost of the clinic is $45 and includes lunch catered by Black Cat Burrito.
As leader of Team Vera Bradley Foundation, Alison was the #1 ranked rider in the country in 2009, garnering five wins and 10 podiums. She is racing for Specialized for the 2010-11 cyclocross season, and finished eighth at CrossVegas against some of the top talent in the world. Prior to her cycling career, Powers competed on the World Cup circuit with the U.S. Ski Team for seven years, but a knee injury in a World Cup downhill crash in 2001 led her to eventually retire from professional skiing in 2004. After a few years training on mountain bikes, Powers took to the road, racing at the highest level, and in 2008 won the gold medal at the US National Time Trial Championships. Alison will also be hosting a Fall Women's Cycling Camp in Asheville October 22-24 that will focus on road riding.