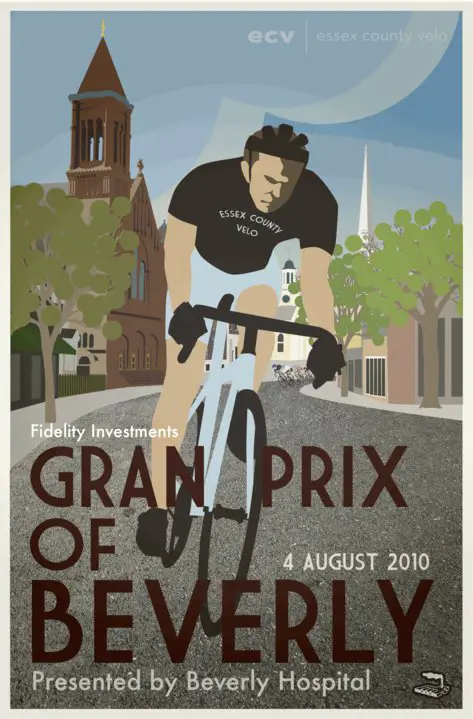 by Josh Liberles
Short circuits, intense efforts, handling skills and plenty of accelerations. The similarities between criteriums and cyclocross races have always run deep, but the Gran Prix of Beverly, scheduled for August 4th, takes it one step further: Anyone who raced the Gran Prix of Gloucester cyclocross race in either 2008 or 2009 will be eligible for a special Cyclocross Competition. The top-placed 'crosser in every criterium category will receive free entry to the 2010 Great Brewers Gran Prix of Gloucester in Stage Fort Park.
Gloucester's cyclocross event is one of the most well-regarded in the nation, and it's no surprise that the Beverly race would want to create a connection with that excellent North Shore, Massachusetts-based event and draw some of the "'cross over" athletes. Essex County Velo promotes both races, and Beverly race director Paul Boudreau has also served as director of the Gloucester Gran Prix. Further aiding that connection is none other than reigning Elite national champion Tim Johnson, who designed the course and now calls Beverly home.
Other prominent 'crossers scheduled to be in the mix in Beverly according to the event's web site are Lyne Bessette, who more recently has turned to triathlons after an extremely successful road and cyclocross career, and multi-time national champion Jesse Anthony.
Are you in the northeast and ready to prove your high-end speed before the looming 'cross season kicks off?
From the organizers:
State championship bike racing comes to Garden City, Part of Beverly Homecoming
BEVERLY, MA – The hottest month of the year kicks off with sizzling cycling action during Beverly Homecoming. On Wednesday, Aug. 4, downtown Beverly will spring to life with the return of world-class bike racing and the second annual Fidelity Investments Gran Prix of Beverly, presented by Beverly Hospital. Last year, the inaugural Gran Prix of Beverly attracted hundreds of spectators, including many first-time cycling fans, who were treated to front-row views of a stunning series of lightning-quick criterium races. This year, with the Gran Prix newly designated as the official "state championships" and coinciding with Beverly Homecoming, the races promise to be even more of a spectacle.
The Gran Prix will consist of four divisions – Elite Men, Open Women, Masters Men, and Amateur Men – as well as a kids race. All four groups will race the same serpentine course, which starts and finishes on Cabot Street in the heart of downtown Beverly, and winds along sections of Hale and Dane streets. For the uninitiated, a criterium, or "crit," is a high-speed, high-stakes chess match on two wheels. Held on relatively short circuit course – typically on closed city streets – a criterium features brightly clad competitors constantly jockeying for position at speeds of up to 35 miles an hour as they repeatedly circle past spectators, and closer to 45 miles on hour during the final dash to the finish. Each race lasts roughly an hour, and consists of several "races within a race," called primes (pronounced "preems"), ensuring non-stop action.
"The whole atmosphere was so charged," said veteran pro racer Tim Johnson, a native of Middleton who now calls Beverly home. "The transformation of Cabot Street into a race course is pretty amazing. I was so excited about the crowds, three and four deep by the start-finish area, and going past St. Mary's Star of the Sea church, with Father Barnes ringing the church bells for the primes. Everything was amplified."
This year, race organizers scored a major coup by having the Grand Prix of Beverly staged a week earlier, to coincide with the 44th annual Beverly Homecoming, one of the highlights of the city's calendar. This citywide celebration – the quintessential New England summertime festival – guarantees a terrific crowd. The Gran Prix will be held on the same day as another popular Homecoming staple, the annual Lobster Festival.
"It's a real win-win for Beverly Homecoming, with two major events going on mid-week," said Beverly Recreation Director Bruce Doig, who also plays a major role in Homecoming organization. "It looked like a good marriage."
According to Doig, the focus of Homecoming calendar – more than 80 events strong – has recently migrated to Lynch Park along city's coastline, and the Gran Prix will help re-establish the event's traditional ties to the city's main thoroughfare. "It's a huge event," said Doig of the Gran Prix. "It was so dramatic, when you see how fast these racers are going, and the turns they're trying to negotiate. And the businesses look at it as a win-win, because the race is drawing a lot of people to the downtown, and there's plenty of opportunity for them to stay open."
Last year, several restaurants took advantage of local streets being altered into a race course/walking mall, setting up sidewalk tables to create outdoor cafes and enhancing the party atmosphere. And the racing didn't disappoint. In the Men's Elite race, New Hampshire's Benjamin Zawicki of Richmond Pro Cycling won in a furious sprint finish, edging Robbie King of IF/Lionettes and Beverly's own Shawn Milne of Team Type1. Two more top pro riders from Beverly, Johnson and Jesse Anthony, finished fifth and 12th respectively. Former Canadian national champion Lynne Bessette, Johnson's wife, finished second in the women's race, winning the bunch sprint behind Rebecca Wellons of NEBC/Cycle Loft/Devonshire Dental.
Anthony, Bessette, Johnson and Milne are all expected to return this year, ensuring another top-flight field. Bike races are only as good as the competitors, and the fact that Beverly can bring such star power to the start line is a testament to the cycling community found on Boston's North Shore and to the race organizers, spearheaded by Beverly-based cycling club Essex County Velo. It also reflects Johnson's commitment to the free kids race. "I really want to see the kids race become a must-see event," he said. "That's where we grow our future champions, and future ambassadors of the sport.
Video from 2009 event:

More info on granprixbeverly.com