While many of us may idolize the pros, it's often the working man that is doing the sport out of love that we can relate to most. HRS/RockLobster rider Ben Popper is one such guy, and he's entering his third 'cross season with a simple goal – earning just one UCI point. Follow Ben on this journey this season through his regular journal. Here is Part II. Read Part I, about his opening weekend at Michigan's Double Cross Weekend here. Part III is here.

Crossvegas
You could tell from miles away that this was going to be a madhouse.
The course was actually far from what I was expecting. Yes, it was mowed grass, but far from flat. And at almost a mile and a half, it was longer than I expected as well. The grass was not even typical grass. It seemed to change in consistency, where in some places it was really short and thin like hard pack, and in other places it was longer and softer making the bike want to float across it and shift from side to side.
When the Pro women finished, I went out on a few warm-up laps where I got to ride with a few pretty fast racers and chat-Adam Craig, Adam McGrath, both super nice. I also got my mandatory crash out of the way early after stopping at the pit for a drink. Pulling away, a couple guys asked for a wheelie and I was more than happy to oblige. I got the front end about a foot or so off the ground before I remembered I was clipped in and it was too late. The front wheel was making its' move and before I knew it, in front of hundreds of people, looped out and fell flat on my back. Everyone went crazy.
Call-ups began soon after. The amusing thing about these call ups was that Lance Armstrong did show up and there was a media frenzy surrounding him. So while Page, Trebon, Johnson and the other top twenty super fast cross racers were called up, no one seemed to take any notice as they had to push around the Armstrong media blitz. I have to say, it was pretty intimidating. This was my first UCI C1 race, all the national hopefuls were lining up and I was about five feet from Lance Armstrong. The field does not get any more stacked than this was. 38 racers later, Lance got his call up and after number 40 was called, we all rushed the line.
I was standing in the fourth row, not bad, where I pulled in towards the left fence. The instructions were given; fifteen seconds to start, then the gun. We were flying. And I was off the line ahead of Lance. The start was fast and aggressive. Riders wanting your line and trying to keep it, the pushing, shoulders, elbows, it was a pure UCI start! Through the barriers, up the run up, down and around; still with Lance, the crowd was insane. There were so many people and they were everywhere.
The leaders were already pulling away, but I felt strong and settled in to ride with the group of five or six riders in the low 30's for the first few laps. The racing was fast and I just wondered how long we would be able to hold off the leaders. We were working together well, trading pulls and maintaining our position pretty well. Then with about five laps to go on the climb a few of the guys ditched me like an ugly date so our group dwindled.
I was listening to the announcer and it seemed that the leaders had about a half a lap ahead on me and I could hear that the race was super competitive amongst them. I was almost positive that I was going to get pulled with one or two to go, so that lapped riders would not interfere with the finish.
So, I started giving people high fives as I rode through the course. High fives everywhere. The finish straight and the areas surrounding the run up were packed with people. So as I rode through the course I'd ride along and give five to anyone who'd open their hand to me. This was also about the time I realized that what people were handing out were singles. I started grabbing the singles and avoiding the beer. As good as a beer hand up sounds, it hurts pretty badly. The funny thing was that I was not keeping on the wheel of the racers in front of me, but when I would ride through the finishing straight I was actually making up time on them. When you stop focusing on how much it hurts, and instead on slapping peoples' hands, racing seems to get easier. Even on the run up, I started shouldering my bike to high five people, trampling photographers in the process.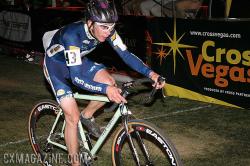 The race was blistering fast, but super fun. That will be the fastest race of the year, and somehow I managed to start the race and finish the race in 43rd place. Had I not been screwing around I probably would have been able to finish on the lap with the leaders and a few spots higher, but I was out of the money and the points at that point, so I thought it would be more fun to show my appreciation for the crowd support. Plus I made $8. It was so much fun, I can't even explain it really-the crowd, the atmosphere, the racers, the hype, the amazingly high number of people who knew my name. I will probably be trying to return to the race next year. And to top it off, I was lucky to be in the first picture of Velonews' slideshow.
Planet Bike Cup, Madison Wisconsin Day 1
Racing in Wisconsin will be about as home town as it gets for me this year. And after Vegas and Michigan, the proximity to home was welcome. I was looking forward to the familiar faces as well as the new ones too.
When the namesake of the race is Jonathan Page you better expect a top notch course. Jonathan designed the course to suit his Euro riding style and it was challenging yet super fun. The course was riddled with tight corners that over the course of the weekend would become more and more washed out. The second half of the lap was hidden under a grove of large trees and on a hill, Keebler Elf style, technical and swooping with numerous off-camber, tight switchback corners. Combined it all made for a super fast, super fun lap.
I got a pretty good spot on the line this weekend, being the first rider called up after the UCI point holders from last season were called. On the gun, the start was just as fast as Vegas and almost more aggressive. As the course narrowed down we were fighting for position tooth and nail, throwing elbows like a ninja throws stars. All the tight corners made it difficult to work though the group so I had to put out a little more effort to make up some positions. The course was super dry and almost every corner was washed out. So, to maintain the fast pace, we had to be up and on the pedals pushing hard out of every corner. The second half of the course was super fun to be racing at speed with such a big group. There was not any part of the course we could rest on. It was both fantastic and probably one of the hardest I have ever ridden.
Overall, the race was fast and clean. I was pretty dirty at the end, but I raced well. I able to push through the last two laps and hold off getting lapped, falling only once on one of those downhill switchback corners. But what really sticks out in my mind was how it seemed like everyone on the course was out cheering for me. It was more people than I can list. Thank you, it was awesome.
Planet Bike Cup, Madison Wisconsin Day 2
I woke up Sunday morning and could barely lift my right leg. Nothing hurt to the touch, but it was when I tried to lift my leg a pain in my hips set in. I immediately was having doubts about even toeing the line. I talked with a bunch of people while watching the earlier races and got all sorts of opinions. The most valuable came from Page's mechanic Franky. He said something to the effect of, "If you don't race, as soon as you see the guys come around, you'll regret it." More true words had not been spoken; I went out to start my warm up.
I was feeling like total garbage I wasn't expecting much from myself. It did not hurt to pedal, but anytime I was going to be out of the saddle or running, I knew I would be in pain, like a mint Oreo, where the outside cookie part is awesome but the middle mint-flavored barrier running would suck so much you just want to throw it out.
My start was slow. I just did not have any punch on the pedals and to top it off I did not get clipped in right away. I fought off a few guys and made a couple smart moves to get myself back to mid-pack through the first couple turns. I did everything I could to hold on through the first lap.
Pushing into the second lap I was having trouble keeping my front wheel under me. What seemed like good tire pressure in the pre-ride was a little too low at the higher speeds. Coming past the pit during the second lap I shouted to Julie that I needed more pressure. So through the finish line into the third lap I was setting myself up in the group near the front so that I could catch the tail end of the group on my way out of the pit. It went smoother than silk. I dismounted right before the entrance of the pit and ran into a perfect exchange. I was so happy. Out and back into the group almost without effort.
Plugging away I was riding with my coach, Brian, at this point. Kind of cool because I knew the pace he was setting was within my capacity, yet not slow. The problem was that with every lap, and every run-up my hip screamed at me louder and louder. Not to mention this was going to be the 5th of 12 laps and I could tell the leaders were already making their way around the course.
Julie had schemed with Tim, in the meantime, to get a shoutout from the announcer, who as I came by remarked that, "Ben Popper's wife is in the pit and wants him to know that he's incredibly sexy." He went on, remarking, "I have a long track record of heterosexuality, but I gotta say, Ben Popper is the most attractive guy out there."
I love cyclocross.
With two or three to go, I was battling against being lapped. I pushed, but not hard enough. After coming across the finish with two to go, I started trying to position myself on the course just not to get in the way. As Page and Wells came around me, I followed them as long as possible to watch how their lines differed from mine. It was fairly enlightening to see those pros at work.
I crossed the line, being nipped on the line by someone else (we were not supposed to be crossing the line in the first place) at 22nd. I was disappointed in myself for being lapped and just rolled down to the car. After sitting in the shade for a few minutes and getting some water back in me, I started feeling better about the race. I can not expect to be at 100% all the time and this race just wasn't in the cards.
Five races down, still no UCI point. I've got time. Stay tuned as I continue on this mission.