By Erik Voldengen, Photos by David Roth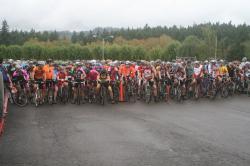 Alpenrose Dairy, Portland, Oregon. Setting a new attendance record, 1,267 eager racers of all levels attended the Cross Crusade's season opener at the Alpenrose Dairy in Portland, Oregon. From the first race at 9:00, through the last at 3:00, fields exceeding 100 participants lined up in droves to play in the mud. There was an overwhelming vibe of excitement in the air, as hundreds of people shared in the realization that cyclocross has finally arrived in Portland.
A former USGP venue, the course at Alpenrose had it all, especially that classic Portland mud we've all come to expect. Rain since mid-week yielded a very slick race track. Lots of off-camber and slippery hills kept the spectators well entertained with countless crashes. The muddy run-up on the back side of the course was so slippery, some people were using their hands to claw up it.
Both the elite women's and men's races were well contested, with no clear leader until the finish line was crossed. Sue Butler (Monavie Cannondale) continued her successful season by winning the womens race, while Jason Sager (Sager Sports.com) took the win in a small lead group of four. Ryan Trebon (Kona) lined up on a single speed, taking an early lead, but eventually fading to fifth place.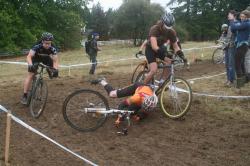 Women's A Results:
1 Sue Butler, Monavie Cannondale
2 Wendy Williams, River City Bicycles
3 Rhonda Mazza, Team S&M
4 Alice Pennington, DeSalvo
5 Megan Faris, River City Bicycles
6 Bridgett Stoick, River City Bicycles
7 Julie Browning, Cyclepath
8 Emily VanMeter
9 Colleen Flaherty, Veloce
10 Heather Gunderson, Veloshop
Men's A Results:
1 Jason Sager, Sager Sports.com
2 Erik Tonkin, Team S&M
3 Soloman Woras
4 Adam McGrath, VanDessel
5 Ryan Trebon, Kona
6 Sean Babcock, Team S&M
7 Giancarlo Ryllo-Angelini
8 Kevin Hulick, Vanilla Bicycles
9 Ian Brown, River City Bicycles/Tonic
10 Spencer Paxson, Team S & M