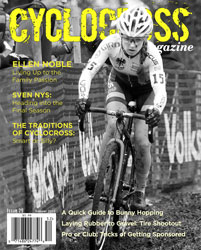 This Santa Cruz Stigmata review appeared in Cyclocross Magazine Issue 29, which also featured a showcase on Ellen Noble, an interview with Sven Nys on his last season and much, much more.
After taking our first look at the Santa Cruz Stigmata, we at CXM headquarters took the bike for an extended review. As we do with all of our review bikes, we put the Stigmata through the paces, testing it in real-world conditions and using our experience to write an in-depth review—no marketing fluff, no advertorial—an honest, objective review.
Want more in-depth 'cross bike reviews like this one?
Be sure to subscribe to Cyclocross Magazine. We offer quarterly print subscriptions and a digital all-access subscription that gives you 24/7 access to Cyclocross Magazine's current issue and our library of back copies.
---
The last time we reviewed a Santa Cruz Stigmata, we were releasing our first print issue, and the bike was built from an alloy frame. Santa Cruz admits on their website that they've done things a little backward, starting off their carbon focus on their mountain and downhill bikes before venturing into the world of carbon fiber cyclocross bikes.
Stigmata is a curious name for a cyclocross bike, as it has two definitions. The first is the plural of stigma, which is a mark or tattoo usually having a connotation of disgrace, and the second is the Roman Catholic meaning of one who bears crucifixion wounds, either physically or mentally. If it is the latter, Santa Cruz might have found one of the most elaborate, if not jaw-dropping, puns on the word "cross" that we've ever seen from a global-scale bicycle manufacturer.
The Frame:
A perfect example of this once-imagined stigma is in the geometry of the frame. Back in 2009, we called out Santa Cruz as one of the few companies offering a bike with a low bottom bracket. The geometry of the current bike continues the previous alloy Stigmata's winning geometry, which is rumored to have been inspired by local Santa Cruz frame builder legend Paul Sadoff of Rock Lobster Cycles.
This geometry is pretty mainstream nowadays, with our 56cm model measuring a 56cm top tube, 42.5cm chainstays, 69mm bottom bracket drop, a 72 degree head angle and a 73.5 degree seat angle. The frame and fork are designed for thru axles front and rear: 15mm x 100mm in the front and 12mm x 142mm in the rear. The bottom bracket shell is designed for a PF30.
One item that instantly caught our attention was the massive tire clearance, which looks to offer loads of different riding styles and disciplines.
Along with their full builds, Santa Cruz offers a frame option with an MSRP of $2,299.
The Build:
Our test bike is built up race-ready, with a Zipp Service Course SL cockpit and seatpost alongside a SRAM CX1 drivetrain and SRAM's HydroR brakes. The front chainring is a 42t and the bike comes with a 11-36t rear cassette: a combination sensible for mixed-terrain adventures. We did note that the B screw on the CX1 rear derailleur needed to be all the way in just to clear the 36t cog, however.
The narrow Maxxis Mud Wrestler, listed at 33mm, may help you jump into a UCI cyclocross race if that's your thing, but it feels too narrow for any serious adventures. After taking a look at the generous tire clearances on the frame, we decided to push the limits and throw in some of our own rubber on the bike. We were able to fit in a Specialized Renegade 29 x 1.8″ tire in the front and a WTB Nano TCS 40mm tire out back, both with room to spare.
The bike comes with WTB Asym i19 rims, which are tubeless-compatible and come with tubeless tape pre-installed. The Stigmata comes with valve cores and NoTubes sealant, so be sure to ask your LBS for them if you buy a complete bike. Although the WTB Asym i19 rims with DT Swiss 350 hubs are the standard option for the full build of $4,699, ENVE rims also available, which increases the full-build price to $6,699 with the same CX1 drivetrain.
The Ride:
The Stigmata, with front and rear thru axles and oversized everything, is one hell of a stout ride. Out-of-the-box, or fresh-from-your-shop, the bike, with its under-sized Maxxis Mud Wrestler tires (measuring 31mm, on the relatively wide WTB rims), is sure to rattle you on the first bumps you encounter. Thankfully, there's an easy remedy if you value your dental fillings. You can either convert the tires (with the included valves and sealant) to a tubeless setup and lower your pressure, or you can immediately swap out the narrow tires for something with more volume, like the WTB 35mm Cross Boss (2015 Editors' Choice winner). We'd recommend doing both. Adding wider tires, and lowering the pressure without fear of flatting turns your grimace into a grin.
Once you've solved that, and can hold onto the handlebars, you'll discover that the Stigmata does almost everything right, and high jumps its way onto our short list of top bikes. The geometry lends itself to a really versatile bike that aligns quite well with the preferences of our test crew. It's stable and hop-handicapped friendly, with a low bottom bracket (69mm drop) that aids in sweeping turns, long gravel grinds, descents—really in any terrain other than off-cambers and rocks and roots. The steering will get you around switchbacks and hairpins without a full-body effort, but it's not a twitchy grass-crit specialist that will be a handful after six hours of dirt roads. And the 160mm head tube didn't require a stack of spacers to find a comfortable offseason "gravel" position, yet wasn't old-man specific to prevent a more aggressive, race-oriented position come fall.
Geometry of cyclocross bikes has, for the most part nowadays, become a bit standardized, and it's no surprise that the Stigmata closely mimics the geometry tendencies of its Bay Area neighbors, Rock Lobster and Specialized. Study its geometry, and you'll find nothing remarkable about the Stigmata, except perhaps its tad-long 48mm fork rake, which bigger feet appreciate. The variances in general are so minor today that, at least for this tester, a bike's frame features, versatility and tire setup are what I tend to zero in on and care about most.
Justin Robinson, a longtime Specialized-sponsored racer, made the switch to the Santa Cruz Stigmata this season, and agreed the geometry and ride is very similar to his Crux, but with a stiffer fork.
And where the Stigmata wins major points is in its versatility. I've ridden the Stigmata as a road bike with slicks, and squeezed 1.8" 29er tires in it, easily up front, and against better judgement out back, and had an awesome monster 'cross/rugged gravel bike that was the perfect match for what I ride in the offseason.
Do you need thru axles? Unless you're a Clydesdale, my opinion is no. While I can feel the difference compared to some more flexy, QR setups, will it make me faster? I'm doubtful. But I'm a fan, if only because they offer additional security and get me closer to my dream of owning one wheelset that works on all bikes and makes the bike more future proof. Kudos to Santa Cruz for adopting the mountain bike standard of 15mm front and 12mm rear. What I don't appreciate is the stupid human tricks I must attempt to mount a thru-axle bike to my fork-mount roof rack.
My butt didn't agree with the WTB Silverado saddle, and after a few rides I felt beaten and bruised and swapped it out, and that's obviously just a matter of personal preference and body type. But I still wanted more WTB. Because the bike comes with the excellent, tubeless-ready WTB i9 rims, I wish Santa Cruz opted for WTB's TCS Cross Boss tubeless tires, which offer a more secure, burp-resistant fit and more volume.
The Verdict:
A bike review often is an exercise in obsessing about the little details. But when your biggest complaints are easily replaceable components like tires and a saddle, you know you've found a winner.
Stoked:
40mm tire owners
Mudders
One bike dreamers
Bummed:
Penny pinchers
Press Fit BB haters
Plush ride seekers
Santa Cruz Stigmata Cyclocross Bike Details and Photo Gallery:
MSRP: $4699 (full build),$2299 (frame)
FRAME: Santa Cruz Stigmata
FORK: Stigmata CC Cyclocross Fork
WEIGHT: 17.75 pounds, 10.35 pounds w/o wheels
SHIFTERS: SRAM CX1
DERAILLEURS: SRAM CX1
CRANKSET: SRAM Force CX1, 42t, PF30
BRAKES: SRAM Force Hydraulic Disc w/SRAM Centerline 160mm Rotors
COCKPIT: Zipp Service Course SL stem and bars
SEATPOST: Zipp Service Course SL, 27.2mm
SADDLE: WTB Silverado Pro
WHEELS: WTB Asym i19 rims with DT Swiss 350 hubs
TIRES: Maxxis Mud Wrestler Tubeless: 700Cx33mm
WARRANTY: Five Years
MORE INFO: santacruzbicycles.com