On Saturday, September 10, and Sunday, September 11, the fall Michigan cyclocross and gravel season kicks off with the Snap Fitness Alma Grand Prix of Cyclocross & 5K run on Saturday, and the Uncle John's Dirty Ride, a gravel road race, on Sunday. With camping available onsite, the weekend is shaping up to be a fun-filled, can't miss weekend for drop bar dirt cyclists from Michigan and surrounding states. Full details below.
---
Cyclocross Saturday at the Alma GP
In 2014, Brian Hancock, promoter of the third annual Alma GP, brought cyclocross to the city of Alma after five years of promoting the Ithaca Grand Prix of Cyclocross.
In its third year at the new Alma venue, the Snap Fitness Alma GP improves on the semi-permanent cyclocross course, which is on the site of a former airport (which closed in the 1960s) and yard waste dump site (which closed in the early 2000s). Since then, Hancock and other enthusiastic volunteers have carved out a 1.5-mile cyclocross track on the property, which also hosts "Monday Fun Day" rides/runs throughout August to help encourage people to brush up on their skills and join in on the race day fun.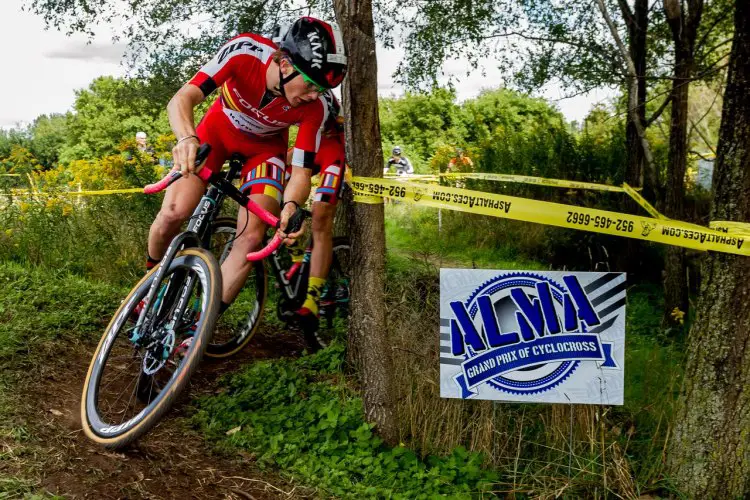 Alma GP racers and their families are encouraged to pick up their bib number and swag bag on Friday, September 9, at Snap Fitness in Alma. Post-race celebrations typically move from the venue to the Alma Brewing Company in beautiful downtown Alma. Camping is available at the venue, making for a fun weekend without a lot of driving.
On Saturday, Hancock has added a 5K running race to the day's schedule. Runners will complete two full laps of the cyclocross course in advance of the "open" pre-riding time for 'cross racers.
A Sunday Brunch of Gravel
Piggy backing on the Alma GP, Steve Smith, promoter of the second annual Uncle John's Dirty Ride, hosts 56- and 24-mile gravel road races on Sunday, just 20 miles south of Alma. Since both events are located in the middle of the "mitten," many racers will opt to camp at the Alma GP venue, or stay in one of the many small hotels or bed and breakfasts in town.
Most of Gratiot County is fairly flat, so expect a very fast course on race day (or what could be a fun recovery day for some cyclocross racers). An estimated 99% of the race is on gravel/dirt roadways with minimal traffic, and the venue is conveniently located right on US-127, which runs north through the center of the state.
This second edition of the Uncle John's Dirty Ride will start and finish at the Uncle John's Cider Mill and will feature former USPS rider Frankie Andreu as the race announcer. The mill is a great family-friendly venue, and you can be sure that racers and spectators will partake in live music, doughnuts, and beverages before and after the race.
Event Notes:
You may remember seeing the Ithaca GP umbrella in the bottom left of our shot of Sven Nys crossing the finish line at the 2013 World Cyclocross Championships in Louisville: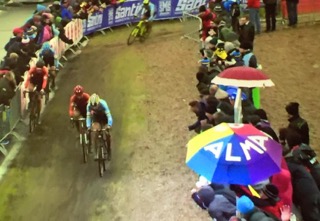 Continuing with the umbrella theme, and with some help of some enthusiastic Aussie friends, the Alma GP Umbrella made an appearance at this year's Cyclocross World Championships in Zolder as well and now graces the left shoulder of this year's race winner's jerseys.
Additionally, all Alma GP racers will be graced with the soothing sounds of Bike Law race announcers Scot Hermann, of CrossVegas and the OVCX series, and Mr. David Palan, of the famous Mad Anthony cyclocross race and co-host of many CX Hairs podcast episodes.
Lastly, this year, race announcers will be calling the shots from on top of an Avalon Pontoon boat, as Avalon is a local manufacturer and strong supporter of community events. You don't see that at your average 'cross race!
Come join in the fun on September 10 and 11, 2016! For more information, see the websites below:
Snap Fitness Alma Grand Prix of Cyclocross & 5K Run:
Facebook.com/AlmaGrandPrixOfCyclocross
On Twitter and Instagram @TheAlmaGP (or @AlmaGPUmbrella on Twitter)
Uncle John's Dirty Ride:
facebook.com/unclejohnsdirtyride
Alma GP Photo Gallery: