HASSELT, Belgium—At Saturday's sandy GP Hasselt, part of the Soudal Classics cyclocross series, UCI C1 racing continued.
While some of the top European stars stayed home, and most Americans pros were in Oklahoma or Rhode Island, four North Americans took the start in Hasselt.
The course featured several features that challenged racers with decisions as to whether to ride or run, including long sand pits, deep muddy straights, and for some (including Aspire's Ellen Noble), bunnyhoppable barriers.
In the Elite Women's race, Loes Sels of Crelan Charles took the win ahead of Ellen van Loy (Telenet Fidea Lions) and Ceylin Del Carmen Alvarado(Kleur Op Maat – BNS). Noble finished 12th, Corey Coogan Cisek finished 27th.
In the men's race, the Telenet Fidea duo of Corne van Kessel and Toon Aerts dropped David van der Poel (Beobank Corendon) to finish one-two. Spencer Petrov finished 29th after apparently breaking a chain.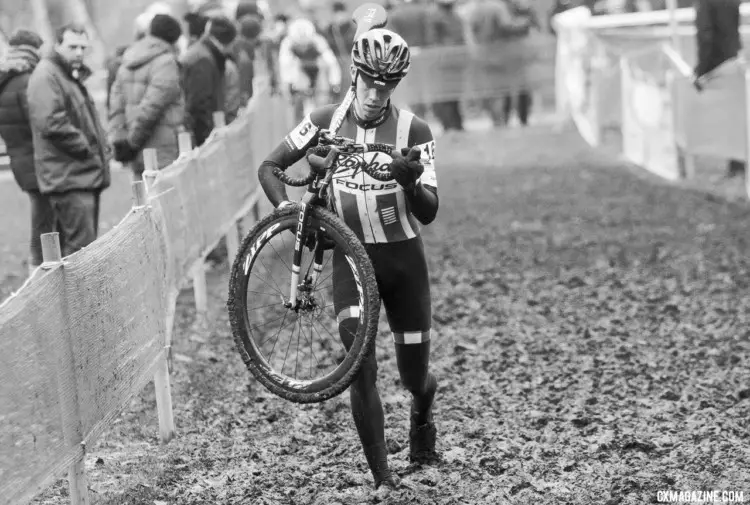 In the Junior Men's race, Canadian Conor Martin finished 22nd behind winner Jarno Bellens.
See the full results and photo gallery below.
2017 GP Hasselt Results - Junior Men
| Rank | BIB | Last Name | First Name | Country | Age | Result |
| --- | --- | --- | --- | --- | --- | --- |
| 1 | 12 | BELLENS | Jarno | BEL | 17 | 0:36:29 |
| 2 | 6 | CORTJENS | Ryan | BEL | 16 | 0:36:40 |
| 3 | 9 | DEWULF | Maxim | BEL | 17 | 0:36:52 |
| 4 | 40 | FERDINANDE | Anton | BEL | 17 | 0:37:05 |
| 5 | 23 | VAN DEN BROECK | Arno | BEL | 17 | 0:37:11 |
| 6 | 3 | DE VET | Sander | BEL | 17 | 0:37:11 |
| 7 | 20 | VERVOORT | Wout | BEL | 16 | 0:37:38 |
| 8 | 26 | LINDNER | Tom | GER | 16 | 0:37:38 |
| 9 | 41 | VAN LOOVEREN | Joachim | BEL | 16 | 0:37:38 |
| 10 | 8 | PEIRENS | Yente | BEL | 16 | 0:37:55 |
| 11 | 17 | VERDONCK | Andres | BEL | 17 | 0:37:55 |
| 12 | 11 | PEMEN | Dolf | BEL | 17 | 0:38:10 |
| 13 | 5 | CAS | Stijn | BEL | 16 | 0:38:18 |
| 14 | 14 | BERVOETS | Michael | BEL | 16 | 0:38:23 |
| 15 | 27 | WESTHOFF | David | GER | 17 | 0:38:28 |
| 16 | 2 | PRIES | Cédric | LUX | 17 | 0:38:36 |
| 17 | 34 | KESS | Nicolas | LUX | 17 | 0:38:36 |
| 18 | 39 | VAN TRICHT | Floris | BEL | 16 | 0:38:38 |
| 19 | 42 | DE LAET | Tomas | BEL | 16 | 0:39:25 |
| 20 | 32 | NOYENS | Jarne | BEL | 16 | 0:39:35 |
| 21 | 25 | DELNOIJE | Remon | NED | 16 | 0:39:35 |
| 22 | 38 | MARTIN | Conor | CAN | 16 | 0:39:35 |
| 23 | 13 | ESSER | Mik | LUX | 16 | 0:39:58 |
| 24 | 24 | DEBAELE | Jorre | BEL | 16 | 0:40:07 |
| 25 | 43 | MEULEMANS | Lennert | BEL | 16 | 0:40:07 |
| 26 | 10 | VERHEYDE | Leander | BEL | 17 | 0:40:16 |
| 27 | 35 | QUETS | Stijn | BEL | 16 | 0:40:29 |
| 28 | 30 | WAGNER | Jordi | LUX | 16 | 0:40:49 |
| 29 | 37 | PEETERS | Cis | BEL | 17 | 0:40:49 |
| 30 | 19 | OBERTEICHER | Matteo | GER | 16 | 0:40:49 |
| 31 | 33 | VERMEIREN | Yenthe | BEL | 16 | 0:40:49 |
| 32 | 7 | MULDERS | Yarne | BEL | 16 | 0:41:39 |
| 33 | 18 | GLOESENER | Jacques | LUX | 16 | 0:42:30 |
| 34 | 15 | GUARESTI REMIREZ DE GANUZA | Iñaki | ESP | 16 | 0:42:46 |
| | 4 | VAN DEN BROECK | Brick | BEL | 16 | DNF |
| | 16 | DEJONGHE | Len | BEL | 17 | DNF |
| | 29 | DECOSTER | Louis | BEL | 17 | DNF |
| | 31 | VERBURG | Luke | NED | 16 | DNF |
2017 GP Hasselt Results - Elite Women
| Rank | BIB | Last Name | First Name | Country | Team | Age | Result |
| --- | --- | --- | --- | --- | --- | --- | --- |
| 1 | 3 | SELS | Loes | BEL | CRELAN - CHARLES | 32 | 0:47:41 |
| 2 | 1 | VAN LOY | Ellen | BEL | TELENET FIDEA LIONS | 37 | 0:48:01 |
| 3 | 7 | DEL CARMEN ALVARADO | Ceylin | NED | | 19 | 0:48:34 |
| 4 | 9 | VERHESTRAETEN | Karen | BEL | | 26 | 0:48:46 |
| 5 | 11 | BETSEMA | Denise | NED | | 24 | 0:49:04 |
| 6 | 10 | VAN DER HEIJDEN | Inge | NED | | 18 | 0:49:04 |
| 7 | 8 | BAKKER | Manon | NED | | 18 | 0:49:20 |
| 8 | 6 | VANDERBEKEN | Joyce | BEL | | 33 | 0:49:34 |
| 9 | 15 | VAN DER BURG | Esther | NED | | 19 | 0:50:41 |
| 10 | 18 | GOOSSENS | Veerle | NED | | 24 | 0:50:41 |
| 11 | 17 | TERPSTRA | Anne | NED | | 26 | 0:51:09 |
| 12 | 2 | NOBLE | Ellen | USA | ASPIRE RACING | 22 | 0:51:19 |
| 13 | 5 | VERSCHUEREN | Jolien | BEL | PAUWELS SAUZEN - VASTGOEDSERVICE | 27 | 0:51:19 |
| 14 | 12 | VAN ANROOIJ | Lindy | NED | | 21 | 0:51:19 |
| 15 | 24 | WITLOX | Lizzy | NED | | 22 | 0:51:30 |
| 16 | 28 | VAN ALPHEN | Aniek | NED | | 18 | 0:51:44 |
| 17 | 19 | TRUYEN | Marthe | BEL | | 18 | 0:51:44 |
| 18 | 31 | PEETERS | Jinse | BEL | PAUWELS SAUZEN - VASTGOEDSERVICE | 18 | 0:51:58 |
| 19 | 16 | DE HEIJ | Maaike | NED | | 19 | 0:52:40 |
| 20 | 25 | DE BRUYNE | Meg | BEL | | 21 | 0:53:21 |
| 21 | 13 | REDMOND | Natalie | AUS | | 26 | 0:53:30 |
| 22 | 23 | MULDER | Mascha | NED | | 23 | 0:54:01 |
| 23 | 26 | VAN DE PUTTE | Kim | BEL | | 33 | 0:54:09 |
| 24 | 35 | KUIJPER | Elodie | NED | | 17 | 0:54:16 |
| 25 | 29 | GERRITSE | Femke | NED | | 16 | 0:54:17 |
| 26 | 33 | VAN DER ZWAAN | Laura | NED | | 16 | 0:54:31 |
| 27 | 20 | COOGAN CISEK | Corey | USA | | 40 | |
| 28 | 21 | VERMEIR | Aurelie | BEL | | 25 | |
| 29 | 30 | VAN WUNSEL | Lise | BEL | | 17 | |
| 30 | 36 | CRABBÉ | Kiona | BEL | | 16 | |
| 31 | 22 | VERMEIREN | Tinne | BEL | | 22 | |
| 32 | 39 | ENDRES | Kristin | GER | | 35 | |
| 33 | 32 | MEERTENS | Lone | BEL | | 19 | |
| 34 | 34 | LIMPENS | Pien | NED | | 16 | |
| 35 | 37 | SCHOON | Lisette | NED | | 17 | |
| 36 | 14 | RIEDEL | Stacey | AUS | | 22 | |
| 37 | 43 | GODART | Béatrice | LUX | | 28 | |
2017 GP Hasselt Results - Elite Men
| Rank | BIB | Last Name | First Name | Country | Team | Age | Result |
| --- | --- | --- | --- | --- | --- | --- | --- |
| 1 | 1 | VAN KESSEL | Corne | NED | TELENET FIDEA LIONS | 26 | 1:01:54 |
| 2 | 2 | AERTS | Toon | BEL | TELENET FIDEA LIONS | 24 | 1:01:54 |
| 3 | 7 | VAN DER POEL | David | NED | BEOBANK-CORENDON | 25 | 1:02:15 |
| 4 | 6 | MERLIER | Tim | BEL | CRELAN - CHARLES | 25 | 1:02:24 |
| 5 | 5 | MEEUSEN | Tom | BEL | BEOBANK-CORENDON | 29 | 1:02:36 |
| 6 | 4 | HERMANS | Quinten | BEL | TELENET FIDEA LIONS | 22 | 1:02:50 |
| 7 | 13 | BOSMANS | Wietse | BEL | ERA-CIRCUS | 26 | 1:02:57 |
| 8 | 8 | BAESTAENS | Vincent | BEL | | 28 | 1:03:07 |
| 9 | 17 | VANTHOURENHOUT | Dieter | BEL | MARLUX - NAPOLEON GAMES | 32 | 1:03:07 |
| 10 | 12 | SWEECK | Diether | BEL | ERA-CIRCUS | 24 | 1:03:16 |
| 11 | 10 | CLEPPE | Nicolas | BEL | TELENET FIDEA LIONS | 22 | 1:03:28 |
| 12 | 18 | PEETERS | Rob | BEL | PAUWELS SAUZEN - VASTGOEDSERVICE | 32 | 1:04:01 |
| 13 | 9 | AERNOUTS | Jim | BEL | TELENET FIDEA LIONS | 28 | 1:04:10 |
| 14 | 21 | VAN DEN BRAND | Twan | NED | | 28 | 1:04:45 |
| 15 | 14 | VAN TICHELT | Yorben | BEL | ERA-CIRCUS | 23 | 1:04:45 |
| 16 | 20 | HOEYBERGHS | Daan | BEL | STEYLAERTS - BETFIRST | 23 | 1:04:52 |
| 17 | 15 | ŤOUPALÍK | Adam | CZE | BEOBANK-CORENDON | 21 | 1:05:11 |
| 18 | 22 | VAN DER MEER | Gosse | NED | TARTELETTO - ISOREX | 22 | 1:05:17 |
| 19 | 33 | VLIEGEN | Pieter-Jan | BEL | | 18 | 1:05:56 |
| 20 | 41 | LIESSENS | Jarno | BEL | | 19 | 1:06:07 |
| 21 | 50 | DEBEIR | Arno | BEL | | 18 | 1:06:07 |
| 22 | 32 | VAN DE VELDE | Thomas | BEL | | 21 | 1:07:40 |
| 23 | 42 | LEMMENS | Sander | BEL | | 18 | 1:08:05 |
| 24 | 31 | LINDENAU | Paul | GER | | 21 | |
| 25 | 46 | SCHREIBER | Félix | LUX | | 18 | |
| 26 | 47 | KOYEN | Niels | BEL | | 26 | |
| 27 | 49 | DE BOCK | Yoni | BEL | | 21 | |
| 28 | 28 | SCHMIDT | Marvin | GER | | 25 | |
| 29 | 16 | PETROV | Spencer | USA | ASPIRE RACING | 19 | |
| 30 | 43 | STUER | Kwinten | BEL | | 18 | |
| 31 | 23 | JACOBS | Johan | SUI | PAUWELS SAUZEN - VASTGOEDSERVICE | 20 | |
| 32 | 27 | LEE | Stephen | GBR | | 21 | |
| 33 | 45 | OBERTEICHER | Marco | GER | | 18 | |
| 34 | 44 | SERRÉ | Stef | BEL | | 19 | |
| 35 | 48 | HIDALGO GARCIA | David | ESP | | 27 | |
| 36 | 51 | COPPELMANS | Wessel | NED | | 18 | |
| 37 | 29 | MEYERS | Eric | LUX | | 19 | |
| | 11 | VANTORNOUT | Klaas | BEL | MARLUX - NAPOLEON GAMES | 35 | |
| | 19 | VAN AMERONGEN | Thijs | NED | | 31 | |
| | 24 | ADAMS | Joeri | BEL | | 28 | |
| | 30 | ALBIZUA ZUBIZARRETA | Josu | ESP | | 20 | |
2017 Soudal Classics GP Hasselt Photo Gallery: