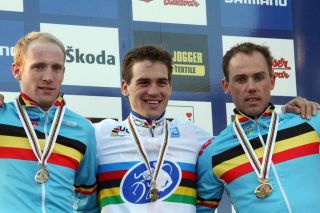 by Dan Seaton
Tábor, Czech Republic – Though talk of an American World Championships had been circulating for almost two weeks, rumors became fact on Friday, when the UCI's Management Commission voted to accept a bid by the city of Louisville to host the 2013 World Cyclocross Championships.  While in Tábor for the 2010 Worlds, Cyclocross Magazine had a chance to discuss the prospects for 'cross's first Worlds on this side of the Atlantic with two of the sport's biggest stars.
Newly crowned World Champion Zdeněk Štybar, who appears on the cover of the current issue of Cyclocross Magazine, told us that he appreciated the support of his American fans and looked forward to bringing the sport's highest level of racing to them.
"You know, I have done interviews for [Cyclocross Magazine] with Christine [Vardaros], so I really look forward to doing the championships and some other races there," he said.
Štybar echoed an often-repeated sentiment among European racers since the news broke, that he hoped the Americans could rise to the challenge of putting together the biggest cyclocross event that North America has ever seen. "I just hope they can organize it really well and that it will go on," he told us. Štybar, who spoke to us while leaning on a brand new bike painted with special World Champion's graphics, added that he was already motivated to make the trip.
"I hope I can go," he said. "I will do everything to be there at the start."
Sven Nys—who may be cyclocross' most recognized star—recently replaced Erwin Vervecken as the athlete representative to the UCI's Cyclocross Commission, and as a result, has been involved in discussions about how to grow the sport in America for some time. Nys told Belgian newspaper Gazette Van Antwerpen recently that he would postpone a possible retirement from competition in order to race Worlds in the US.
The gesture, which came a week before the vote on the location of Worlds for 2013, may have played a part in ensuring the success of the American bid.
In a conversation with Cyclocross Magazine, Nys confirmed his interest in a World Championships in the US. "I'm going to try to go," he said, "because it's something special for cyclocross. It's good for the promotion of the sport that it's in another place than Europe. And of course I want to be there for maybe my last year. I'm really excited about the World Championships in the US."
Though American racers had mixed success at this year's World Championships, Nys told us that Europeans recognize that both the competition and calendar in the US are quickly emerging as equals to that of Europe.
"We know in Europe that there is something growing in the US about cyclocross. And I have a good feeling about it," he told us.
But Nys added that a future Worlds is not the only race he would like to do overseas. "Maybe I can come a few years before," he said, more than hinting at the possibility of an early-season appearance before Louisville. "I'd like to come also for something like the races in Las Vegas. I'd like to come, but it's a little bit difficult because I do the mountain bike races before and the Worlds in Canada, and then the first big, important races in Europe are really fast after the races in Vegas. So we'll see what comes next, but I'd like to come."
You can replay our live coverage from Saturday and Sunday and find all of our reports and photos in our 2010 Tabor Cyclocross Worlds Coverage Center.