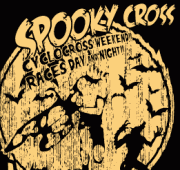 by Dave Sheek
IRVINE, CALIFORNIA—With Day One of Spooky Cross in the books, the racers were ready to go on Day Two — even those who raced Cross After Dark the night before.
In the women's race, Caroline Mani (CC Etupes) took the win in impressive fashion, with a 25-second gap on Teal Stetson-Lee (Cal Giant-Specialized). Sue Butler (River Cit Bicycles) scooped up third, a minute back. 
Elite Women:
Mani, Mani, Mani! Caroline Mani took the hole shot again and was off. Sue Butler wanted the win and planned to sit on Mani's wheel to take the win late, but she said after the first lap she knew that was not going to happen. Instead it was Teal Stetson-Lee who was closest to reeling in the French national champion. But Mani wouldn't allow it and stayed on the gas to the finish for her second win this weekend. Stetson-Lee was pushing hard and opened her own gap over Butler, who was 20 seconds back to finish in third. Fourth again went to Devon Gorry (Rambuski Law).
Fifth was Chloe Forsman (Race Club 11), who broke off from Allison Mann (Rock N' Road). Mann  was riding well and looking to represent for SoCal on the Elite podium.
Read the Elite Men's report here.
Results after the gallery.
Photo Gallery by Rich Cruse:
Elite Women's Results:
2011 Spooky Cross Day 2 Elite Women
| Place | Bib | Name | UCI Code | Team | City, State | Time |
| --- | --- | --- | --- | --- | --- | --- |
| 1 | 61 | MANI Caroline | FRA19870118 | CC etupes | France | 0:41:22.981 |
| 2 | 70 | STETSON-LEE Teal | USA19860524 | Cal Giant Cycling Team | Durango, Colorado | 0:41:52.668 |
| 3 | 62 | BUTLER Susan | USA19710912 | Team River City Bicycles/Ridley | Portland, Oregon | 0:42:35.208 |
| 4 | 68 | GORRY (HASKELL) Devon | USA19810103 | Rambuski Law | Santa Cruz, California | 0:42:55.712 |
| 5 | 86 | FORSMAN Chloe | USA19870721 | Race Club 11 | Tuscon, Arizona | 0:42:58.234 |
| 6 | 67 | MANN Allison | USA19801111 | Rock N' Road Cyclery | Murrieta, California | 0:43:40.335 |
| 7 | 95 | GAERTNER Jennifer | USA19751008 | Raleigh America | Coeur D'Alene, Idaho | 0:44:13.928 |
| 8 | 66 | THURSTON Emily | USA19770518 | STEVENS | San Pablo, California | 0:44:46.312 |
| 9 | 64 | MAILE Sarah | USA19780927 | Ventana Mountain Bikes | Sacramento, California | 0:45:12.653 |
| 10 | 65 | DIMPEL Courtney | USA19830111 | Team Rambuski Law | Aptos, California | 0:45:56.834 |
| 11 | 73 | PROBERT-TURNER Chistina | USA19670419 | The TEAM SoCalCross - Turner Bikes | Murrieta, California | 0:45:59.044 |
| 12 | 99 | FORTNER Anna | USA19800513 | The TEAM SoCalCross | Carpenteria, California | 0:46:35.029 |
| 13 | 75 | RYAN Alexis | USA19940818 | The TEAM SoCalCross | Ventura, California | 0:47:23.925 |
| 14 | 69 | HORNER (ELLIOT) Megan | USA19820426 | Black Mountain Bicycles | San Diego, California | 0:48:32.903 |
| 15 | 80 | JAMES-KLINGER Nancy | USA19770517 | The TEAM SoCalCross | Valencia, California | 0:49:38.707 |
| 16 | 79 | HUMIC Vanessa | USA19800805 | Long Beach State University | Long Beach, California | -3 laps |
| DNF | 88 | WONG Dorothy | USA19651113 | The TEAM SoCalCross | Altadena, California | |
| DNS | 71 | SCHAPER Amanda | USA19831005 | Ritte Racing | Laguna Beach, California | |
| DNS | 89 | BRANDT Nicole | USA19820330 | LA Velocity | Marina del Rey, California | |
| DNS | 96 | FINCHAMP Hannah | USA19951218 | The TEAM SoCalCross | Altadena, California | |
| | | | | | | |
| | | | | | | |
| | | | | | | |
| | | | | | | |
| | | | | | | |
| | | Number of Starters: | 17 | No of Laps: | 6 | |
| | | Abandons: | 1 | Race Distance: | 17.64 kms | |
| | | Number of Finishers: | 16 | Average Speed of Winner: | 25.58 kph | |