The rise of the speciality bike has come on strong in recent years. Everything from 'cross bikes to gravel models to monster cross rigs and more. There's seemingly no end in sight either as the proliferation of the right tool for the right job marches forward.
Many riders, including many of us here at Cyclocross Magazine are fans of the idea that one bike can do it all. We may not have the absolute perfectly dialed UCI-legal cyclocross race bike that is also ready to toe the line at Dirty Kanza. But for us, one bike to rule them all seems like a great idea, like it does to many of you.
Jonathan from Illinois has seemingly been thinking the same thing, wondering:
Can I add some suspension to my old Salsa Chili Con Crosso to make it more gravel race friendly? It seems like that could help take some more of the edge off along with wider tires.
Let's help Jonathan out a bit for this week's Wednesday Wondering. For sure we'd recommend wide rubber for longer, rougher gravel events. Wider tires add a measure of comfort and provide often needed additional traction. Set up tubeless, they can absorb vibration, ease the shock to your body and help you make it to the finish line by avoiding flats. (In fact we often like racing 'cross on wide tires too since we're not bound to follow UCI rules in our local races at our level of racing.)
But what else can a rider do to take some of the shock out of uneven riding surfaces?
Some bike makers have started addressing this with newer bike models. Of course, the Cannondale Slate comes to mind as does the Calfee Manta, which we reviewed in Issue 30, and even the Trek Boone. Each of these models to one degree or another addresses the question of adding some suspension to 'cross and gravel bikes.
But for a bike that's already in the garage, like Jonathan's Salsa, there are two modifications that could help take some of the sting out of long gravel events: suspension seat posts and suspension stems. Bear in mind that those with lower back problems may not find suspended posts as a solution, and in fact they could do more harm than good. In those instances we'd recommend trying a buddy's before buying.
[caption id="attachment_56515" align="alignnone" width="750"]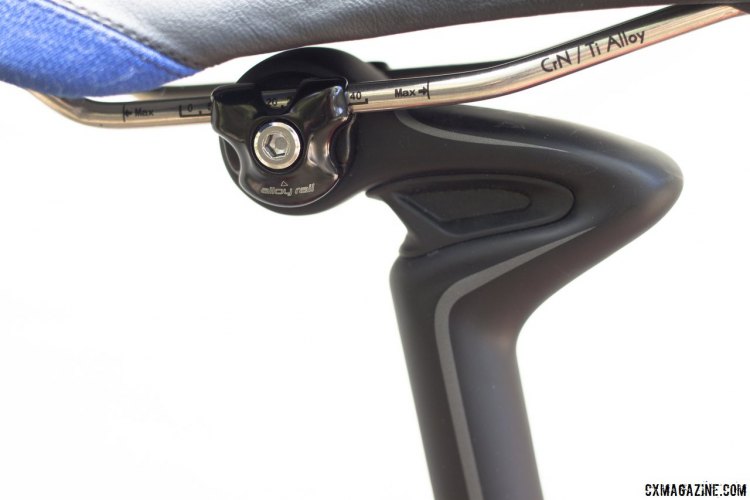 Specialized CG-R suspension seat post, formerly named the Cobl Goblr. © Cyclocross Magazine[/caption]
We took a look at four suspension posts in the past and did full reviews of them in Issue 25 of our print magazine. All four, the Cirrus Cycles BodyFloat, Cane Creek Thudbuster, Ergon CF3 Pro Carbon and the Specialized CG-R offer varying degrees of compliance, with the Specialized offering perhaps being the best of the bunch for a race application, being both lighter than the other offerings while still providing noticeable compliance whether pedaling or not. The Cirrus Cycles post offers the cushiest ride, with adjustable preload and travel, while the Cane Creek is perhaps the best compromise with noticeable travel and an efficient ride as well as a low price.
[caption id="attachment_70159" align="alignnone" width="750"]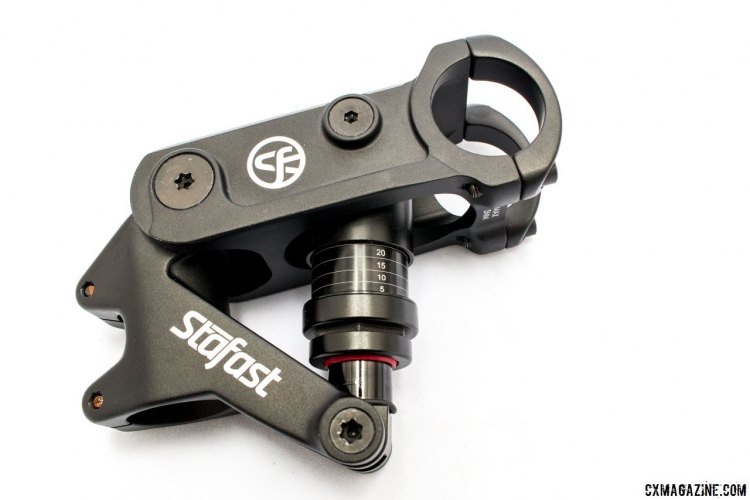 Stafast air shock suspension stem. © Cyclocross Magazine[/caption]
There's also the idea of suspending the front of the bike. True, a suspension fork may not be readily available for Jonathan's or your existing 'cross frame. But there are suspension stems that could fit the bill. We've reviewed the Stayfast air-sprung suspension stem and found it to be a great complement to a rigid bike and perfect for making it more gravel friendly.
Wider tires will get you so far. But a bit of suspension can be the difference maker for adding some additional control and comfort to your ride for longer, tougher events like many of the gravel races seen during the summer months.
Have a Wednesday Wondering of your own? Fill out this form and we'll try to answer your question here or in a future print issue of Cyclocross Magazine.