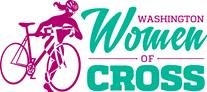 SEATTLE, Wash.—"Cross our hearts and hope for mud" is the new anthem for Washington Women of Cyclocross.
The WWCX Festival was held for the first time last year, marking the nation's first-ever women's cyclocross event and drawing 250 women participants and their supporters to Saint Edward State Park in August 2013.
WWCX began when Seattle native, Kari Studley, started connecting interested women cyclists from cycling clubs and social groups statewide to expand cyclocross opportunities for women. "The goal of the WWCX Festival is to provide a welcoming environment to inspire, educate, and connect women to the local cyclocross community, cycling community and active women community," states Kari Studley, event promoter and Master World and National Cyclocross Champion.
"This festival is the nation's only women-specific cyclocross event," said Natalie Koncz, WWCX Committee Leader and elite cyclocross racer. "It's a fantastic way to get introduced to the sport."
The second annual WWCX Cyclocross Festival and Women Celebration Race is set for Sunday, Aug. 24 at Saint Edward State Park in Kenmore. This year, the women's skills clinics will be expanded for riders of all skill sets, and yoga in the park will follow.
There will also be something for everyone to enjoy, including races for both kids and men as well as family activities. WWCX will be again be fundraising for multiple women and cycling focused charities as part of the Festival, including Justice and Soul, the Evergreen Washington Student League, and World Bicycle Relief.
"We just want to see more women on bikes," said Koncz.
For more information, visit Washington Women of Cyclocross.