This weekend marks the second round of the World Cup for the 2014-15 season as we head to Koksijde in Belgium, often described as the sand dune race of cyclocross. Last month, Valkenburg held the first race, with Katie Compton pulling an astonishing come-from-behind victory after an unfortunate mechanical and Lars van der Haar found room for a solo victory after early attacks.
The UCI released the final entry lists heading into Saturday. Today, we take a look at the implications and what is at stake for the riders:
Women's Elite Race: Vos Yet to Begin Her Season, Compton Looks to Defend
Updated: Instead of Marianne Vos returning to cyclocross as revealed on the registrant list for Koksijde, the World Champion will be participating in the South African Momentum 947 Cycle Challenge. While many of us state-side are hanging up our cyclocross bikes, she has yet to get started with her season. Last year she seemed to struggle against Katie Compton in many of the early World Cups. Vos annually looks towards the big dance to shine, meaning that we can guess she will be better equipped to excel in Tabor than mid-season races. Her skipping of the first round in Valkenburg and Koksijde only accentuates the idea that another World Cup title is not on her mind.
The American presence should be apparent this weekend in the Women's Elite Race. While Compton has been in recovery mode as of late, we can expect that she will be driven to defend her top standing in the World Cup. Compton aside, a largely veteran group of riders will be battling across the sand, including Meredith Miller (winner of CrossVegas), Crystal Anthony (a superior runner in cyclocross), and Rachel Llyod (a technical powerhouse). Add in Valkenburg fifth place finisher Elle Anderson and you get a group of women who will get loads of screen time at the front.
From Great Britain, Helen Wyman could be looking to avenge her second place finish at Valkenburg as she led for much of the second half of that race. Her fellow countrywoman, Nikki Harris, is currently in great form and consistently making podiums in huge races. Massachusetts native Gabby Durrin will also test her limits alongside Hanna Payton.
From Continental Europe, Sanne Cant has the most to gain on Saturday. She has been dominating the courses in recent weeks, and will likely want to build on her seventh place finish at Valkenburg. We fully expect fellow Belgium rider Ellen Van Loy to make a few well-executed attacks and at least combat at the front. Third place in the World Cup standings, Sophie De Boer from the Netherlands, will also be making a stand. Just don't forget Caroline Mani. Top 20 placings at the World Cup are not uncommon for the French rider, and if her season in the United States has anything to say about it, she has great chances for a good result.
Men's Elite Race: Can Van der Haar Repeat, Plenty of Challengers
Even though he has been struggling to make a podium since Valkenburg, Lars van der Haar knows how to excel in the World Cup. He's still ranked first in the UCI standings, and the young Dutch rider will look to continue his success on Saturday, although his competition is stiff.
From Belgium, you can fully anticipate Tom Meeusen and Kevin Pauwels to fight for the podium once again as the former was Valkenburg's runner up while the latter still made the top five. Sven Nys might arrive with the largest need for vindication. The second ranked rider in the world had a rough start to the World Cup, and while he has a few wins since then, he had an even greater number of races where he was outkicked at the line. Nys, well-known for his technical riding and ability to calmly dominate all manner of run-ups, will try and take this one before it comes down to the finishing stretch. Also don't forget Klass Vantornout, who is currently fourth in the World Cup standings.
Van der Haars's greatest threat from his own country could be Corne van Kessel, who had an astonishing ride in Valkenburg to reach the podium. Mathieu van der Poel, the young rider who originally seemed content for U23 races earlier this season, will fight in the Men's Elite Race, and has already proven that he's up to the task.
We will be expecting a little more from Francis Mourey this time around. The French cyclocross superstar might find his edge on this course as he has great handling and can put a lot of power down.
The focus for Americans will be finding out if Jeremy Powers can maintain that great ninth place finish at Valkenburg. A great finish would mean a lot, especially as Koksijde has so many sand features not found on most American cyclocross courses. Although Allen Krughoff is listed as an entry, he has already announced on social media that he will be spending his weeks getting back to the pace he had at the beginning of the season. Johnathan Page and Jeremy Durrin will both be giving their all for the American squad. Stephen Hyde will be watching from the sidelines as he spends the next few weeks racing in Europe, but with his successes in many races this year on the Pro CX Calendar, it's only a matter of time before he takes on the World Cup scene.
A list of the participation by country can be found below: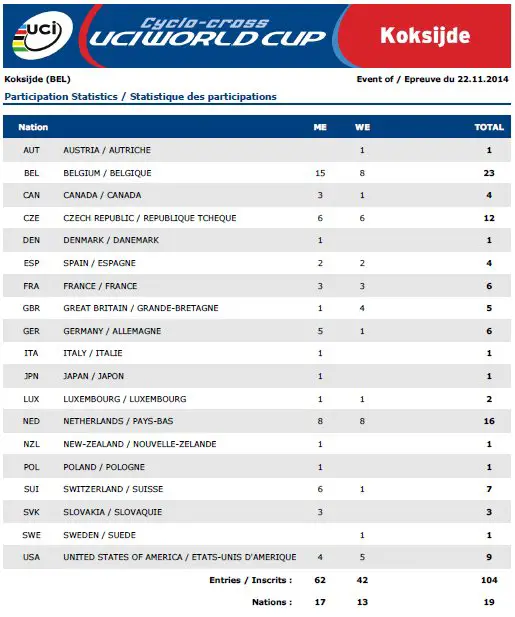 Stay tuned to cxmagazine.com for more World Cup action.