Week nine's 2016/2017 Pro CX rankings is out, with Katie Compton again extending her lead for the Elite Women, Stephen Hyde looking unbeatable for the Elite Men and Denzel Stephenson remaining top Junior.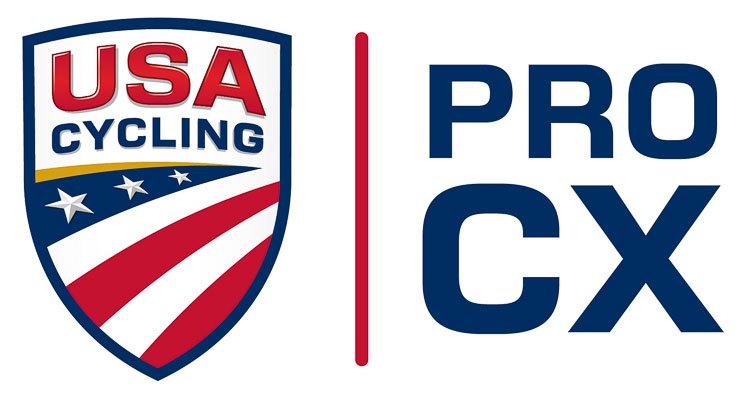 Katie Compton (KFC Racing p/b Trek-Panache) was narrowly beaten on both days this past weekend at the Derby City Cup in Louisville, KY getting edged out by double winner Katerina Nash (Clif Bar). Compton retains a strong lead, staying well ahead of Emma White (Cannondale p/b Cyclocrossworld.com) and Ellen Noble (Aspire Racing) who switch places (second and third, respectively) in the standings this week. With her double victory, Nash jumps from 13th to 8th.
Stephen Hyde (Cannondale p/b CyclocrossWorld) is pulling away from the rest of the field with a commanding lead after his double win in Louisville. Hyde is now a whopping 253 points ahead of second place Kerry Werner and young gun Tobin Ortenblad remains in third. Jeremy Powers moves up a spot to sixth overall.
Denzel Stephenson stays at the top of the Junior rankings but Lane Maher closed up the points battle with his win at Eva Bandman Park. Ross Elwood takes over third from Gunnar Holmgren who now sits fourth after his excused absence to win a Canadian National Championship.
See the full Week #9 rankings below.
Next up on the ProCX calendar is the Cyntergy Hurtland in Tulsa, OK and the Cycle-Smart Northampton International in Northampton, MA.
This year's USA Cycling Pro CX calendar features 44 scoring cyclocross races, with UCI C1 and C2 points going 20 deep, and non-UCI events going 10 deep. UCI C1 events naturally score the most points. A non-UCI win is less valuable than seventh in a UCI C1, while a UCI C2 win is less valuable than ninth in a UCI C1, but the number of scoring events are capped per rider. See the full USA Cycling UCI Pro CX points scoring table here, and read more about the USA Cycling Pro CX scoring rules here.
2016 USA Cycling Pro CX Rankings - Women - Week #9 - 11/07/2016
| Place | Racer | Points |
| --- | --- | --- |
| 1 | Katherine Compton | 688 |
| 2 | Emma White | 508 |
| 3 | Ellen Noble | 492 |
| 4 | Caroline Mani | 486 |
| 5 | Amanda Miller | 464 |
| 6 | Crystal Anthony | 398 |
| 7 | Courtenay McFadden | 382 |
| 8 | Katerina Nash | 365 |
| 9 | Rebecca Fahringer | 356 |
| 10 | Kaitlin Antonneau | 328 |
| 11 | Helen Wyman | 299 |
| 12 | Arley Kemmerer | 282 |
| 13 | Jena Greaser | 247 |
| 14 | Amanda Nauman | 210 |
| 15 | Rebecca Gross | 193 |
| 16 | Sunny Gilbert | 191 |
| 17 | Christel Ferrier-Bruneau | 191 |
| 18 | Maghalie Rochette | 181 |
| 19 | Melinda McCutcheon | 168 |
| 20 | Julie Wright | 151 |
| 21 | Hannah Finchamp | 133 |
| 22 | Serena Gordon | 130 |
| 23 | Kathryn Cumming | 129 |
| 24 | Ruby WEST | 126 |
| 25 | Natasha Elliott | 122 |
| 26 | Kathleen Lysakowski | 115 |
| 27 | Jenna Blandford | 111 |
| 28 | Laura Van Gilder | 108 |
| 29 | Sofia Gomez Villafane | 103 |
| 30 | Stacey Barbossa | 103 |
| 31 | Elle Anderson | 98 |
| 32 | Rachel Rubino | 97 |
| 33 | Ellen VanLoy | 92 |
| 34 | Danielle Arman | 86 |
| 35 | BrittLee Bowman | 82 |
| 36 | Eva LECHNER | 78 |
| 37 | Allison Arensman | 76 |
| 38 | Amira Mellor | 76 |
| 39 | Emily Kachorek | 70 |
| 40 | Jennifer Malik | 70 |
| 41 | Megan Barr | 68 |
| 42 | Nicole Mertz | 66 |
| 43 | Laura Winberry | 64 |
| 44 | Katherine Northcott | 55 |
| 45 | Catharine PENDREL | 54 |
| 46 | Avanell Schmitz | 53 |
| 47 | Samantha Runnels | 52 |
| 48 | Caitlyn Vestal | 50 |
| 49 | Melissa Barker | 49 |
| 50 | Rebecca Blatt | 46 |
| 51 | Meghan Korol | 43 |
| 52 | Erin Huck | 41 |
| 53 | Corey Coogan Cisek | 41 |
| 54 | Emily Shields | 39 |
| 55 | Alexandra Burton | 37 |
| 56 | Allyson Tufano | 33 |
| 57 | Cassandra Maximenko | 32 |
| 58 | Sydney Guagliardo | 32 |
| 59 | Cindy Montambault | 27 |
| 60 | Gray Patton | 26 |
| 61 | Hannah Williams | 25 |
| 62 | Maria Larkin | 23 |
| 63 | Lucie Chainel | 23 |
| 64 | Kristin Weber | 22 |
| 65 | Ashley Barson | 22 |
| 66 | Sidney McGill | 21 |
| 67 | Meredith Miller | 20 |
| 68 | Clio Dinan | 20 |
| 69 | Catherine Moore | 19 |
| 70 | Katrina Dowidchuk | 19 |
| 71 | Natalie Tapias | 19 |
| 72 | Evelyn Dong | 19 |
| 73 | Erin Faccone | 18 |
| 74 | Mical Dyck | 18 |
| 75 | Christa Ghent | 18 |
| 76 | Regina Legge | 17 |
| 77 | Rebecca Lewandowski | 17 |
| 78 | Alexis Skarda | 16 |
| 79 | Amanda Schaap | 15 |
| 80 | Kat Sweatt | 15 |
| 81 | Lisa Hudson | 14 |
| 82 | Nicole Dorinzi | 14 |
| 83 | Clara Honsinger | 13 |
| 84 | Hannah Arensman | 12 |
| 85 | Turner Ramsay | 12 |
| 86 | kristie arend | 12 |
| 87 | Abby Watson | 11 |
| 88 | Kennedy Adams | 11 |
| 89 | Heidi Wood | 11 |
| 90 | Suzie Livingston | 10 |
| 91 | Victoria Steen | 9 |
| 92 | Amy Beisel | 9 |
| 93 | Beth Ann Orton | 9 |
| 94 | Rhys May | 9 |
| 95 | Meghan Newlin | 9 |
| 96 | Karen Brems | 8 |
| 97 | Jauron Vetter | 8 |
| 98 | Deidre Morrison | 7 |
| 99 | Campbell Steers | 7 |
| 100 | Lindsay Knight | 6 |
| 101 | Traci Rodosta | 6 |
| 102 | Alijah Beatty | 6 |
| 103 | Melanie Carter | 6 |
| 104 | emily sportsman | 6 |
| 105 | Christina Peck | 5 |
| 106 | Taylor Kuyk-White | 5 |
| 107 | Elizabeth White | 4 |
| 108 | Gabriella Sterne | 4 |
| 109 | Chelsea Weidinger | 4 |
| 110 | Sara Headley | 3 |
| 111 | Kathleen Wulfkuhle | 3 |
| 112 | Jennifer Nowlin | 3 |
| 113 | Ashley Zoerner | 3 |
| 114 | Joanne Grogan | 3 |
| 115 | Melissa Presnell | 3 |
| 116 | Alexandra CampbellForte | 2 |
| 117 | Leslie Lupien | 2 |
| 118 | Shaina Kravitz | 2 |
| 119 | Melsa Smith | 2 |
| 120 | Tiziana DeHorney | 2 |
| 121 | Olivia Dillon | 1 |
| 122 | Caitlin Bernstein | 1 |
| 123 | Katherine Santos | 1 |
| 124 | Vanessa Curtis | 1 |
| 125 | Ksenia Lepikhina | 1 |
| 126 | Kate Kirkpatrick | 1 |
| 127 | Leslie Robinson | 1 |
2016 USA Cycling Pro CX Rankings - Men - Week #9 - 11/07/2016
| Place | Racer | Points |
| --- | --- | --- |
| 1 | Stephen Hyde | 742 |
| 2 | Kerry Werner | 489 |
| 3 | Tobin Ortenblad | 434 |
| 4 | Curtis White | 419 |
| 5 | Daniel Summerhill | 351 |
| 6 | Jeremy Powers | 346 |
| 7 | James Driscoll | 320 |
| 8 | Yannick Eckmann | 298 |
| 9 | Travis Livermon | 258 |
| 10 | Allen Krughoff | 257 |
| 11 | Jeremy Durrin | 249 |
| 12 | Anthony Clark | 238 |
| 13 | Spencer Petrov | 237 |
| 14 | Dan Timmerman | 226 |
| 15 | Jonathan Page | 221 |
| 16 | Cody Kaiser | 197 |
| 17 | Andrew Dillman | 176 |
| 18 | Jack Kisseberth | 160 |
| 19 | Justin Lindine | 156 |
| 20 | Gage Hecht | 145 |
| 21 | Cooper Willsey | 137 |
| 22 | Tristan Cowie | 134 |
| 23 | Cole Oberman | 131 |
| 24 | Adam Craig | 128 |
| 25 | Michael vandenHam | 125 |
| 26 | Antonin Marecaille | 123 |
| 27 | Jim Aernouts | 120 |
| 28 | Carl Decker | 119 |
| 29 | Robert Marion | 106 |
| 30 | Wout vanAert | 105 |
| 31 | David Van der Poel | 105 |
| 32 | Lance Haidet | 100 |
| 33 | Quinten Hermans | 98 |
| 34 | Rob Peeters | 94 |
| 35 | Corne VanKessel | 92 |
| 36 | Jeremy Martin | 92 |
| 37 | Gianni Vermeersch | 90 |
| 38 | Steve Chainel | 89 |
| 39 | Maxx Chance | 86 |
| 40 | Daniel Chabanov | 82 |
| 41 | Diether SWEECK | 78 |
| 42 | Bjorn Selander | 74 |
| 43 | Kevin Bradford-Parish | 71 |
| 44 | W Grant Ellwood | 71 |
| 45 | Laurens SWEECK | 69 |
| 46 | Eric Thompson | 69 |
| 47 | Mark McConnell | 67 |
| 48 | Andrew Juiliano | 64 |
| 49 | Toon Aerts | 62 |
| 50 | Daan Soete | 60 |
| 51 | Vincent BAESTAENS | 60 |
| 52 | Ryan Woodall | 58 |
| 53 | Derrick St. John | 58 |
| 54 | jordan snyder | 50 |
| 55 | Tom Meeusen | 48 |
| 56 | Christopher Aitken | 44 |
| 57 | Daan Hoeyberghs | 42 |
| 58 | Troy Wells | 40 |
| 59 | Scott Smith | 39 |
| 60 | Mark DAvino | 39 |
| 61 | Samuel O'Keefe | 37 |
| 62 | Evan Murphy | 35 |
| 63 | Alex Ryan | 29 |
| 64 | Byron Rice | 28 |
| 65 | Steve Fisher | 28 |
| 66 | Hector Riveros | 26 |
| 67 | Brian Matter | 26 |
| 68 | Merwin Davis | 26 |
| 69 | Stephen Ettinger | 23 |
| 70 | Cody Cupp | 23 |
| 71 | Nicholas Lemke | 22 |
| 72 | Jason Donald | 21 |
| 73 | Casey Hildebrandt | 19 |
| 74 | Cameron Beard | 19 |
| 75 | Josh Direen | 17 |
| 76 | Dylan Mcnicholas | 17 |
| 77 | Patrick Collins | 17 |
| 78 | Peter Goguen | 16 |
| 79 | Michael Mihalik | 16 |
| 80 | Dylan Postier | 16 |
| 81 | Thijs VanAmerongen | 16 |
| 82 | Ian McPherson | 16 |
| 83 | Geoff Kabush | 15 |
| 84 | Ian Field | 15 |
| 85 | jens vandekinderen | 15 |
| 86 | Jared Nieters | 14 |
| 87 | Steven Stefko | 13 |
| 88 | Tyler Cloutier | 12 |
| 89 | Jake Sitler | 12 |
| 90 | Eric Fossell | 12 |
| 91 | Tim Willis | 12 |
| 92 | David Reyes | 12 |
| 93 | Kacey Campbell | 11 |
| 94 | Brannan Fix | 10 |
| 95 | Nicolas Catlin | 10 |
| 96 | Max Judelson | 10 |
| 97 | Samuel Morrison | 10 |
| 98 | Aaron Snyder | 9 |
| 99 | Brendan McCormack | 9 |
| 100 | Jules Goguely | 9 |
| 101 | Aaron Schooler | 9 |
| 102 | Greg Wittwer | 8 |
| 103 | Lewis Gaffney | 8 |
| 104 | Daniel Hoeppner | 8 |
| 105 | Chris Drummond | 8 |
| 106 | Cade Bickmore | 8 |
| 107 | Joshua Teets | 7 |
| 108 | Matthew Timmerman | 7 |
| 109 | Justin Thomas | 7 |
| 110 | Chris Baddick | 7 |
| 111 | Andrew Wulfkuhle | 7 |
| 112 | Adam Farabaugh | 7 |
| 113 | Kyle Murphy | 7 |
| 114 | Aaron Oakes | 6 |
| 115 | Joshua Johnson | 6 |
| 116 | Jordan Villella | 6 |
| 117 | Brian Finnerty | 6 |
| 118 | Andy Scott | 5 |
| 119 | Andy Brooks | 5 |
| 120 | Michael Dutczak | 5 |
| 121 | Jack Tanner | 5 |
| 122 | Samuel Dolzani | 5 |
| 123 | Sean Estes | 5 |
| 124 | Thomas Borner | 4 |
| 125 | Jeremy Burkhardt | 4 |
| 126 | Mike Friedberg | 4 |
| 127 | Ron Shevock | 4 |
| 128 | Josh Allen | 4 |
| 129 | Mike Festa | 4 |
| 130 | Lucas Livermon | 4 |
| 131 | Trevor O'Farrell | 3 |
| 132 | Jacob Lasley | 3 |
| 133 | Jesse Anthony | 3 |
| 134 | Andrew Bailey | 3 |
| 135 | Trent Blackburn | 3 |
| 136 | Aaron Vaughn | 3 |
| 137 | Adam Myerson | 2 |
| 138 | Scott Hooper | 2 |
| 139 | Jeremy Ostrowski | 2 |
| 140 | Ryan Rinn | 1 |
| 141 | Michael Owens | 1 |
| 142 | Matthew Tyler | 1 |
| 143 | Szymon Niemotko | 1 |
| 144 | Josh Whitney | 1 |
| 145 | Garrett Gerchar | 1 |
2016 USA Cycling Pro CX Rankings - Junior - Week #9 - 11/07/2016
| Place | Racer | Points |
| --- | --- | --- |
| 1 | Denzel Stephenson | 390 |
| 2 | Lane Maher | 339 |
| 3 | Ross Ellwood | 209 |
| 4 | Gunnar Holmgren | 185 |
| 5 | Caleb Swartz | 173 |
| 6 | Calder Wood | 154 |
| 7 | Kendrick Boots | 146 |
| 8 | Tyler CLARK | 138 |
| 9 | Scott Funston | 137 |
| 10 | Kevin Goguen | 132 |
| 11 | Benjamin GomezVillafane | 130 |
| 12 | Gregory Gunsalus | 109 |
| 13 | Sam Noel | 98 |
| 14 | George Schulz | 91 |
| 15 | Clyde Logue | 79 |
| 16 | Brody Sanderson | 71 |
| 17 | Nicholas Beirne | 64 |
| 18 | Camden Brooks | 61 |
| 19 | Isaac Bryant | 45 |
| 20 | Tyler Smith | 38 |
| 21 | Evan Clouse | 30 |
| 22 | Drew Sotebeer | 30 |
| 23 | Henry Jones | 23 |
| 24 | Vivien Rindisbacher | 22 |
| 25 | Riley Sheehan | 20 |
| 26 | Nolan Brunner | 20 |
| 27 | Nicholas Jenkins | 18 |
| 28 | Alex Campbell | 16 |
| 29 | Nolan Brunner | 16 |
| 30 | Gentry Jefferson | 13 |
| 31 | Donovan Birky | 10 |
| 32 | Tyler Clark | 9 |
| 33 | Finn Gullickson | 8 |
| 34 | Ryan Aittaniemi | 7 |
| 35 | Campbell Watson | 7 |
| 36 | Wiley Melton | 6 |
| 37 | Enzo Allwein | 5 |
| 38 | Cole Page | 5 |
| 39 | Alex McCormack | 4 |
| 40 | Simon Lewis | 3 |
| 41 | Brayden Buchanan | 3 |
| 42 | Dylan Rockwood | 2 |