This past weekend's National Championships in Bend, Oregon were the culmination of the cyclocross season in the U.S. – the perfect time to reflect upon how American cyclocross has gotten to this point. Bend Cycling Events assembled an informal get together at Jackson's Corner restaurant that offered 'cross fans and racers alike an opportunity to learn about the evolution of the sport in America. Organizers expected the Three Generations of CX event to be a casual, mellow Thursday night affair. The over-capacity attendance pleasantly surprised them and is proof positive that the sport's foundation is strong and new riders are continuing to build upon it.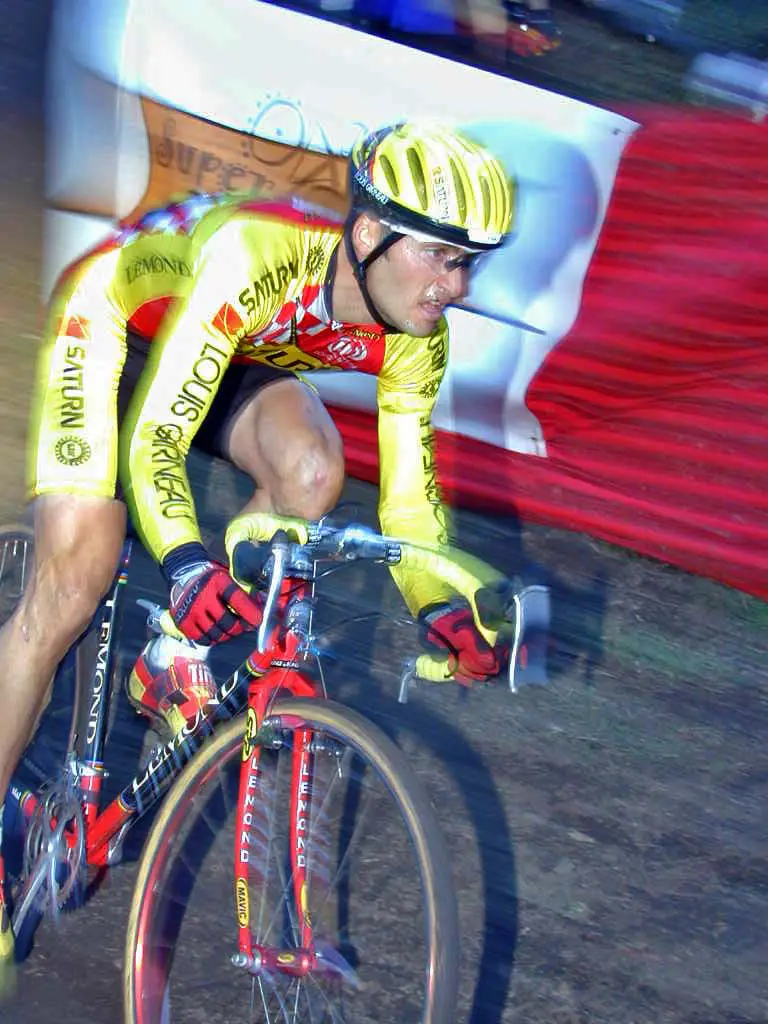 On hand were former World Cup winner, Swiss cyclocross champion, Grand Tour competitor and classics stalwart Marcel Russenberger; two-time USPro road champ and Super Cup cyclocross series winner Bart Bowen; Molly Cameron, the Oregon superstar who has made several trips to race the European Elite circuit; and impromptu contributor and just-crowned Masters 55-59 national champ Paul Curley.
The sport's history is still relatively fresh; the presenters spoke of their experiences racing and helped trace a direct line from the birth of the sport in the U.S. in the 70s to the present day. A visual representation of what's changed and what's stayed the same served as the event's backdrop: Bowen's mid-90's era, skinny-tired, Hot Tubes-made steel Lemond parked beside Cameron's Dura-Ace electric Di2-equipped carbon Ridley.
Marcel Russenberger, originally from Switzerland and now a resident of Bend, shared black and white slides of his conquests and exploits and reflected upon a time when pro road superstars would race a complete season of events rather than focus on one super-peak, often including cyclocross into their regimen. Photos of Russenberger running beside five-time Tour de France champ Bernard Hinault – and eventually beating him to the line – drove that point home.
Paul Curley was in attendance and, although not a scheduled speaker, was encouraged to add his perspective as the next logical link. Curley was one of the first Americans to race the European cyclocross circuit, and it was Russenberger who took Curley under his wing and taught him proper techniques and skills. In that sense, Curley was a pioneer who crossed the pond to race with the best and brought those skills back to the U.S. Curley clearly keeps that torch alive; his win in Bend represents his 24th national championship!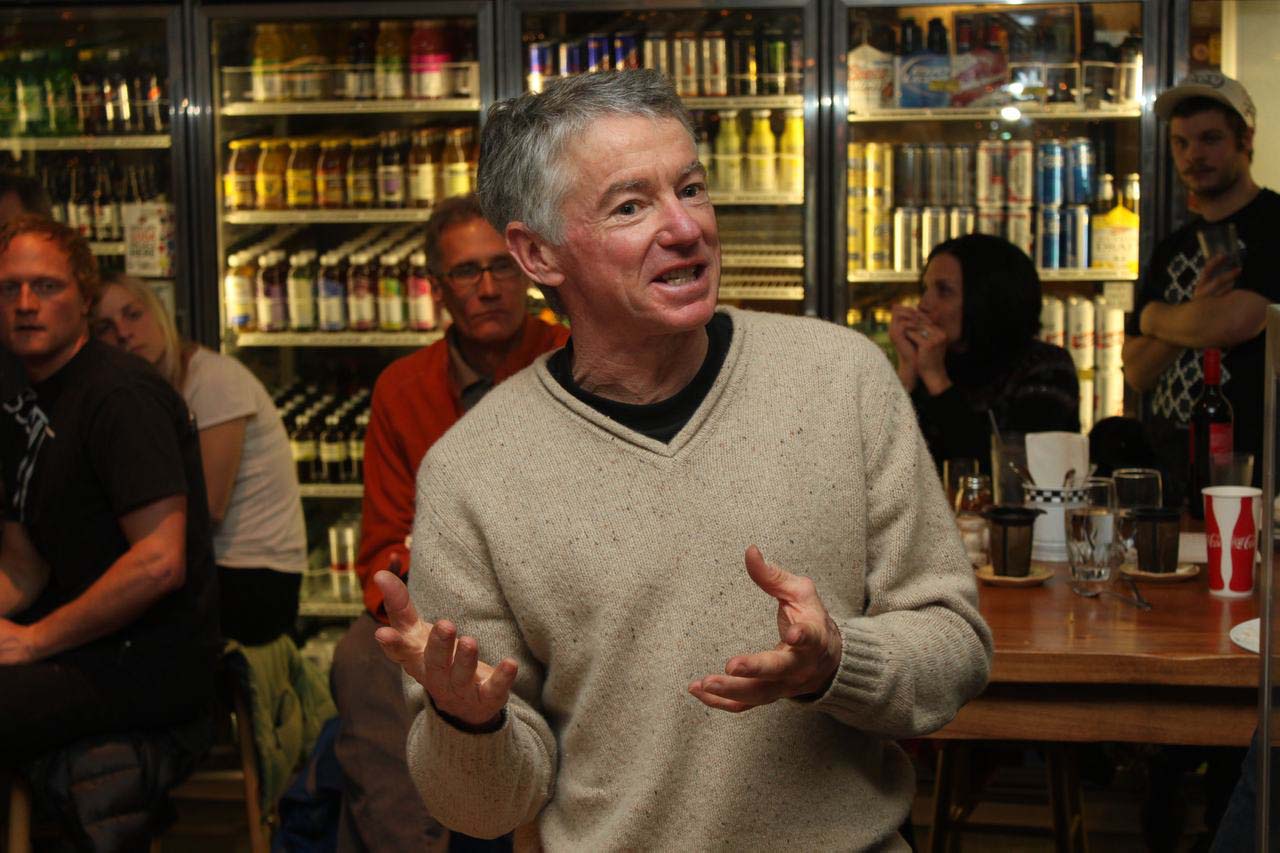 Bart Bowen, who also now calls Bend home and runs the Rebound Sports training center, was the next link in the chain. When Bowen left his first professional road team, Subaru Montgomery, for the Saturn juggernaut, his team directors encouraged Bowen to hook-up with new teammates Frank and Mark McCormack to race some cyclocross events.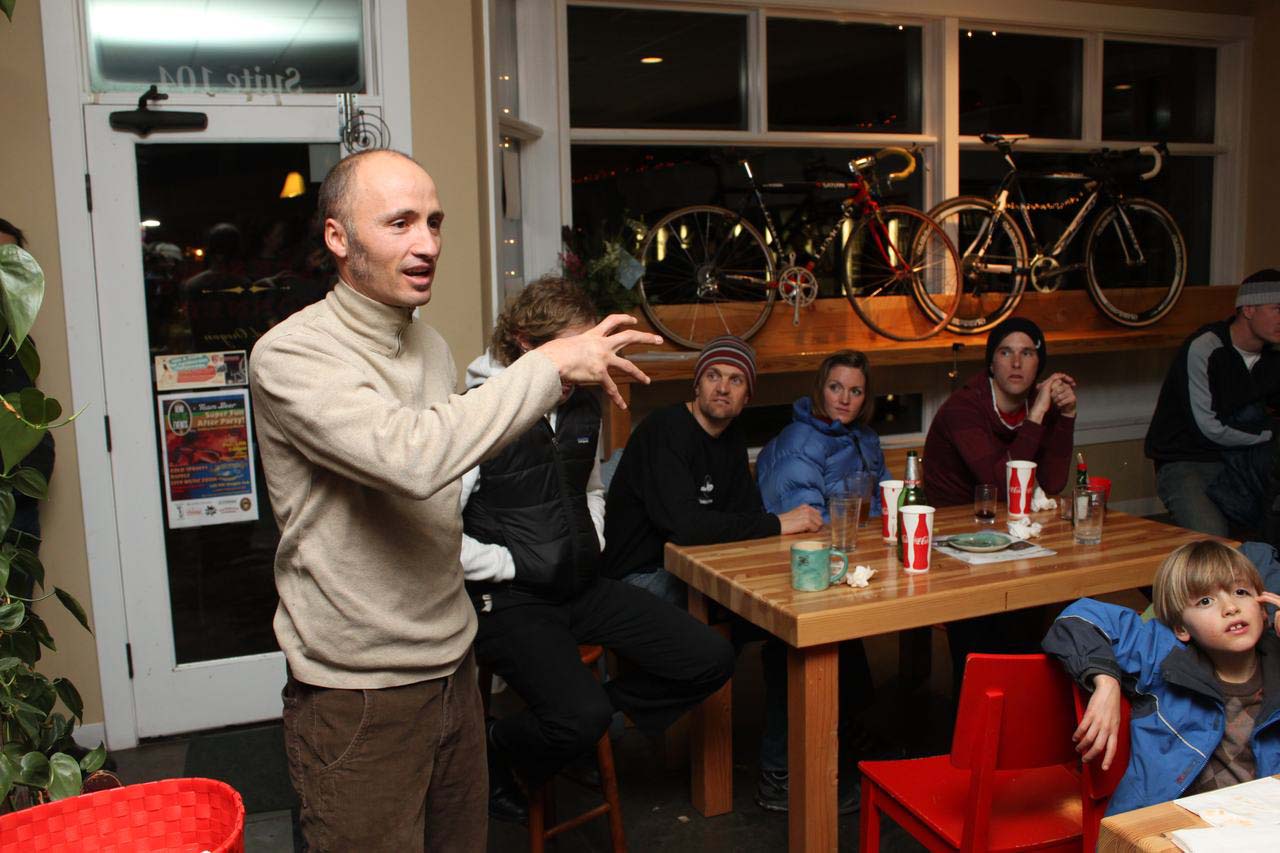 Although Bowen had dabbled in 'cross in New Mexico, racing the sandy courses riddled with goatheads aboard his jerry-rigged Guerciotti road bike, he wasn't initially prepared for following the McCormack's in the Elite fields of New England. Nevertheless, Bowen was smitten by the sport and would go on to become one of the best in the country – eventually forsaking his road pursuits to focus on 'cross.
The lineage from Russenberger to Bowen was a direct one. Curley took Russenberger's teachings and passed them along to the McCormack's in New England who, in turn, tutored Bowen in the ways of the sport. Not only does Bowen coach some of the country's top talent, like mountain bike Olympian Adam Craig, he also passes his knowledge along to dozens of athletes of all levels through his regular 'cross clinics.
Molly Cameron represents a shift in what's possible for an American 'crosser. Cameron readily admits that she doesn't have the palmares of the night's other speakers, but she's parlayed her impressive skills and deep passion for the sport into several European campaigns. Cameron has raced some of the world's biggest 'cross events, including her favorite in and around France's legendary Roubaix velodrome, and has inspired a whole new generation of racers to dream big.
The latest rung in this lengthening ladder may be Curley 2.0 – Paul's daughter Emily took the bronze medal in the Junior Women's 15-16 division.