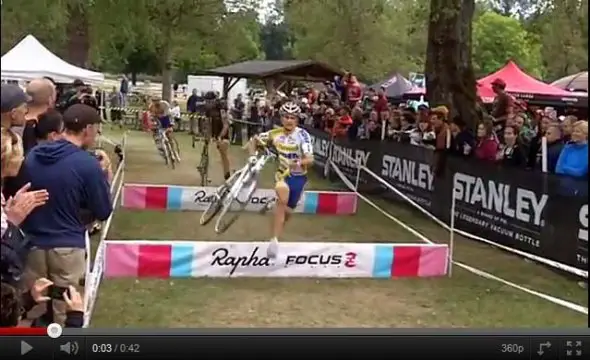 If you haven't seen our in-depth features on the incredible racing by deep, international fields this weekend at StarCrossed and the Rapha-Focus GP, that's well worth a look. But here's some of the plethora of videos rolling our way if you'd like to experience the fast-paced action with moving pictures. This may be more coverage than some of you can handle, but I'm sure there are die hards who will love every frame. The one thing we're missing? Videos of women! Send us links, if you have them.
Lap One of Singlespeed race, POV Cam by Kenton Berg:

Kenton Berg's Singlspeed Eliminator POV Cam (with crash):

Zac Daab's Interview with Bart Wellens (video by 01scatman):

StarCrossed Elite Men in the Barriers (by Joey Mullan):

StarCrossed Men's Sand Run/Ride (by Joey Mullan):

StarCrossed Elite Men, Back of Ramp (by Joey Mullan):

Joey Mullan's crazy crash!

StarCrossed Elite Men Part 1 (by jcameronb):

StarCrossed Elite Men Part 2 (by jcameronb):

Photo Gallery by Doug Brons: