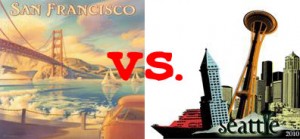 Who will host the Singlespeed Cyclocross World Championships in 2010? It's come down to two cities to do battle for the rights to host next year's fun at the SSCXWC this weekend in Portland.
Three Separate Battles, three scared challengers. The weight of everything lies in their hands. Which city will rise from the ashes to become the new host for SSCXWC?
The rules: Each City must choose three individuals, a debater, a racer and a gladiator, to compete in three battles over the course of the weekend:
• The Debate – Oregon Manifest/SSCXWC Party 8:30-9:00pm
• The Race – you know the one
• The Battle – post-race Sunday
Each city will have to provide a debater, racer, and gladiator to compete in each respective arena: A2 + B2 = C2 Although you won't be told which event is A, B or C. Bribes are of course, weighed in.
Two cities enter, one city leaves.