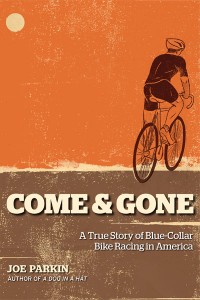 The release of Joe Parkin's latest book, Come and Gone, may have gone and went – it released in April of this year – but what better way to stoke your personal fires for this exciting upcoming season than with tales of stubborn resilience and true love of the bicycle and competition?
Come and Gone picks up where its predecessor, A Dog in a Hat, left off. Author Joe Parkin had finished his six-year road racing stint in Europe, where he'd served admirably as a domestique, and was back on American soil looking to extend his career. What follows is a frank, humble and decidedly non-glamorous account of a racer who guts it out to hold his own against many of the sport's top names of the 90s, competes in the Road, MTB and Cyclocross World Championships, and does it all the hard way.
While it may be en vogue for today's generations of American pro roadies to congregate in sunny environs like Girona, Spain, for their training, Parkin was of a different, hard-nosed breed. For him, pursuing pro cycling meant traveling straight to the sport's motherland of Belgium, which many view as cold, wet and inhospitable. He absolutely thrived there, learning Flemish as well as the ways of a blue-collar bike racer. Once back in the States, rather than setting up camp in San Diego or Tucson, he weathered Minnesota's winters via snowmobile trail bike rides, cross country skiing and interminable roller sessions.
Parkin's career spanned some of the top European classics and stage races, such as Liege-Bastogne-Liege and the Tour de Suisse, followed by the full lineup of domestic events like the Tour DuPont, Philly and Redlands, and then the glory days of American mountain biking in the early- to mid-90s. In between he mixed those skills to perform skillfully in cyclocross against the indomitable McCormack brothers and alongside his teammate, cyclocross/MTB legend Gunnar Shogren. He represented the US at 'Cross Worlds with very little background in the discipline, and held a top-15 spot until late in the race, when a sandy stretch brought reality crashing down along with Parkin.
Parkin's may be a tale of a racer who never quite finds the "big win" he's seeking, but how many of us ever really do? Although he's quick to downplay his talent and results, he had plenty of victories and stellar results, and he easily dominated whatever local scene he frequented. As Parkin himself astutely points out, "As bike racers we all too often look at race wins as stepping stones toward something else – something life-changing, perhaps. In reality, it seems that the experience of racing itself is the important part."
Although there were lean years, featuring four-digit salaries, threadbare kits and cross-country Greyhound trips with passengers who were "downright disgusting," Parkin stuck with it because he loved to ride, lived to work his ass off in races and tolerated any hardships for the privilege of competing. It's the human aspect of Parkin's tale that makes it tangible and real, and that brings cycling's demigods within arm's reach. He was at the service of Scott Moninger and Alexi Grewal on the Coors Light road team for a spell, and raced with Dave Wiens, Ned Overend, Steve Tilford, Travis Brown, Todd Wells and a "young Aussie by the name of Cadel Evans" on the dirt.
Parkin weaves dismayed accounts of watching a young Lance Armstrong attack and drop a peloton with tales of smuggling an albino ferret onto a plane in a mussette bag, frantic pre-race multiple-pee-trip jitters and less-than-fond reminiscences of 90s style by way of a "fusion jazzy mix of red-and-blue vomit on an ill-fitting white polyester-nylon blend." He may rag on the clothes of the era, but he still wears a Euro mullet. While Parkin may have come and gone, his story still rings true for the every-man and -woman cyclist who's able to revel in the pain, deal with the bullshit and come back asking for more.
Come and Gone is available in your local bike shops, bookstores and online. More info via its publisher, VeloPress.