Flared drop bars, fat tires, longer chainstays, low gearing and an occasional dropper post or element of suspension. It's the latest trend in the bicycle industry, and we have so many names for it. Monster cross, gravel, adventure, all road, any road, mixed terrain…the list goes on.
A Full Revolution of the Drop Bar Offroad Bike Wheel
For some, the latest trends are blasphemy, violating all the "rules" of a category and tradition. For others, it's the logical evolution of bikes that are designed to do everything we want, while leaving room for aspirations, like lining up for Dirty Kanza, attempting the Tour Divide, or finally completing that month-long bikepacking trip through Chile.
For a select few, the latest trend is validation of a style of bikes and riding that started decades ago.
For today's Throwback Thursday, we're taking a look at a drop bar mountain bike from 1991 that offered the same versatile offroading promise today's new crop of bikes bring. Rest assured, even though mountain biking was still in its relative infancy (puberty?), drop bars on mountain bikes were also seen as blasphemous by some mountain bike purists back then.
[caption id="attachment_98939" align="aligncenter" width="750"]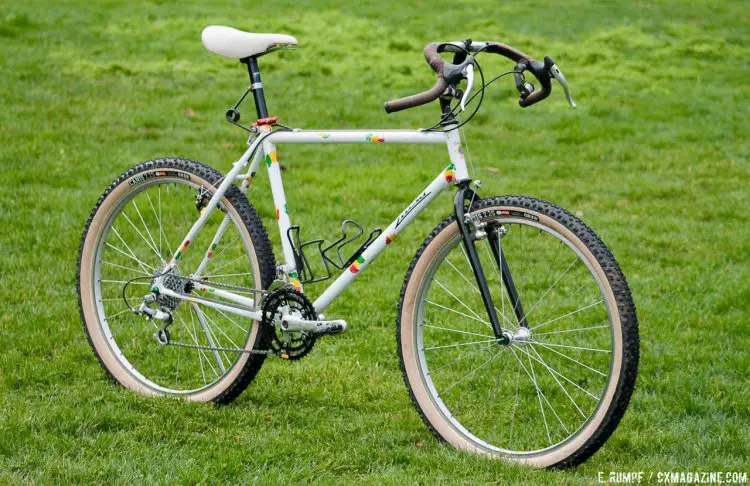 1991 Salsa Alacarte drop bar mountain bike with the iconic Jelly Bean paint job. © Eric Rumpf[/caption]
Eric Rumpf, a purveyor of vintage mountain bikes, was kind to share details and images of his personal bike that showcases this era: a 1991 drop bar Salsa Cycles Alacarte (À La Carte).
While putting drop bars on mountain bikes in the 80s and early 90s wasn't unheard of (heck, even John Tomac famously won with such a setup), Rumpf's Salsa is a shining example of drop-bar specific components built for exactly this purpose.
It was also an era before widely-available production cyclocross bikes. Finding an imported Alan frame or good tires for a converted touring bike were both difficult, and drop bars on a mountain bike was the easiest solution, for some.
Ahead of Its Time
Rumpf's bike, with componentry from Salsa Cycles and Wilderness Trail Bikes, showcases the two brands' long history of serving the drop bar dirt crowd.
[caption id="attachment_98940" align="aligncenter" width="750"]
Fat tires, low gearing, drop bars, dropper post. Such a bike could almost be at home in a modern bike catalog. 1991 Salsa Alacarte drop bar mountain bike. © Eric Rumpf[/caption]
The Salsa A La Carte was Ross Shafer's first production mountain frame, launched in 1984. After stints trying to build lugged road frames in the U.S. and abroad, for himself and others including Santana, Shafer realized the emerging mountain bike scene was clamoring for purpose-built bikes. Once he made the shift to focus on fat tire bikes, his waitlist suddenly exploded to 80 orders, according to Mombat. Shafer's stem-building business grew even faster, putting frame building on the back burner, but by 1991, Shafer ramped up his frame building capacity, and the Alacarte was still the main production model.
Shafer, used to riding road bikes on dirt roads, was ahead of his time, believing that there was a need for an alternative to the slack, laid back geometry of the current mountain bikes and cruiser conversions. According to Mombat, Shafer's "experience with riding road bikes in the dirt convinced him that a mountain bike's ideal geometry lay somewhere between the steepness of modern road bikes and the slack angles predominant on the mountain bikes of the day."
[caption id="attachment_98938" align="aligncenter" width="750"]
1991 Salsa Alacarte drop bar mountain bike, made in Petaluma, California. © Eric Rumpf[/caption]
The Alacarte frame was not drop bar specific, but by today's standards, with short top tubes and steeper head angles, it was an ideal candidate for drop bar conversion and mixed terrain riding. Its 45mm fork rake, 71 degree head angle, 43cm chainstays would look at home in any modern gravel or adventure bike spec geo chart today, even though the steeper angles were considered by some to be quite radical.
[caption id="attachment_98936" align="aligncenter" width="750"]
Salsa's stem business overshadowed the frame business for a while, and the TIG-welded P10 stem was a unique offering that made it easy to put drop bars on mountain bikes. 1991 Salsa Alacarte drop bar mountain bike. © Eric Rumpf[/caption]
Rumpf states that the Alacarte was also a good candidate for drop bars because the frame had a "decently long head tube" that allowed for easier handlebar positioning (longer stems for flat bars allowed for more rise without extreme angles).
Because Shafer himself was used to riding dirt with drop bars, he offered stems to make it easy to adapt the Alacarte for drop bars and keep the riding position the same. For a rider who spent most of the time in the hoods, this meant a shorter stem. Salsa's high-rise, short extension P10 stem with cable roller made such positioning easy. Rumpf recalls a lower rise P7 option available as well.
A Salsa Cycles drop bar Alacarte was a hint of what was to come from the brand, decades later. Despite new QBP ownership, the brand remains true to the company's drop bar tendencies, offering no less than six mixed terrain drop bar bikes today. Even the company's carbon drop bar Cutthroat model keeps the same frame angles, fork offset and near-identical top tube length as the Alacarte 26 years later despite new materials and wheel sizes.
[caption id="attachment_98935" align="aligncenter" width="750"]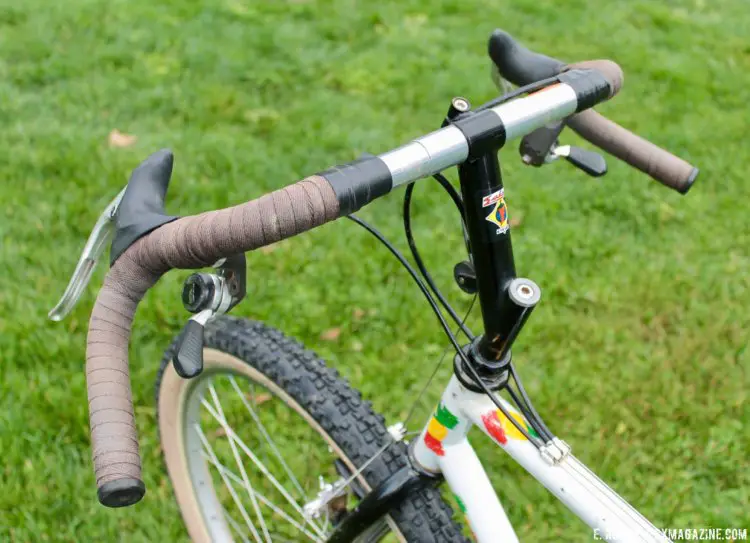 1991 Salsa Alacarte drop bar mountain bike with a short, high-rise Salsa P10 stem. © Eric Rumpf[/caption]
For Drop Bar Fans, WTB = Want to Buy
Putting the bar in the right position was only half the battle. How would you shift? Shimano Deore DX thumbshifters, with their bendable mounts were a popular option, as you could mount them on the tops of a drop bar with a longer clamp bolt. However, WTB offered purpose-built thumbshifter perches to mount shifters right where you'd likely need them—in the drops.
[caption id="attachment_98937" align="aligncenter" width="750"]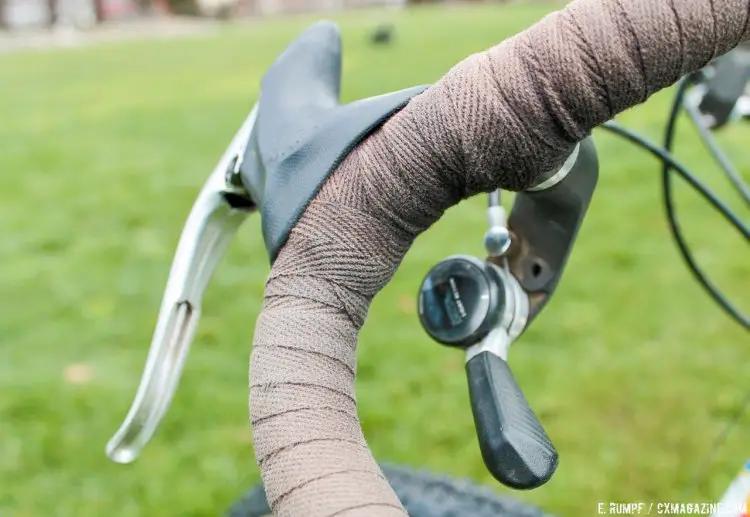 WTB shifter perches made for easy shifting in the drops. 1991 Salsa Alacarte drop bar mountain bike. © Eric Rumpf[/caption]
Another sign that we've come full circle in trends is the bike's flared bars. The name Salsa has become synonymous with flared bars over recent years, with the company's Cowbell, Cowchipper and Woodchipper (and past Bell Lap) handlebars. Now many companies target this trend, with brands like Easton now even offering aluminum and carbon options. However, Rumpf's Salsa features a collaboration between WTB and Specialized in the form of the RM-2 handlebar.
[caption id="attachment_98934" align="aligncenter" width="750"]
A WTB/Specialized RM2 handlebar took flared drops to the extreme. 1991 Salsa Alacarte drop bar mountain bike. © Eric Rumpf[/caption]
What does RM stand for? Road Mountain? We're not sure, but given Jacquie Phelan's dominance on drop bar Charlie Cunningham (co-founder of WTB) bikes, it's not surprising to see the different WTB products that targeted drop bar dirt riders back then. Even today, the Petaluma, California-based company (where Salsa also started) has been one of the leaders in offering different tire treads and widths for cyclists who don't quite fit in the mainstream categories, with tires like the Riddler, Horizon and Exposure.
The Original Dropper for Drop Bars
As for dropper posts, sure, they're a polarizing topic, but with bikes like the Raleigh Stuntman opting for them as stock equipment, and brands like PNW offering drop-bar specific dropper posts, they're becoming a more popular option for the new crop of bikes.
Rumpf's Salsa, with its Hite Rite spring, showcases that even way back then, racers valued the ability to drop their saddle an inch or two for the descents, regardless of handlebar type. Flip open the long Salsa Flip-Lock quick release, drop the saddle, and chase records on Cascade Canyon fire road on your descent back in history.
[caption id="attachment_98944" align="aligncenter" width="750"]
The Hite Rite helped cyclists turn their seat posts into mechanical dropper post, regardless of handlebar type. © Eric Rumpf[/caption]
Take a journey back in time via the photo gallery below the specs, but don't be surprised if you end up exactly where you started.
1991 Drop Bar Salsa Alacarte Specs:
Frame: Petaluma-built Salsa, Columbus Cromor OR steel
Fork: Koski Straight Blade
Rims: Mavic M231
Hubs: Shimano XT M730/M732
Quick Release: Salsa Rasta
Tires: Ritchey Z-Max (currently OnZa Canis)
Pedals: Shimano XT M737
Crank: Shimano XT M730
Chain: SRAM
Rear Cogs: Shimano HG90
Bottom Bracket: Shimano UN71
Front Derailleur: Shimano XT M735
Rear Derailleur: Shimano XT M735
Shifters: Shimano XT M732
Handlebars: WTB/Specialized RM-2
Grips: Black cloth
Stem: Salsa P10
Headset: Shimano XT M732
Brakeset: Shimano XT M732
Brake levers: Dia-Compe
Saddle: Selle Italia Turbo Super
Seat Post: American Classic w/ Hite-Rite
Paint: Team Jelly Bean
Size: 18.5″
Serial: # SM786
Eric Rumpf's 1991 Drop Bar Salsa Alacarte Photo Gallery: