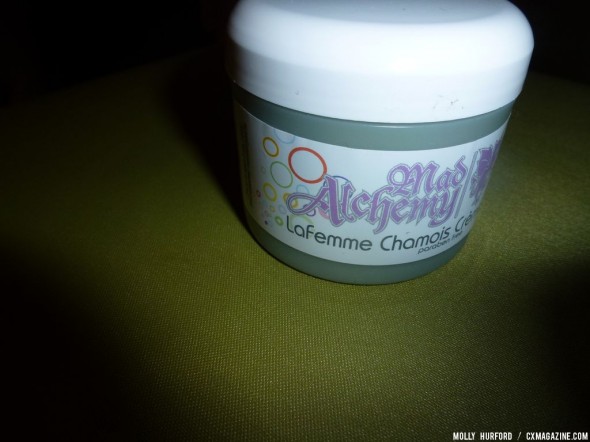 by Molly Hurford
When cyclocrossers think of the brand Mad Alchemy, they automatically think of embrocation. After all, embrocation to cyclocross is what … well, apple pie is to America. And while the brand may be best known for their product that should never, ever, go near a racer's "nether-regions," they do, in fact, offer a chamois cream, LaFemme Chamois Crème. Just remember to check the label first, to make sure you're applying the right thing to the right place.
What kind of chamois expertise do I have? Well, I recently was lucky enough to be a part of Tim Johnson's Ride on Washington. For those of you who haven't been paying attention to bike-related news, the ride included four straight days of 100+ miles of cycling. If you've ever done one century, you know the importance of chamois cream. Now imagine four, back-to-back, or saddle-to-saddle. To say that chamois cream was being used in excess by the riders is an understatement. At rest stops (and by rest stops, I mean stops on the side of the road), tubs of the stuff were being passed back and forth as often as water bottles. Mad Alchemy donated a big box of embrocation and other goodies (stay tuned for our Hell of the East embrocation review) and mixed in was some of their chamois crème. I grabbed a tub of it, expecting it to be like most other creams that I've tried, but hoping it would help me survive the last couple of long days.
I have to say, this is probably the best chamois cream I have ever used. For starters, the texture is less like a Noxema-style cream and more smooth:
It feels a little bit wetter, and almost has a Vaseline-type of texture, but not as thick or sticky. This is great for long rides because it has more "staying power" than other brands, which can tend to wear off after a couple of hours in the saddle.
On the Mad Alchemy site, they list the ingredients (other than the actual chamois cream base) as Lavender, Tea Tree, Grapefruit and Peppermint Essential Oils. I appreciate that Mad Alchemy stresses the use of natural ingredients, and they explain the rationale for each of the oils they use. For example, lavender is included because it's been used for years as an antiseptic and pain reliever (130 miles into a ride, you need that pain relief!). Tea tree oil is a nice touch as well, since it serves as an "anti-fungal and anti-viral agent."
For me, and for pretty much any woman I've ever talked to, big base miles can be seriously painful on our — ahem — "lady parts." Unless you've found the perfect saddle and are in the exactly correct position, odds are good there's going to be some friction, no matter what you do. And while even this stuff wasn't making me feel like I was floating along down the road, I did notice a difference between the Mad Alchemy that I started using on Day Three versus the much cheaper Udderly Smooth Udder Cream that I had been using for the first couple of hundred miles. There was less chafing, less discomfort, and to be perfectly blunt, after the ride, I wasn't quite as miserable or as beat up as I had been the days prior. Not to mention, the smell is lovely, and it was definitely pleasant to start the ride feeling like I smelled nice, rather than chemical-y (or sweaty).
Bottom line (pun intended): if you're racking up the base miles in the off-season and are looking for a chamois cream, check this one out.
For all of you men out there, Mad Alchemy does offer a few other varieties not designed for the ladies, so check them out. Or if you like the idea of soothing lavender in your chamois, don't be shy about rocking the LaFemme version.
Want to read more chamois cream reviews? Check out our take on Enzo's Buttonhole Chamois Cream or Friction Freedom Chamois Cream.
MSRP: $17.95 / 4 fl. oz.
Buy it here.