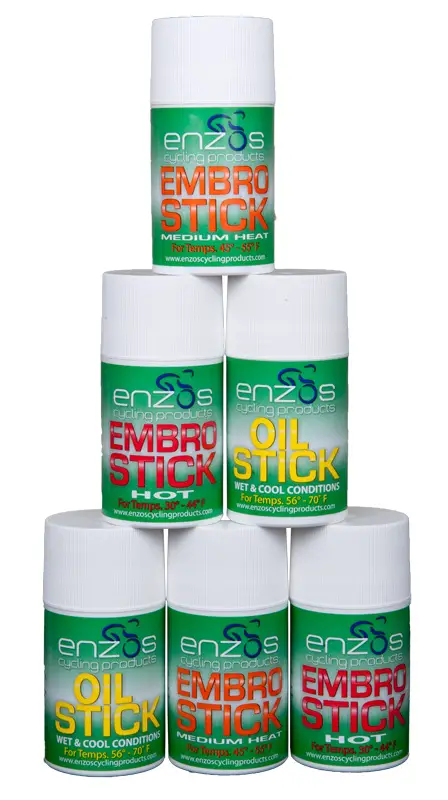 More than any other type of cyclist, cyclocrossers have an infatuation with embrocation. The ointments can help protect your skin from the elements, and give you a sense of warmth when it's cold outside – not just during cyclocross but also during the wet winter and early spring season. With the growth of the cyclocross, there's an ever-growing number of choices and flavors. Today, we're taking a look at one of the newer products to hit the embrocation market: Enzos.
Enzo's Embro & Oil Sticks: 2.5 oz stick, $16.95
When it comes to embrocation, a few big names stand out. But that doesn't mean there aren't plenty of other, lesser-known products out there. When Enzo's Cycling Products got in touch and asked if we were interested in checking out their line of embrocation, we were pretty excited to give it a shot.
My friend Donny and I spent the last few weeks testing out the three types of embrocation (warm, hot and "oil," which is water-resistant) that they sent us, and we were overall favorably impressed.
Enzo's embrocation (say that five times fast!) comes in stick form (Enzo's Embro Stick) instead of in a jar, and it comes with a few latex gloves thrown in, so application is easier and way less messy. We were actually embarrassed that neither of us had ever thought to use a glove rather than our bare hands when applying embrocation in the past. You know how it goes: put on embrocation, accidentally touch face (or other – ahem – sensitive spots) and start cursing and hopping around like a crazy person. But wearing a glove means clean application without awkward accidents afterwards. Ease of application? Check. Just use the stick to get it on your legs, then use the glove to even it out.
That said, even the rep from Enzo's suggested making sure we really slather it on in order to get the full effect. So even with the ease of application and the fairly large stick of it that you get, it goes fast.
The first thing you notice when you uncap the sticks is the smell: cinnamon is the dominant fragrance, so even though it's 30 degrees and pouring outside, the car still smells like mom's apple pie, rather than the camphor smell that you get from say, Icy Hot gel. As Donny put it, "All the sticks smell the same – it smells great – the fragrance is one of my favorites out of any embro I've used."
We – or maybe just Enzo's – were in luck, because the first weekend we showed up to a race armed with our new embrocation sticks, it was snowing and sleeting heavily. In October. This made the apple-pie smell of the "Hot" sticks even more noticeable, as we applied them crammed in a small car, scared to get out to face the elements.
To that end, since we were trying to put this stuff on in a cramped space, Donny agreed with me that the stick application is great, really convenient, though you do have to use a little bit more.
During the race, we could definitely feel the embrocation heating up, especially because we were riding in the rain, so it activated right away. Unlike some embrocations that seem to be most effective post-race, this one was effective when it needed to be, without being overwhelming. They were definitely true to the temperatures that they said they would be good for on their labels. (For a frame of reference, the hot stick would be around medium in Mad Alchemy terms.)
The price is a little high ($16.95) for how many uses you get out of one stick, because as we've said, it takes a lot to work well. If you use enough for it to work the way you want it to work, you'd probably get a solid six to eight races out of it.
The Oil Stick is exactly what it says: a non-heating embrocation, meant for use on rainy days. And while the rain does indeed slide off, it seemed like it wasn't quite worth the hassle, since there was so much dirt sticking to Donny's legs that he had to spend a good chunk of time washing them off afterwards. But pre-ride, they did have that embrocation gleam, and rain did slick off during the ride.
The most important detail for us: If you've used embrocation before, you know that it can feel pretty bad in the shower the night after a race. The burning sensation goes from being helpful to being just painful. But with the Enzos, while there was certainly some discomfort, it wasn't as burn-y as some of the other products I've used. As Donny put it, "it didn't really light your legs up for the entire night."
Looking at the ingredient list was also reassuring: "Bees Wax, Shea Butter, Olive Oil, Grapeseed Oil, Carrot Oil, Avocado Oil, Wintergreen Oil, Cinnamon Oil, Eucalyptus Oil, Patchouli Oil, Tea Tree Oil, Vitamin E Oil." No chemicals, just natural oils.
Button Hole Chamois Cream
We noticed that the chamois cream — also excellent — had that nice tingle that other chamois creams with tea tree oil tend to have, and it worked great.
In general, Enzos gets a thumbs-up from us, with a hope that at some point, they'll increase their stick sizes without increasing the price. But for the amazing smell and the no-mess gentle heat, it gets a "win."
Enzo's sells embrocation and their Button Hole Chamois Cream through select retailers and directly through their website. To find a dealer near you, visit their dealer page.

For more info:
http://www.enzoscyclingproducts.com/