At the 2015 CrossVegas World Cup, Michael Vanthourenhout changed how the Men's Elite Race played out by setting a vicious attack, upping the pace of the full pack in the process. The Sunweb-Napoleon Games rider was awarded with a third place for his efforts.
Although he was the only member of his team to strike the podium, the whole of CrossVegas was well dictated by Sunweb-Napoleon Games for much of the race, with Klaas Vantornout leading the race in the first two laps, World Cup overall winner Kevin Pauwels able to get in at a top five when he bested Jeremy Powers at the line, and Gianni Vermeersch taking another top ten for his team.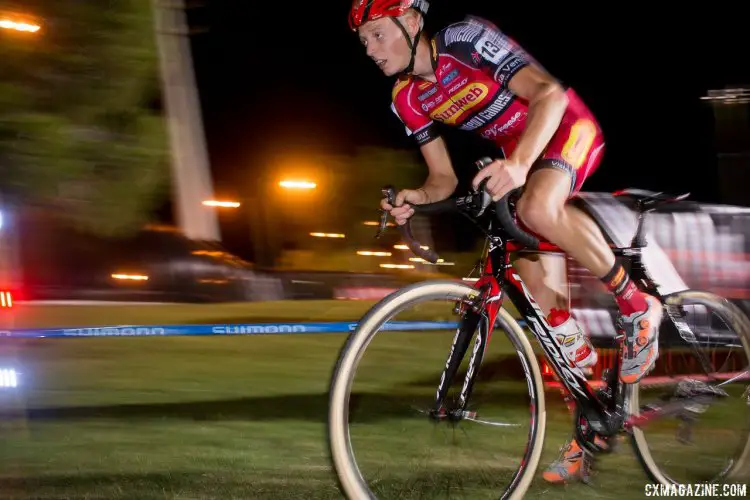 Vanthourenhout led the charge halfway through the race, impacting the pace at the World Cup in CrossVegas. © Cyclocross Magazine
For today's Pro Bike Profile, we have a collection of the Ridley X-Night SL pro bikes used by the field, focusing on Vanthourenhout's podium-finishing ride.
We first saw the 2016 X-Night SL at Ice Bike back in late February, back when most people were abandoning thoughts of cyclocross for the offseason. Although they had a rad asymmetric black and orange paint job that struck a fine place in our hearts, the updated models, as well as those issued for the team, have a cyclocross-specific "Done in 60 Minutes" decal on the seat tube (although UCI racers might race a few more). The X-Night SL models are the higher modulus, lighter carbon of the X-Night models of older years, while the 2016 X-Night have the modulus of the old X-Nights, but retain the same lower bottom bracket geometry of the X-Night line.
You won't find models like the Sunweb-Napoleon Games in a showroom, however, as Ridley has committed to selling disc brake versions while most of the team still employs cantilever brakes.
Vanthourenhout hardly needed to worry about that after his ferocious attack on his Ridley, though. Other than the frame, his build is nearly identical to Sanne Cant's Stevens Super Prestige we also saw at the race. He rode with Shimano Dura-Ace 9070 Di2 with a double chainring setup alongside a Rotor 3D+ crank and TRP RevoX Carbon cantilever brakes.
The most notable difference was in the choice in tires, with Cant opting for the file treads while most of the team bikes employed Dugast Typhoons, although we did see Vermeersch's training bike with a set of FMB SSC tires on them (many Europeans do not have tire sponsors, so this isn't a large surprise in context).
For more photos, as well as a full spec list, use the slider below. More info: ridley-bikes.com