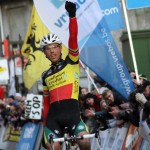 by Bart Hazen
Belgian Champion Sven Nys has won the Druivencross in Overijse, Belgium. In the "mother" of all cross races the Landbouwkredietrider was too strong for the competition. Kevin Pauwels and Klaas Vantornout finished in second and third, 21 and 37 seconds back, respectively. Bart Aernouts, Tom Meeusen, Dieter Vanthourenhout, Lars Boom, Niels Albert, Rob Peeters and Gerben de Knegt completed the top ten. Jonathan Page, who decided not to travel to Bend this weekend for the US Nationals, finished in thirteenth almost three minutes down on Nys.
Lars Boom had the best start of the field. The Rabobank rider, appearing in his second race of the season, but the first against the Worlds best riders, didn't come to Overijse to ride anonymously. The Dutch national champion turned into the field first, followed by Tom Meeusen, Klaas Vantornout, Kevin Pauwels, Bart Aernouts and Gerben de Knegt. Sven Nys and Niels Albert didn't have their best start of the season, but came through within the first ten by the end of the first lap. Belgian Sven Vanthourenhout was the most unfortunate of the day. He left the race after someone ran into him at the start followed by two flat tires in the early laps.
The young Belgian rider Tom Meeusen, recovered from illness, had a really good day as he kept the lead for over two laps. With five laps to go still nine riders had a chance for the win with Sven Nys, Klaas Vantornout, Kevin Pauwels, Bart Aernouts, Tom Meeusen, Dieter Vanthourenhout, Niels Albert, Lars Boom and Rob Peeters. Just before halfway through the race, with four and a half laps to go, Nys attacked and was joined by Klaas Vantornout.
But the Sunweb rider couldn't stay on Nys his wheel for long, as Nys attacked another time on the climb just after the finish. Vantornout dropped back to a chasing group led by Telenet-Fidea's Kevin Pauwels. And, though under Pauwel's leadership the lead of Nys was reduced from 16 seconds to 8 seconds, no one from the chase group could match the Belgian Champion.
With three laps to go Pauwels closed to within six seconds of Nys. A chasing group with Lars Boom, Niels Albert, Klaas Vantornout, Tom Meeusen and Bart Aernouts followed 10 seconds behind. Boom refound his best legs, left his companions behind and bridged up in no time to Pauwels. With two laps to go Nys had a gap of five seconds on Boom and Pauwels. But midway through the penultimate lap Boom flatted and his chances for a podium disappeared.
The final lap was a true victory lap for the Belgian champion. The gap to Pauwels was over 15 seconds with Vantornout and the others further back. For Nys it was his tenth win of the season, his third win in Overijse.
"With Lars Boom in a race you know it will be a tough race," said a satisfied winner. "I knew when Lars would come back I needed to have some energy left. It's a long time ago that I was able to win two races in one weekend."
Boom, whose chances for a podium finish were ruined by the late flat tire, told reporters he was still happy with the effort. "It's a pity, but I still had lots of fun in the race", said the Dutch Champion. "It was a beautiful 'cross today. I have colored the race and amused myself. I had one weak moment, but came back strongly."  Boom's resurgence earned him a special prize for the fastest lap: a check for 1000 Euro.
"I didn't expect that I would battle with the top already today," continued Boom. But he dispelled persistent rumors that he would make an appearance at the World Championships. "I'm not going to ride there," he said. "The focus stays on the road, but it was nice to see the warm welcome I got today. It's nice to be back for a bit."
Stay tuned for more rider reactions and photos.
Photo Gallery from Bart Hazen:
Full Results:
Rank
Name
Nat.
Age*
Result
PaR
PcR
1
Sven NYS
BEL
35
59:15
80
80
2
Kevin PAUWELS
BEL
27
59:36
60
60
3
Klaas VANTORNOUT
BEL
29
59:52
40
40
4
Bart AERNOUTS
BEL
29
1:00:08
30
30
5
Tom MEEUSEN
BEL
23
1:00:18
25
25
6
Dieter VANTHOURENHOUT
BEL
26
1:00:40
20
20
7
Lars BOOM
NED
26
1:00:46
17
17
8
Niels ALBERT
BEL
25
1:01:17
15
15
9
Rob PEETERS
BEL
26
1:01:30
12
12
10
Gerben DE KNEGT
NED
36
1:01:40
10
10
11
Kenneth VAN COMPERNOLLE
BEL
23
1:01:48
8
8
12
Mariusz GIL
POL
28
1:02:05
6
6
13
Jonathan PAGE
USA
35
1:02:10
4
4
14
Enrico FRANZOI
ITA
29
1:02:35
2
2
15
Jan VERSTRAETEN
BEL
33
1:02:46
1
1
16
Bart WELLENS
BEL
33
1:03:05
17
Ben BERDEN
BEL
36
1:03:40
18
Tom VAN DEN BOSCH
BEL
26
1:03:58
19
Jiri POLNICKY
CZE
22
1:04:10
20
Philipp WALSLEBEN
GER
24
1:04:37
21
Davy COMMEYNE
BEL
31
1:04:50
22
Stijn HUYS
BEL
25
1:05:00
23
Patrick VAN LEEUWEN
NED
26
1:05:25
24
Martin ZLAMALIK
CZE
29
1:05:35
25
Kevin CANT
BEL
23
1:05:45
26
Matthias BOSSUYT
BEL
20
1:05:55
27
Arnaud GRAND
SUI
21
1:06:05
28
Tim VAN NUFFEL
BEL
30
1:06:15
29
Bart VERSCHUEREN
BEL
25
30
Quentin BERTHOLET
BEL
24
31
Magnus DARVELL
SWE
29
32
Geert WELLENS
BEL
28
33
Wilant VAN GILS
NED
32
34
Jérôme BAUGNIES
BEL
24
35
ALBERTO CANDELAS CABALLERO
ESP
24