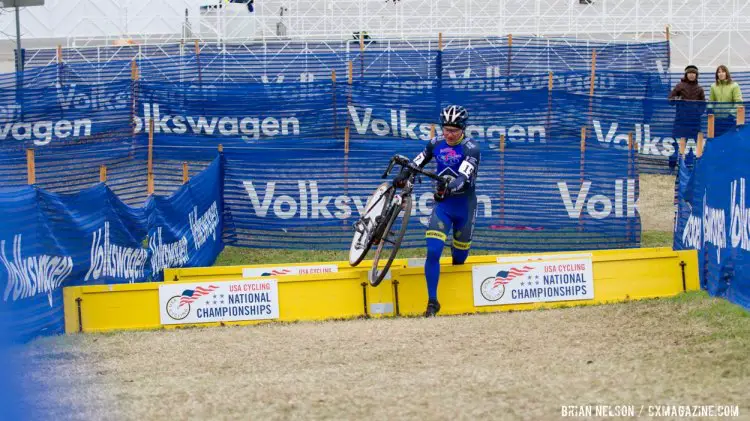 Paul Curley (Spin Arts Cycling) is usually seen riding away from the competition. © Brian Nelson
by Chance Noble
As industry introduces new innovations to consumer markets at an accelerated rate, preferences within the cyclocross community further divide between the tried and true and cutting edge technology. One name that values equipment choices that have stood the test of time is Paul Curley.
Curley is a regular on the New England scene, although cyclocross racers from other areas of the country may know him from his 20-something multidisciplinary national titles or perhaps his defining aero rear wheel cover and helmet mounted rear-view mirror. One Curley mainstay has been his traditional choice of steel and aluminum bikes for their reliability and durability.
We have profiled his National's winning bike before, including his 2011 National Championship winning Stevens Spin Arts. Always tastefully paired with classic equipment like Mafac brakes and Suntour Superbe Pro High flange hubs, Curley's bikes have been an appreciated take on bike setup for the resourceful non-pro.
While Curley's win at the 2015 Cyclocross National Championship in Austin was typical for him, the bike he piloted to victory in the 60-64 Masters Men's Race was an unusually modern arrangement. Always resourceful, he got a great deal on a 2014 Felt F1x from one of the New England-based Keough brothers.
While Curley seems to have changed his ways in many aspect with this new bike, he remains true to what is perhaps his most defining bike setup feature – an aero wheel cover. Curley's full carbon frame set differs from the production model by having studs for cantilever brakes.
His drivetrain is a mixture of Dura-Ace and Ultegra Di2, with all components being Ultegra aside from his 7900 Dura-Ace 130 BCD crankset, which is paired with rare matching Dura-Ace 46/39 chainrings. The use of these rings give visual harmony and consistent form to the drivetrain.
Curley's Di2 battery is mounted externally on the top side of the down tube, which could create a problem for some when shouldering the bike, but apparently did not slow him down.
Curley continued to use Shimano PD-M540 pedals as he did with his bike that we previously profiled. Thomson components make up the front end with the X2 stem and carbon road bar. His bike used TRP SL Carbon CR959 cantilever brakes around a Kazane carbon tubular front wheel.
Departing from his prior Tufo tires, Curley rode on a custom paired 32mm Dugast casing and non-Dugast tread on the front and a 32mm Dugast Typhoon in the rear.
Use the arrows to navigate through the images, and check back for more 2015 Nationals bike profiles (we've captured each winner's bike!)