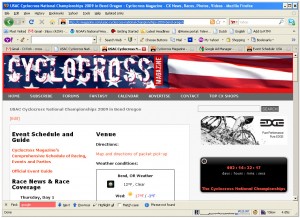 Whether you're heading to Bend or planning on tuning in from the comfort of your warm home, we've got your one destination for all your Nationals coverage: the Cyclocross Magazine 2009 USA Cycling National Championships center, powered by Edge Composites and Raleigh.
Check out the center for the most comprehensive event schedule, live coverage throughout the event, race results, tech pieces, rider profiles and course descriptions and previews. We'll be flooding the page with updates…check back often.
And if you're attending?  Stay tuned for an exciting contest for your chance to win a Raleigh High Life singlespeed frame!