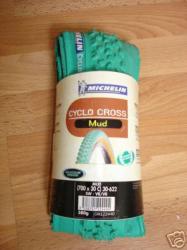 How much would you pay for a tire over five years old?? The original green Michelin Mud cyclocross tires will always have a fond place in our hearts here at CXM. A slightly more open design than the Mud 2 but with a more fragile sidewall (especially the original tan sidewalled ones), the tire was wide, comfortable, shed mud very well and was good enough for pros like Tim Johnson. They were THE clincher to race on. But perhaps best of all, they were a loud green.
Well, since they stopped making them about six years ago, we've collected our share over the years at swaps, and it seems like we're not alone in our affection for the green tire. We spied this eBay auction for ONE NOS Michelin Mud Cyclocross tire that ends Thursday afternoon and it's already at $53.00 plus $6.00 shipping. Any guesses what it'll go for? Drop a comment below. We've seen USED pairs sell for $90+. [Update: it sold for $66, but as of 5/19, there is a new one listed here]
Thankfully, as our upcoming tires tests in Issue 3 will show, there are a lot of good clincher tire options out there nowadays…just nothing in green. Have a favorite tire? Tell folks about it over in Cyclocross Magazine's Pits.