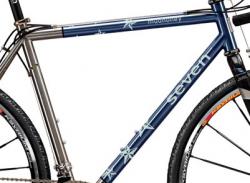 Seattle's Cascade Bicycle Studio has teamed up with Seven Cycles to offer both steel and titanium 'cross frames with a limited edition, glow-in-the-dark paint scheme to celebrate the Seattle's pioneering night race and 'cross party, Star Crossed. The frames are being offered with an impressive 2-week delivery time, which means if you act quickly, you could even be riding your new glowing steed at this year's Star Crossed.
Zac Daab, owner of Cascade Bicycle Studio and founder of the Hup United club (featured in Issue 2), came up with the idea of creating a 'cross bike specific to his market and region. Daab thought the Star Crossed event, being the "queen" 'cross event of Seattle, was the ideal race to inspire these specially-painted frames.
Glow in the dark paint? Will it last? Daab says the special paint, if cared for appropriately, can keep its glowing properties for several years. But the paint and reduced prices may not be the biggest selling points; it's the 2-week delivery time that may be the biggest draw, according to Daab. "Typically, if you order a custom 'cross frame during the season, it's likely you won't see it until the following year," he explains. "With this Limited Edition project, the customer can expect to receive their Limited Edition frame in 2 weeks."
Exclusive features to the Seven Cycles Star Crossed frames:
Three Limited Edition paint schemes with three glow-in-the-dark paint colors.
Fabricated by Seven Cycles' Priority OneTM fabrication team. (Seven's most experienced machinist, welder, final machinist, and painter)
Seven Cycles First Priority ProductionTM lead-time: fully custom bicycle in 2 weeks.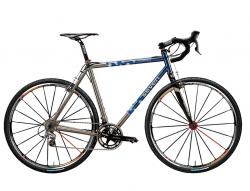 Limited Edition pricing:
Tsunami steel frame: $1995 (singlespeed format at no charge)
Mudhoney titanium frame: $2795 (singlespeed format at no charge)
Tsunami Steel Ultegra complete bike: $3750
*Pricing reflects a cost savings of $990 (steel) and $1340 (titanium) for LimitedEdition paint scheme and First Priority Production accelerated delivery.
Order Process:
Only through Cascade Bicycle Studio
Order by Friday, September 5th for delivery by Star Crossed on September 20th.
Orders placed after September 5th will be delivered in 2 weeks.
Limited Edition pricing available through October 10th.
While we have not yet seen or tested one these frames, we hope it's just a start of cycling companies and bikes shops working together to create customized bicycles that celebrate each region's unique 'cross culture.
For more info:
New Product Spotlight is an ongoing feature on cyclocross-relevant products, some tested, some not. To submit your product for consideration, contact us.