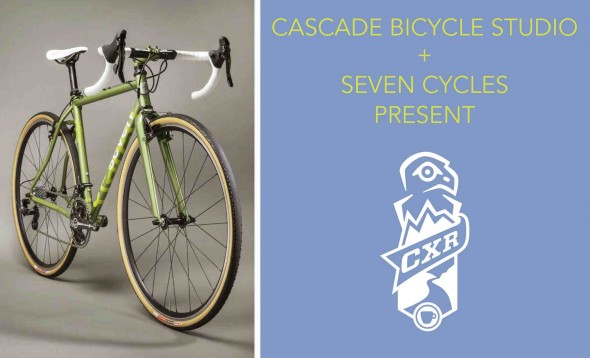 The four-season cyclocross bike is available for delivery in August
SEATTLE, WASHINGTON – With gravel and fondo racing on the rise, bike commuting as the perfect excuse to add on some extra training miles, and trail riding on a 'cross bike as just plain fun, it makes sense to think about multi-use when looking for your next cyclocross ride. Cascade Bicycle Studio of Seattle, Washington, and Seven Cycles of Watertown, Massachusetts, have partnered to create a four-season cyclocross bicycle dubbed the CXR. The CXR has been designed for four seasons of riding, over various terrain. The CXR is available for ordering now, exclusively through Cascade Bicycle Studio, with the first round of bikes slated for delivery in late August.
"We wanted to create a cyclocross platform that could be ridden beyond the 'cross season," said Cascade Bicycle Studio founder Zac Daab. "Race bikes are great tools for three months out of the year, but fall short in other disciplines. The CXR is a cyclocross race bike, a rainy-season winter bike, a full time commuter, and a Gran Fondo gravel bike."
The CXR is available in steel or titanium, and with either linear pull or disc brakes. In addition to the brake type and material choices, the CXR is available as a frameset only, as a complete bike with SRAM APEX or SRAM FORCE 22, or as a complete bike with any custom spec. All CXR framesets have fender eyelets included on a carbon fork, and also integrated into the frame's rear drop-outs.
"I've worked in a variety of capacities with Seven Cycles for the last fourteen years," Daab said. "I can't think of another builder who could design, fabricate, and deliver such a special project bike in a timely manner. Also, we've partnered with Derek Blagg (derekblagg.com) to offer a fantastic paint scheme that is subtle, fresh, and diverts from the industry's current trend of off-centered panels and pinstripes."
Seven Cycles and Cascade Bicycle Studio have co-designed six CXR sizes. All orders include a bicycle fitting at Cascade Bicycle Studio with founder Zac Daab or partner Terry Buchanan. Pricing and component spec can be seen at www.cascadebicyclestudio.com.