The entire West Coast, some Mountain States and a good part of the Southeast are suffering from droughts. While California's drought is one of the most severe droughts on record, 33 percent of the country is suffering from moderate to severe drought, according to the NOAA, promising plenty of dust bowl cyclocross races to start this season. But there's rumblings of El Niño and other trends threatening to rain on this parade this fall and winter.
Weather, either dry or wet, plays a major role in our equipment choices, post-race clean up, bike maintenance, training and race day performances. We sat down with cyclocross racer and meteorologist Steve Anderson to make sense of all this weather chatter and figure out how these weather trends might impact us as cyclocross racers, and whether some of us in dry climates should start stocking up on mud tires or lace up our running shoes.
Cyclocross Magazine: You're a cyclocross racer, accomplished race photographer, and weather guy. But what specifically do you do for work?
Steve Anderson: I provide weather forecasts, Advisories, Watches and Warnings to the greater San Francisco Bay Area and further south through Monterey. I give weather briefings to media and emergency managers. All weather outlooks beyond seven days are carried out at the Climate Prediction Center in DC.
CXM: California, and the West Coast in general, has been going through a historic drought. But we keep hearing this will be an El Niño year and a lot of rain might follow. As a cyclocross racer in typical dusty California, how should weather predictions impact our tire shopping and planning? [Ed. note: See Adam Myerson's input on selecting the right tire for course conditions]
SA: The El Niño is strengthening and is expected to be in the strong category by winter. California and Arizona can expect a high likelihood of above normal rainfall. How much is impossible to tell.
I would expect more people in Southern California and Arizona would look into buying mud tires since Southern California and Arizona will have the greatest chance of above-normal rainfall.
My personal training has taken into account that above normal rainfall could result in more running during races, so I have increased my running in my training program.
[Anderson lives in the Monterey area.]
CXM: When meteorologists say it's an El Niño or La Niña year, is this based on percentages and probability? Is it always one of the other? Is it a binary decision?
SA: An El Niño is considered to be occurring when the waters in the tropical central pacific are 0.5 degrees Celsius warmer than normal during a three-month period. La Niña is occurring when the waters are 0.5 degrees below normal. Currently the waters in the central Pacific are 1.8 degrees above normal. This is similar to what the water temperatures were back in 1997, going into the strongest El Niño on record, [the winter of] 1997-98.
CXM: We're starved for rain here in California, but what are the implications for an El Niño year for the rest of the country? Is El Niño relevant out East?
SA: El Niño certainly impacts the whole country, but in different ways. Some areas will be drier, others will be warmer or cooler. [See image below]
CXM: How does El Nino impact the rest of the world?
SA: El Niño affects different parts of the globe in different ways during different times of the year. It is still called El Niño but means different things to different regions: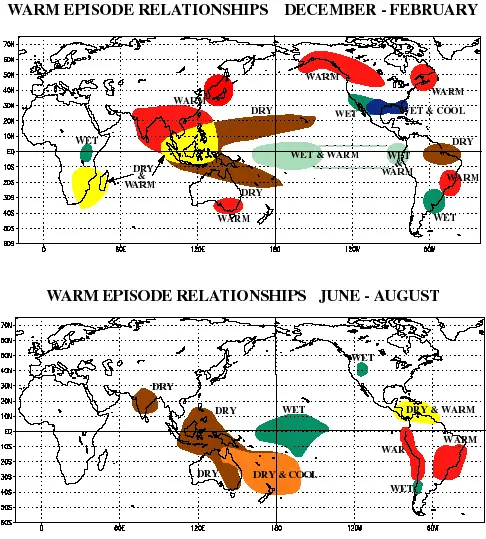 CXM: I keep hearing about this called "The Blob" that might might ruin everything, and I don't think we're talking about the 1958 or 1988 horror films. What the heck is the blob, and what are the implications?
SA: The Blob is a large mass of warm water in the Pacific Ocean off the coast of North America. The Blob is big, but El Niño is bigger. El Niño is known to have a much larger impact on weather around the world. However, The Blob is made of warm water, which easily evaporates. That means the Blob could end up pumping more moisture into the air and fueling rain clouds as they pass over the ocean on their way to land. The Blob could give a turbo boost to El Niño. Stay turned….
CXM: What odds would you personally put on having a wet cyclocross season this year?
SA: Eighty percent.
CXM: If we do have a wet season, is there any way to predict whether it'd be a handful of big storms, or lots of drizzle-filled days?
SA: There's no way to tell.
CXM: Thanks a bunch for your time, and we hope to see you in rubber boots this season.
To see some of Steve Anderson's "other" work, visit his portfolio site here.