While it's hardly the day for a Throwback Thursday or Flashback Friday, this first weekend of September provides us a good chance to look back at years prior. Many of us will be jumping on a cyclocross course for the first time this season, and along with it comes memories of past successes and failures. Perhaps some of you have dedicated a few months to cyclocross training, while others were able to carve out some mid-week time for a Wednesday Night Worlds as we mentioned in Issue 25.

Today might be a good time to remind ourselves to revel in the small victories. Many of us will go into the year with high expectations, yet cyclocross is more than just standing on the first podium of the season. You can certainly try to learn from your mistakes, but also remember to pat yourself on the back for finding "that one perfect line" or finding your legs in the fifth lap.
With this in mind, we want to share a story recently given to us by David Sterry, who was a frequent contributor to Cyclocross Magazine in years past. He reminds himself to reflect on the small steps forward, even with the big overall goals in mind.
written by David Sterry
The temperature is nearing 90 one Thursday evening in July as I slip into the shade at the Thurman Gate of Forest Park in NW Portland. I stop for a minute to take a drink from the water fountain and splash some water on my head before I start my work out. There are surprisingly few people in the park as I start up the trail and mutter my regular prayer to the forest gods that I don't run into any out of control off leash dogs. An hour and a half later my interval workout down and I'm soft pedaling my way down Leif Erickson trail headed towards Germantown Road. When I get to the bottom and head over the St. Johns Bridge it felt like I was riding into a furnace as I came out of the shade. I don't mind, the views from the top of the bridge are gorgeous this evening. When I pull off the bridge and heads towards home I start thinking about everything that's changed since I last wrote this column. There is a lot.
There was one big change that lead to all sorts of small ones. I decided I wanted to be good at something. For years I was happy with being, "not too bad" at whatever I did. I was a "pretty good" runner and a "decent guitar player," but I was never "great" at anything. Then one day I had a fantastic race, I felt fast and strong and raced with a clear head. When I finished I thought, "How on earth do I repeat that, because that was amazing?"
Shortly after I happened to watch an interview with Josh Homme from the band Queens of the Stone Age, and he was talking about when he learned to play the guitar. He said something along the lines of "People will say things like Hendrix never learned to read music so I don't need to! Well you're not Hendrix, you need to learn to read music and all the fundamentals" That comment clicked in my mind. I realized you can't be good at something if you don't do a lot of it. There's no short cut, no "one weird trick" despite what the internet keeps trying to tell me. There's hard work and repetition and then more, and then more and more until you get better.
When my mindset changed so did my approach to training, eating, and sleeping. I spent the time to figure out a plan that really works for me, one that I like and am happy to do. I started paying more attention to what I ate and how it made me feel, avoided the things that upset my stomach or made me feel gross. I got comfortable with the idea that during training weeks I'd go to bed early, not drink and spend a lot of time stretching.
I made sure to have time to go bouldering and spend time away from the bike. I made sure to stay in touch with my friends so I wasn't in a bubble of bikes all the time. But even so, most of my focus was on racing and training. And it took a while, but it worked last year I had a great year of racing and in early October got upgraded to Category A, after what I can honestly say was my best race ever. I finished second at the Cross Crusade kick off race at Alpenrose after leading almost the whole race, losing the lead only in the last quarter of the last lap; which I admit still bugs me when I think about it a year later.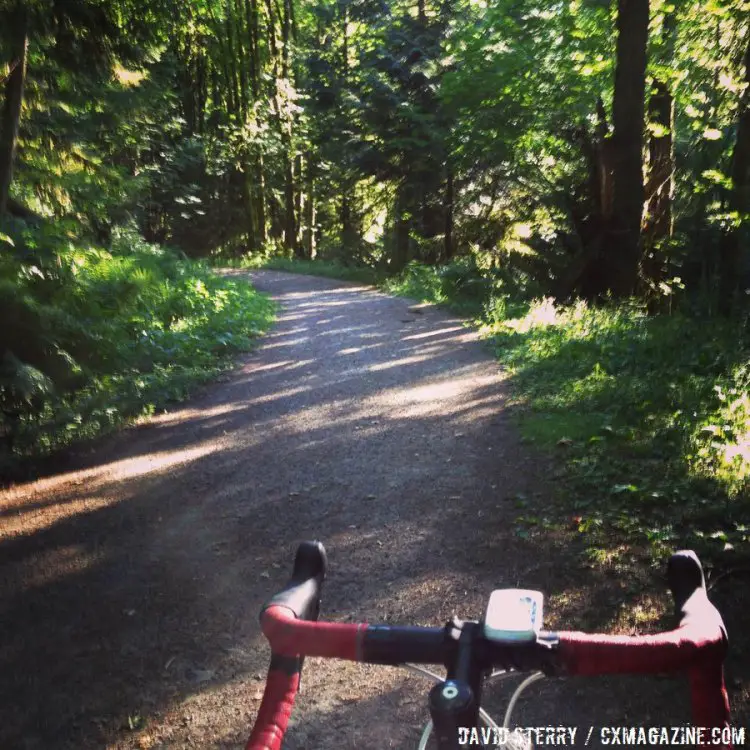 More recently I even had the good fortune to secure a pro deal with Trail Butter, a local Portland company that makes some delicious combination nut butters for runners and cyclists. A friend of mine works for them and they were interested in getting their product out to cyclists and thought I would be a good person to help them out. I don't think I would ever have guessed that I would have been asked to do something like that.
I realize reading that it probably sounds like I flipped a switch and all those things happened and then "bam," I was better at racing and I got a letter in the mail saying "Congratulations! You're pretty fast on the bike!" That was hardly the case. I had bad weeks of training, stayed up too late sometimes, had a few more beers then I should have now and then. There were some really bad races.
In the preseason, I pulled out of a short track race because my legs just wouldn't work right.
But I've kept the overall progress in a positive direction. I gave myself two key phrases to always keep in mind. The first is "If you're not doing it, you're not doing it." If you aren't training, then don't say you are. If you aren't actively working towards your goal then don't claim you are. It is a pretty harsh view of things, but it keeps me motivated and on track. The other phrase is a quote I see tossed around a lot, "Don't buy upgrades, ride up grades." It's so easy in cycling to get lost in thinking you need the newest thing, or the reason you aren't doing well is because you need better wheels, more carbon, that pretty anodized part that finally ties your color scheme together, or even a new bike.
Recently I watched a family video from when I was about four or five. My older sister and I are riding our bikes up and down our unmade street in New Jersey in the rain as my younger brother splashes around in his boots. It's pouring out, but there we are, three kids laughing in the rain, two of us plowing our bikes through puddles, coming dangerously close to hitting my younger brother as we ride, as my Dad films and encourages all three of us, clearly loving every minute of riding around in the mud and rain. A small start in a bike racing career to be sure. But when I think about all that's changed in my life in the last year, the end of a relationship, a new house with new roommates, there's one thing that's always been there since I was young: bikes.