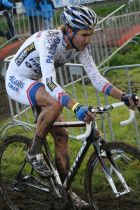 Niels Albert injured his spleen in warm-ups for Sunday's race in Aspere-Gavere. Belgian TV Teletekst reports that this morning he felt fine, but by 4:30 p.m. was much worse and was kept in intensive care at the University of Ghent, and is expected to remain there for several days. There is still fluid and inflamation, putting pressure on his diaphragm and a lot of pain in his chest and his back.
His state of mind is still positive, according to the manager. Of course the injury is a devastation to his season plans but he is already making new goals. Monday (today) he said he will aim for the championships (Belgian and World Championships).
The very best case scenario is that Albert will return to competition in two weeks, but most likely will be out for one month.
Fantasy players are probably wishing we had substitutions…
Photo by Bart Hazen