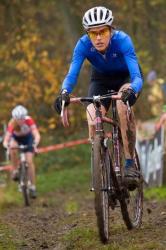 by Christine Vardaros, photo by Krist Vanmelle
I am pleased to announce I was one of the few to survive the Asper-Gavere Superprestige in one piece. Well, almost, if you don't include a broken bike and sore body parts. British racer Nikki Harris summed up the race best when she said she never knew she could get so many bruises from one race!
We arrived early at the Army Base that doubles as a race site once a year. As we pulled into the complex we were firmly instructed exactly where to park down to the centimeter. Security was just as tight. Some of us attempted to pre-ride the course before registration was open, but no such luck. Only those wearing official-issue wristbands – given out at registration – were permitted on the course.
Eventually we got the bands and headed out to play in the mud. As I safely, solidly made my way around the course I became optimistic for a decent result. The only section that made me nervous was the treacherous mud chute. Although I twice cleanly descended it, on the second run down I saw at the bottom a pile-up of racers and bikes, reminding me of that fateful head bang of last year which destroyed a good portion of my season. From that moment forward, I opted to run it.
My optimism continued to remain intact until midway up the extended power climb when my bike caked up with so much mud that all it took was one extra power pedal to rip the derailleur hanger in half. The bike came to a screeching halt. I shouldered the bike, along with its few extra kilos of mud, ten minutes back to the van. Jonas was not too pleased to see me walking back to the car – mudball carrying mudball.
While I cleaned up and finished my warm-up, Jonas went to work on the bike which I had already written off as unsalvageable. The chain, derailleur and hanger were completely trashed. But somehow he did it. One minute before I had to leave for the start, Jonas handed me the bike – clean and in perfect working condition. He really earned his UCI Mechanic's license that day.
I had a 2nd row call-up and held top 15 going into the dirt. But within seconds of hitting the dirt, I ran into Nicole Leyten-De Bie who was stopped in her tracks when she crashed into an immovable wooden pole. By the time I got around her, I was relegated to 20th. And then my luck dropped yet another level when Saskia Elemans took an impromptu lie down across the course in the middle of a slick u-turn. Back to 26th out of 35 starters.
Based on the situation, my new goal went from top 10 to a game of people passing. I paid close attention to how I can make up time on the others using everything within my control. I figured out which lines were fastest, where it was faster to run and where I can put time on others with the least amount of energy (such as getting on my bike earlier or putting it in a slightly harder gear). Jonas joined in on the game as well. Every time I passed the pits he'd give me a time count to the next girl in front. By the third of five laps, I really got it down! If there would have been a few more laps, I could have won!! Well, not really but it is nice to fantasize. The well-earned victory went to American superhero Katie Compton.
I eventually crossed the line in 11th but was awarded a 10th place because Belgian Veerle Engels was disqualified due to an incorrect pit stop. She entered the pit, slowing down to change bikes, but it was not ready so she left. The UCI officials did not catch it. Instead she was busted by the father of fellow Belgian racer Sanne Cant who complained to the officials after the race. I couldn't imagine ratting out a racer, especially if it was an innocent mistake. I can somewhat understand Sanne's father filing a complaint if it moves his daughter up a spot but since Sanne actually finished ahead of Veerle, the DQ didn't even affect Sanne's result. If it happened in the men's race, I bet it would never have been mentioned. Has anyone ever complained about Sven Nys' perpetual habit of taking 10 steps in the pit between bikes when the rule states no more than 5 steps are allowed?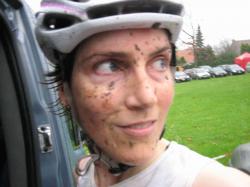 My top ten result gave me more than just 60 euros. It gave me the confidence and courage to continue on the hard training program I have recently implemented in an attempt to get back up to normal speeds. On a course like this with extensive running and heavy riding, two things I should not excel at for the moment, I am encouraged that I am finally headed in the right direction.
The next race on my calendar is Koksijde World Cup. But before I get there, I have a few more days of hard, hard training. After last weekend, I am now more excited to do the workouts. First I need to take a couple of easy days to let the bruises on both my knees, shoulder, forearm, calf, and ankle recover.
Thanks for reading!
Cyclocross Magazine columnist Christine Vardaros is a regular print mag an now online contributor. She reports from Europe with her unique perspective as a racer, journalist, and fan. You can read her previous online installment of the Pijnacker World Cup and races in Germany here.
Enjoy reading Christine's reports? Want to help her get to the races to keep them going? If you'd like to support her efforts as she comes back from last year's concussion-ruined season without a title sponsor, you can do so below: