Read the full Elite Women's race report and find out how one slick corner would change the face of the race that ended up in a finish line sprint between Marianne Vos and Sanne Cant>>
The 2017 Cyclocross World Championships' third race added even more drama to an already thrilling morning.
As we've seen so often in the men's races this year, one dropped chain can make the difference between glory and bitter disappointment.
Marianne Vos looked well on her way to an eighth World Title until a dropped chain let a determined Sanne Cant rejoin the lead, and the stage was set for a final last half lap that we'll watch and rewatch again and again.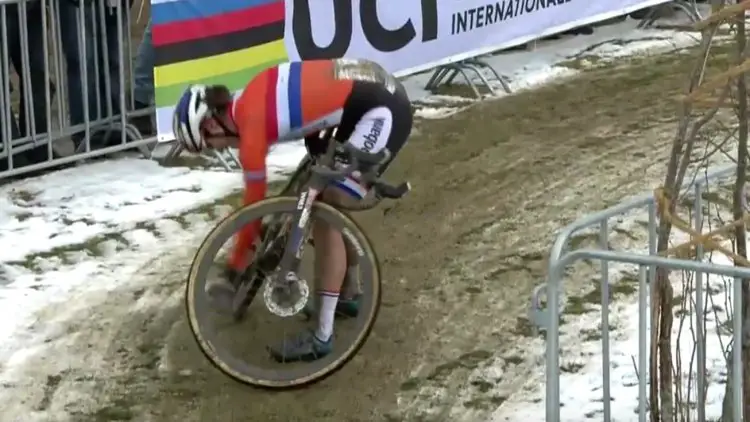 Vos, known for her sprinting, still looked like the favorite as Cant led to the final pavement, but with a determined sprint, Cant took her first World Championship jersey.
Read the full report, photos and interviews here>>
2017 Cyclocross World Championships Results - Elite Women - Bieles, Luxemourg
| Pl | Name | NAT | Team | Time |
| --- | --- | --- | --- | --- |
| 1 | CANT Sanne | BEL | | 0:43:06 |
| 2 | VOS Marianne | NED | WM3 PRO CYCLING TEAM | +00:01 |
| 3 | NASH Katerina | CZE | LUNA PRO TEAM | +00:21 |
| 4 | BRAND Lucinda | NED | TEAM SUNWEB | +00:21 |
| 5 | ROCHETTE Maghalie | CAN | | +00:36 |
| 6 | LECHNER Eva | ITA | LUNA PRO TEAM | +00:53 |
| 7 | MAJERUS Christine | LUX | BOELS DOLMANS CYCLINGTEAM | +01:21 |
| 8 | VAN LOY Ellen | BEL | | +01:25 |
| 9 | BRAMMEIER Nikki | GBR | BOELS DOLMANS CYCLINGTEAM | +01:31 |
| 10 | ANTONNEAU Kaitlin | USA | CYLANCE PRO CYCLING | +01:46 |
| 11 | ANDERSON Elle | USA | | +02:29 |
| 12 | MANI Caroline | FRA | | +02:40 |
| 13 | MILLER Amanda | USA | | +02:49 |
| 14 | PETIT Marlene | FRA | | +02:53 |
| 15 | MCFADDEN Courtenay | USA | | +02:53 |
| 16 | WYMAN Helen | GBR | | +03:06 |
| 17 | FRANCK Alicia | BEL | | +03:12 |
| 18 | CHAINEL Lucie | FRA | | +03:19 |
| 19 | GONZALEZ BLANCO Lucia | ESP | LOINTEK | +03:29 |
| 20 | DYCK Mical | CAN | | +04:27 |
| 21 | FAHRINGER Rebecca | USA | | +04:49 |
| 22 | HENZELIN Lise-marie | SUI | | +05:13 |
| 23 | LAMBORELLE Nathalie | LUX | | +05:51 |
| 24 | MONTAMBAULT Cindy | CAN | | +06:06 |
| 25 | SADLECKA Magdalena | POL | | +06:30 |
| 26 | VERSCHUEREN Jolien | BEL | | +06:36 |
| 27 | PAYTON Hannah | GBR | DROPS | +06:40 |
| 28 | PAUL Stefanie | GER | | +08:05 |
| 29 | YONAMINE Eri | JPN | FDJ NOUVELLE AQUITAINE FUTUROSCOPE | +08:15 |
| 30 | IMAI Miho | JPN | | -1LAP |
| 31 | NUNO PALACIO Aida | ESP | | -1LAP |
| 32 | WILLIAMS Naomi | AUS | | -1LAP |
| 33 | LONNE Rikke | DEN | | -1LAP |
| 34 | THRANE Kristina | DEN | | -1LAP |
| 35 | TAKEDA Waka | JPN | | -1LAP |
| 36 | LOCKE Rebecca | AUS | | -2LAP |
| 37 | GODART Suzie | LUX | | -2LAP |
| | COMPTON Katherine | USA | | DNF5 |
| | SELS Loes | BEL | | DNF5 |
| | DE BOER Sophie | NED | | DNF4 |
| | KAPTHEIJNS Maud | NED | | DNF2 |
| | HAVLIKOVA Pavla | CZE | | DNF1 |
| | ARZUFFI Alice Maria | ITA | LENSWORLD - KUOTA | DNF1 |