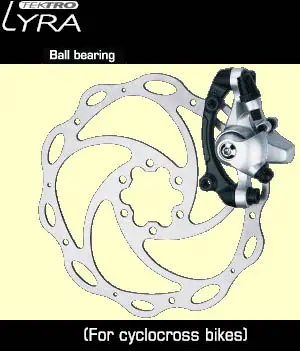 by Jamie Mack
Changes to UCI rules are often met with suspicion by traditionalists, and outright whining about new rules is not unusual. The latest rulings that 'crossers need to consider include the provision that disc brakes are now permitted. The debates are raging throughout the community and across the internet – good idea or a UCI decision many of us will regret? And there's an odd combination of responses. (Be sure to take our poll to the right or drop a comment below).
Of course there are the anti-UCI fanatics who denounced the ruling body's decision simply out of principle. But among the more level-headed responses there seem to be two camps: one is thrilled with the decision and the other, well, the other just doesn't seem to really care. Those in favor of the decision are shouting about increased options of frames and components. Many folks, though, plan on racing the way they've been racing and just don't see what all the excitement is about. 
Geoff Proctor, Euro Cross Camp Director and UCI Cyclocross Commission member, was able to provide some insight into the UCI ruling. "The discussion to allow disc brakes for cyclocross came after much presentation, study and discussion…. The commission tries to look at every angle before making a recommendation." According to Proctor, the rationale for the decision was based, at least in part, on improving rider safety. Proctor explains that, "Because it's a sport of adverse conditions, virtually every piece of equipment performs on a continuum of diminishing returns. This is abundantly clear when it comes to cantilever braking."
Is it a good decision? Absolutely. Disc brakes are made to excel in the conditions that 'cross racers seek out. Better modulation, improved mud clearing and consistent stopping power in sloppy conditions all work in favor of discs and support the UCI's rationale of improved safety.
Is it a bad idea? Maybe. There are drawbacks to using discs on a 'cross bike, many of which Cyclocross Magazine touched upon in a debate two years ago. Heavy components and limited frame and wheel options hamper the current popularity of discs in 'cross. And the forces created by disc brakes will bring about questions of frame, fork and wheel strength, especially over the course of a season.
One of the major knocks against disc brakes on 'cross bikes right now is the lack of options. The opening of the Elite ranks to the new technology will likely begin a move by some top riders seeking the more consistent stopping power of discs. Once these riders are on the bandwagon, the manufacturers will increase investment in development and production of the new stoppers.
Why will this be an improvement over options available now? Because up until now most brakes were converted mountain bike designs that worked, but had disadvantages in weight and limited compatibility with road levers. As use of disc brakes in 'cross increases, more hubs and frames will become available and brakes will move from being MTB crossover tech to road-specific designs with lighter weight and more lever and caliper choices than currently available.
Many will say that allowing disc brakes is a questionable decision because cyclocross is a sport based in tradition. With the exception of the more exotic materials in frames and components, there has been little significant technological advance in our sport in the last couple of decades. And seeing a step forward like this does feel like we are giving up something from the core of the sport. Proctor adds, "Part of the rich history to cyclocross is the emphasis the sport places on the rider's ability to pilot his or her bike." The addition of disc brakes to a typical 'cross bike would give a mechanical, or hydraulic, leg up on a rider without the same equipment, minimizing the importance of handling and finesse. And, let's be honest, careening around a tight corner on the verge of out-of-control is one of the best feelings in this sport. Do we really want to let equipment take some of that thrill away?
Riders in favor of discs are pontificating about the increased stopping power and better modulation of discs. Others are lamenting the prospect of having to retrofit or simply replace frames, wheels, levers and other components to make the switch. The debate will likely continue for some time, even through the upcoming season. Before you start clipping spokes to replace hubs (Wait, does anyone else still build their own wheels?) or auctioning off your current stable of frames, you're going to need to decide which camp you're sleeping in. Drop a comment below or in the forums to let us know where you stand.