Introducing… Shoe Week! We at Cyclocross Magazine will run a week-long roundup in our search for shoes well-suited for 'cross, featuring everything from wicked cheap to ultra-bling. Some we love, others we don't – and we'll provide unbiased feedback on the lot. Several members of our staff will write about their experiences and preferences so you'll hear from a wide (and narrow) variety of feet. We'll start here with some of the mid-range options, which can be some of the best cyclocross performers out there.
Cyclocross gear has always been a bit of a hodge-podge mix of repurposed road and mountain bike goods. Although more and more cross-specific items continue to emerge – like frames, forks, tires and even wheels – the shoes typically come straight off of the mountain biking shelves.
What separates cyclocross from mountain biking is the guaranteed running involved. So, while a stiffer sole may be an asset for efficient power transfer to the pedals, a little bit of flexibility is necessary for comfortable running. Although many top cyclocross athletes do use the ultra-bling, carbon-soled, custom-fit mountain bike shoes, this is often due to sponsor obligations.

For most of us who are on budgets, cyclocross shoes in the $80 to $150 price range may offer the best all-around mix and value. Depending on the manufacturer, I'm typically looking at the third or fourth rung from the top for a good balance between stiffness, weight and comfort for running. Here are the key features:
I'd avoid carbon-fiber midsoles. Look for the nylon variety for all-around comfort.
A nice grippy tread. You likely won't know how good it is until you bust 'em out, so read reviews.
Any chance of sloppy mud? Get a pair with holes for Toe Spikes
Synthetic leather, used by almost all companies, stretches less, is more durable and will better survive the wet.
More solid, less mesh. Avoid the summer-weight shoes which will just collect water, grit, sand and mud
To ratchet or not? Generally, I prefer less costly Velcro straps to ratchets – unless there's lotsa mud. Get Velcro dirty enough and it won't hold, so a ratchet across the top of the foot can be a plus.
Reasonably lightweight
Traction behind the cleat area, for those who pre-unclip and rest the pedal there before dismounting.
Two of my favorite mid-range shoes:
Keep in mind that I have a relatively wide foot, so I favor models with a roomier toe box. Have a brand that works for you? Stick with it.
Shimano and Specialized are two of the biggest cycling shoe producers – and they both make good footwear products. Both of the models below work well for me.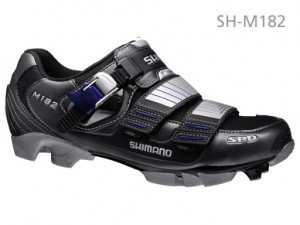 Shimano SH-M181/M182
The M182 is the updated version of the M181. It's one number higher, so it must be improved. These are Shimano's "expert-level" offering, a comfortable option with a great balance between pedaling and running performance. They offer a great fit,  secure closure and a grippy sole that doesn't get in the way of cleat/pedal interface like others can. Retail is $179.95 ($150 for the M181), but I've seen both on closeout for significantly less. Weight and performance of both models is similar. Toe spikes are included.
Key Features:
Nylon/glass-fiber sole offers a good blend of pedaling stiffness and flex for running
Micro-adjust top buckle and two Velcro straps
Composite toe spikes included
Advertised weight: 854 grams/pair for size 45
Sole lugs provide good traction
Well-suited for wider feet like mine
Another option is Shimano's M086L. These would be a decent newbie's option for those who never need toe spikes – they're not compatible. They're really reasonable at $109.
For more info, check Shimano's website.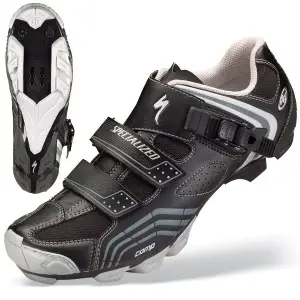 Specialized BG Comp
I went with the Spez's this year and have been extremely happy thus far. Specialized has been working with Dr. Andy Pruitt, Director of the Boulder Center for Sports Medicine, for the past several years to design their "Body Geometry" shoes. The result? Specialized claims improved comfort, reduced injuries and increased performance.
I can immediately attest to the first claim, comfort. These felt great right out of the box – to the extent that I didn't hesitate to race them the day after I bought them. A broken shoe helped with that decision, but they instantly made for happy feet.
After a couple of months of riding with these, they've remained comfortable and, other than some serious scuffing on the soles from highspeed dismounts, have held up great.
The Specialized lineup has a unique feel and positions your feet differently than other shoes. The shoes cant your foot slightly to the outside, with the idea of achieving a straight line from knee to pedal and reducing knee strain and injuries. At the very least, this will take some adjustment as there is a slight but noticeable difference to the positioning. While it works for me, it very well may not be effective for others.
Key Features:
Specialized's Body Geometry design will work great for many, but not for all
Combines decent pedal efficiency and running comfort
Accepts toe spikes (included)
Advertised weight: 810 grams/pair for size 42
Sole lugs provide good traction
Well-suited for wider feet like mine
Visit the Body Geometry of Specialized's website for info on varus wedges, longitudinal arches and metatarsal buttons.
Retail is $140 and they come with toe spikes.
Stay tuned for a whole bunch more shoe reviews all week!