For full coverage, schedules and information on the 2012 Cyclocross National Championships at Badger Prairie County Park in Madison, Wisconsin, visit our 2012 Cyclocross National Championships homepage.
by Ted Burns, Molly Hurford
VERONA, WISCONSIN— The day was cloudy but warm, and the course was greasier than yesterday's, since the racer's weren't even greeted with a frost when hitting the course for warmup laps in the morning.
Junior Women 10-12:
In the 10-12 field, while Carrley Smith (Boulder Junior Cycling) snagged the holeshot, her main competition, newbie 11-year-old racer Sydney Lach (Queen City Wheels/Lionhearts) was sticking to her wheel like glue. By the time the duo hit the first false flat, Lach came around Smith and never looked back, even catching some of the 13-14 racers. Despite this being her first year of racing cyclocross (and cycling in general), Lach's powerhouse motor served her well, and she crossed the finish line after two laps minutes ahead of Smith, who rolled in with a huge gap between herself and third place.
Sydney Lach's Post-Race Interview:
[youtube qHmKDzaYEvs 580 380]
See all of Cyclocross Magazine's 2012 USA Cycling National Championships video interviews here!
Junior Women 13-14: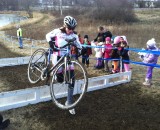 The race started with a bang when a crash at the gun took out several riders including Eden Webb (Red Zone Cycling), and Hailey Fortin (Get Out! New Mexico.). While most recovered, one unlucky rider was relegated for running to the pit from the very beginning.  Skylar Schneider (West Allis, WI) and Mina Anderberg (Sports Team-TEAM Fuji) developed an early gap and were furiously racing each other the first lap as they heard the bell for one to go. Second time up the hill Anderberg was able to get a small gap on Schneider, and extended it on the stairs.  Schneider put in several big digs the last lap to pull Anderberg back, but despite encouragement from her sister Sam Schneider, a pro road rider with Team TIBCO, Schneider could not match Anderbergs power through the technical sections of the course.
Anderberg, part of a large Colorado contingent at these national championships, hammered through the thick slippery mud with ease. "It's perfect conditions for me.  I love mud!" said Anderberg as she celebrated her third National Cyclocross title.  It was retribution for Anderberg who lost twice before to Schneider at at US Road and Criterium nationals.  "She put out a great race. I did everything I could," said Schneider. "I was putting out every piece of power I could, I was trying." Schneider hopes to go pro like the older sister, Samantha, so they can tackle the races "Like the Schleck brothers!"
Going into the finish Anderberg handily took the win, with Schneider seconds behind. The two were well over a minute ahead of the rest of the field, and the podium was rounded out by Ashley Zoerner (Groove Subaru-Alpha Bicycle Co.) in third, Frances Haley (Red Zone Cycling) in fourth and Gina Johnson (Village-Verdigris Cycling) in fifth.
Full race results below photo gallery.
Mina Anderberg Post-race Interview:
[youtube Kbd8Y7nQ_lI 580 380]
Skylar Schneider's Post-race Interview:
[youtube yZAomogGBoc 580 380]
See all of Cyclocross Magazine's 2012 USA Cycling National Championships video interviews here!
Photo Gallery:
Keep up to date on all of the action at 2012 Cyclocross Nationals on Cyclocross Magazine's 2012 Cyclocross National Championships homepage.
Junior Women10-12 Cyclocross National Championships 2012
| Place | Racer | City | Time | Team |
| --- | --- | --- | --- | --- |
| 1 | Sydney LACH | Cincinnati, OH | 28:51:00 | Queen City Wheels/Lionhearts |
| 2 | Carrley SMITH | Boulder, CO | 32:02:00 | Boulder Junior Cycling |
| 3 | Ella NEUROHR | Chicago, IL | 34:16:00 | Chicago Cuttin Crew |
| 4 | Petra SCHMIDTMANN | Nederland, CO | 34:44:00 | Black Sheep Cycles |
| 5 | Morgan FORTIN | Albuquerque, NM | 34:46:00 | Goathead Jr. Devo |
| 6 | Emma OSBORNE | Mequon, WI | 34:47:00 | ISCorp Cycling Team |
| 7 | Vianne HIBNER-HEREFORD | Albuquerque, NM | 42:10:00 | Goathead Jr. Devo |
| 8 | Anna SAVAGE | Westborough, MA | 44:07:00 | Minuteman Road Club |
| 9 | Tess ANDERSON | South Elgin, IL | 49:22:00 | Spin Doctor Cyclewerks Cycling Club/Spin Doctor Cyclewerks |
Junior Women 13-14 Cyclocross National Championships 2012
| Place | Racer | City | Time | Team |
| --- | --- | --- | --- | --- |
| 1 | Mina ANDERBERG | Louisville, CO | 22:40 | Sports T.E.A.M./T.E.A.M. Fuji |
| 2 | Skylar SCHNEIDER | West Allis, WI | 22:47 | |
| 3 | Ashley ZOERNER | Highlandsranch, CO | 24:35:00 | Groove Subaru-Alpha Bicycle Co |
| 4 | Frances HALEY | Louisville, KY | 25:04:00 | Red Zone Cycling |
| 5 | Gina JOHNSON | Park Ridge, IL | 25:54:00 | Village-Verdigris Cycling |
| 6 | Veda GERASIMEK | Transfer, PA | 26:26:00 | Young Medalists/ Team Rothrock/Young Medalists / Team Rothrock |
| 7 | Anya MALARSKI | St. Paul, MN | 27:29:00 | Gopher Wheelmen/Gopher Wheelman |
| 8 | Eden WEBB | Louisville, KY | 28:17:00 | Red Zone Cycling |
| 9 | Kennedy ADAMS | Stow, OH | 28:32:00 | WAS Labs Cycling |
| 10 | Hannah ECKVAHL | Alta Loma, CA | 28:33:00 | The TEAM |
| 11 | Emily CROFT | Toano, VA | 28:45:00 | James River Velo Sport |
| 12 | Alijah BEATTY | Washington, IA | 29:19:00 | Twisted Spokes Racing Team |
| 13 | Hannah ARENSMAN | Rutherford College, NC | 31:09:00 | |
| 14 | Hailey FORTIN | Albuquerque, NM | 31:18:00 | Get Out! New Mexico |
| 15 | Kate DIETRICH | Prospect, KY | 33:39:00 | Red Zone Cycling |