The Bikes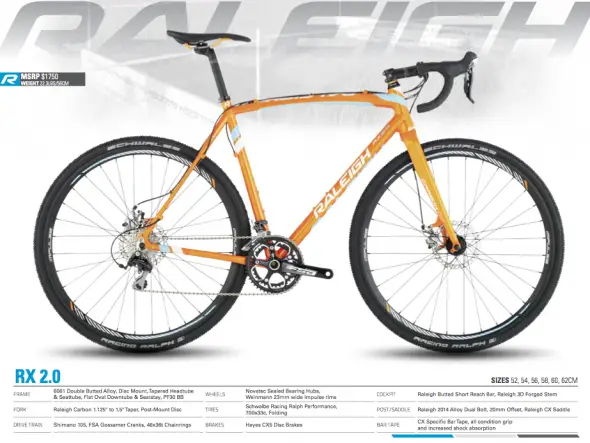 Bikes are a fun category for us, but it's important to note that our small staff doesn't ride all 100+ bikes on the market during one season. We give awards to a few of the top bikes of the 30+ we test in a season.
Best New Affordable Bike: Raleigh RX 2.0. Raleigh listened to our feedback and updated its aluminum platform with a lower bottom bracket, a two-bolt seatpost, Hayes CX5 disc brakes and race-ready Schwalbe Racing Ralph tires. For 1750 bucks, you get a great riding, Shimano 105-equipped orange bike that doesn't look like every other bike. (Last year's winner: KHS CX300)
Best Mid-Range Bike: Trek Crockett 9. For an Ultegra-equipped, sweet-riding, World Cup and National Championship-winning bike with some great aluminum frame technology, $2300 is a steal. And Trek got their geometry right this time.
Best Race Bike Under $4k: Felt's $3499 Ultegra 6800-equipped F3x is built just as we'd build our own bikes, down to brake cable housing and quick releases, and boasts some of the smartest specs we've seen. The ride is equally impressive—see our review in Issue 24 to learn why. (Last year's winner: Redline Conquest Carbon Pro)
Best Pro Bike: Kona SuperJake. The $5999 all-carbon, disc brake-equipped Super Jake leave no detail overlooked with great handling, quick acceleration, and versatility for offseason adventures with dual bottle and hidden fender mounts. Add lightness to the mix and the Kona carbon bikes are hard to beat. (Last year's winner: Specialized Crux Pro)
Dream Bike: Appleman CX. Tester Clifford Lee keeps coming back to his Appleman with a smile and doesn't like to share. Appleman will build the bike of your dreams, as long as it's carbon. (Last year's winner: Mosaic Cycles custom bike)
Best Frame: If you're building up a disc brake cyclocross bike or gravel bike from scratch, the Bailey Cyclocross Disc frameset should be on your short list. It boasts a race-oriented geometry and weight with the unique ability to run 29er tires or have best-in-class mud clearance. A SoCal company that builds a bike for mudders? Impressive. $1199.
2013/2014 Cyclocross Magazine Editors' Awards