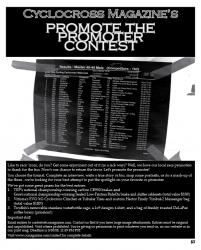 As some of you have seen in our print mag that's still traveling the country, we've got another contest running, which means another chance to win some really nice stuff.  TRP, Gore, Vittoria, Bike Mine, De La Paz Coffee, 1×9 Designs, Twofish and our own Hector Finely have all donated prizes for this contest.  It's a chance for you to get to know your local promoters a little better, and give them some exposure to the rest of the 'cross community.
Because USPS still has not delivered our mag everywhere, we're extending the deadline to April 10th to give our mid-west and east coast readers more time to get something in.  Read all about out Contest #2.
Got questions about the contest? Wanna sponsor our next one? Contact us.