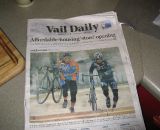 Last weekend, cyclocross made its spring debut in Eagle, Colorado. A Friday storm brought fresh snow and a challenging drive to the race, but racers were greeted with perfect 'cross conditions, with snow, mud and frozen tundra waiting to put a fresh coat of 'cross dressing on their dried-out bikes. The races even made the front page of the Vail Daily newspaper with a story on the new spring series. The race brought out pros, first-timers, and baby-carrying racer moms alike, and the series continues with the finale and party on March 29th. Read promoter Larry Grossman's report below, or the Vail Daily article here. More details about the series and the March 29th race can be found on the Cult Cross website.
The First Cult Cross Weekend
Saturday morning. The first ever for a Cult Cross race, greeted both local racers and those who braved the two hour drive from the front range of Colorado with blue skies, cool temps and absolutely classic cyclocross conditions. The course at the Eagle Fairgrounds was a combination of muddy barrier sections and run-ups, single track through a foot of snow in the main meadow, an energy-sapping one hundred yard "snow run" and the "truth or dare" bridge. The day started off with typical good CX karma as the Chiarani family was first to pull into the Fairgrounds lot and immediately offered up a hot cup of coffee to me which I gladly accepted. As racers poured into the venue, the P.A. warmed up with a series of "rock jam" tunes to get the riders pumped and the final push was the classic "More Cowbell" tune from Blue Oyster Cult as race one got under way. Each race started with a sprint across the dirt of a neutral parking area out to a set of cones where riders then sprinted back across that area to the monster run-up, which then guided the racers on to the course lap. It was apparent early that the intensity of CX racing in the spring would match every bit of fall CX racing as Slipstream Junior racers Dean Haas, Joe Haulman and Mario Chiarani (Jamis), laid it down from the start and set the tone for the rest of the days racing. The group stayed together for the first two laps before Dean Haas was able to gain a gap over Mario C. and hold it for the first ever Cult Cross victory.
Master's racing provided the upset of the day with Charlie Brown of the Mountain Pedaler in Eagle putting a beat down on probably the stronger rider on the road but less experiences CX racer, Peter Davis. It was clear that Charlie's experience CX racing for years gave him the advantage as the race wore on. Peter Davis, a former Tour of Chile polka dot jersey winner in his youth when he raced for Crest, simply did not have the form in the mud and in the barrier sections to keep up with Charlie's flawless cross technique.
The inspiration of the day was Loren Hettinger, 67 years young, ripping laps around the course with grace as he finished with a smile on his face…I want to grow up to be like Loren.
Todd Smith from Summit County, just over Vail Pass, was an easy winner in the 35+ race and the Men's Cat 4 race was indeed the most exciting of the day with Seth Smekal going off the front on the very first run-up. He was chased like a hound dog on a fox by Chad Demoss for thirty five minutes, and just when it looked as though Chad might be cracked, a stunning effort with two laps to go brought him back to the race leader and the race was decided in the "Abominable snow run" where Demoss was able to pull away from Smekal for the victory. The two are apparently good friends on the Front Range and they battled like brothers over the last pork chop on the table on this day, of course when it was all over, congrats and handshakes were the observations.
Meagan Myrick had little to worry about as she won the women's open race…
Jake Wells continued his local domination of the pro race, despite breaking his rear derailleur during warm up laps and having to convert to singlespeed just prior to race start. Jake even managed to down a Dale's Pale Ale, compliments of the Oskar Blews Brewery, on about lap six or so…..
Day two at the Gypsum Rec Center and Town Park saw racers enjoy what one described as a "state championship course". The course started on a soccer pitch, with a series of short barriers to conquer after the monsters of the previous day. Racers were then greeted with a series of technical switchbacks which led them to the lower grassy level of the course before an off-camber section, followed by a snow covered run-up to lead them back to the upper portion of the course. More than one racer had difficulty in the switchbacks, which were unmerciful if you missed your line. Racers were clearly fatigued from the previous day's racing, but battled like champions over the fun and challenging terrain. Cult Cross Race #3 looks as though it's gonna be a barn burner with a new layout at the Eagle Fairgrounds. With most of the snow already gone, it's gonna be a power course with a couple of short technical sections.
The "spirit of cross" was evident all weekend, racers were psyched to be mudding up their bikes and were gracious and thankful for the event. Looks as though Cult Cross is here to stay, folks. That's right, SPRING cyclocross is now on the map. People who I'd never met offered help with course breakdown and set-up. Despite the unusual timing of the races, they boasted a great "cross vibe," according to Brian Hutchison, Saturday's singlespeed winner and second place in Sunday's pro race. Most importantly, everyone who raced or spectated rang more cowbell, and had a huge grin when it was all over. Perfect.
[Gallery not found]
Video highlights of the race and trailer for upcoming coverage on RSN:

Current Series Leaders:
Pro/Open Men
Jake Wells-200pts, Brian Hutchison-85 Points, Chad From Oskar Blues Brewery-A Hangover.Pro/Open Women
Meagan Myrick-200 PointsJuniors
Dean Hass-100 Pts, Mario Chiarani-85 Pts, Joe Haulman-80 Points
Senior Men 45+
Charlie Brown-200 Pts, Peter Fn Davis-170 Pts, Scott Van Deren-80 Pts, John Chanbandour-75pts.
Senior Men 65+
Loren Hettinger-200 Pts.
Senior Men 35+
Mike Gibbs-180 Pts, Brian Bruggmann-160 Pts, Dave Burns-145 Pts, Todd Smith-100 Pts, Brian Hutchison-85 Pts, Jon Ridler Brah-70 Points, Gerry Reynolds-60 Pts, Larry Gruel-55pts.
Cat 4 Men
Seth Smekal-185 Pts, Matthew Pronovost-150 Pts, Eric Rubottom-135 Points, Chad Demoss-100 Points, Brennan Stege-85 Pts, Drew Sprafke-80 Pts, William Hass-70 Pts, Bob Pricto-65 Pts, Kirk Peterson-60 Pts, Christopher Kehoe-50 Points, Scott Beegun 45 Pts.
Cat 3 Men
Coutney Wawawawazup Gregory-185 Pts, Hank Pool-185 Pts, Damien Fraser-155 Pts, Tim Kelley-80 Pts, Brian Bruggman-75 Pts.
Singlespeed
Brian Hutchison-100 Pts, Charlie Brown-100pts, Jono Brah Riler-85 Pts.
Cat 4 Women
Linda Wells-100 Pts.
Under 10 Kids
Alex Davis-200 Pts, Sam Brown 85 Pts.