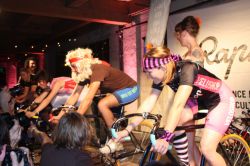 Report and Photos by Brooke Hoyer
New England Worlds might have been going on in Gloucester and Cincinnati might have been hosting some big races, but Portland had the cool factor going on this weekend. Oregon Manifest, a hand-built bicycle show featuring Oregon builders (mostly), kicked off Friday, continued through Saturday and wrapped up on Sunday with an expo at the Cross Crusade race. Because fall in Portland is synonymous with cross, the show had a cyclocross focus and most of the builders had a cross bike or four to show. The bike of the show belonged to Sean of Vertigo Cycles LLC. Look for pictures in an upcoming issue of the print mag.
Oregon Manifest wrapped up the show on Saturday and provided a launch point for the Rapha Rollers Races on Saturday evening. This edition of the popular event had a cyclocross flavor with the racers dismounting after their 500 meters and taking a lap around the room carrying a Zoobomb bike (beat up toddler bike). First to ring the cowbell wins the heat. The teams dressed crazily, the beer was tasty and cheap, and the crowd was awesome. Yours truly participated in the event and even though I didn't make it out of the first round, I had a blast. And let me tell you, running after spinning like crazy for 20 seconds is a lot tougher than it sounds. Craig Etheridge of team Seattle Sabotage (Raleigh) pulled off the win and will get a Signal cross frame. Maybe he was familiar with the Raleigh Rush Hour bikes used in the races? Megan Ferris won the women's division and a brand new Sweetpea cross frame. See a video of the action here.
The weather continued to cooperate on Sunday for the second Cross Crusade race of the year. The early clouds burned off, the mercury rose to a balmy 62 degrees, and 1,213 racers turned out to test a new venue for the Crusade. Villebois, a new Wilsonville community, hosted the race. The course traversed the grounds of the now demolished Dammasch State (Mental) Hospital. The course was strewn with tire popping gravel and was brutally bumpy. 199 women raced including a massive women's beginner field of 68 racers. Between the kiddie kross race and the women's races, the Oregon Manifest builders took their show bikes out for a lap around the course. Unfortunately, there wasn't any mud to speak of so those pretty bikes didn't get more than a patina of dust.
Women A
1 Williams Wendy – River City Bicycles
2 Pennington Alice – DeSalvo Cycles
3 VanMeter Emily – River City Bicycles
4 Stoick Bridgett – River City Bicycles
5 Faris Megan – River City Bicycles
6 Flaherty Colleen – Veloce/Felt
7 Brubaker Tina – Vanilla
8 Alvares Marila – Bike Gallery
9 Browning Julie – Cyclepath Racing
10 Mazza Rhonda – Team S&M

Category A
1 Sager Jason – Sager Sports.com
2 Sheppard Chris – Santa Cruz
3 Hulick Kevin – Vanilla Bicycles
4 Bradford-Parish Kevin – Redline
5 Brown Ian – River City Bicycles/Tonic
6 Woras Soloman – Vanilla Bicycles
7 Skerritt Shannon – Vanilla Bicycles
8 Brandt Chris – Collins/Specialized
9 Angelini Rulle Giacarlo – Redline
10 Blackwelder Mark – Gentle Lovers