PORTLAND, OREGON – Civilian Bicycle Company, of Portland, Oregon announces the pre-sale of its four 2013 cyclocross models in limited quantities.
This also marks Civilian's first release of bikes since being back in the hands of its founder, Tyson Hart. After a short time as the bicycle house-brand for an online retailer, and just when you thought they went the way of the dodo, Civilian is back with an initial brand offering focused on cyclocross – something the company is extremely dedicated and passionate about.
Once again, the frames bear the Hart Design aesthetic and versatility, with some rider-enhanced functional improvements like 135mm rear-spacing, PF30 bottom bracket, machined head tube and a Hart Design CXAR carbon fork. The 2013 season also introduces two new de lux models; the belt-drive Le Roi Le Veut de lux, and Shimano Ultegra/105-level Vive Le Roi de lux ($1499 and $2049 respectively), as well as the belt-ready Le Roi Le Veut de lux frame set being offered for $899. Once again the line up includes the single speed Le Roi Le Veut ($1199), and the ever-popular 1×10-speed Vive Le Roi ($1499). All bikes sport Ritchey cockpits, FSA cranksets, and Avid disc brake stopping power.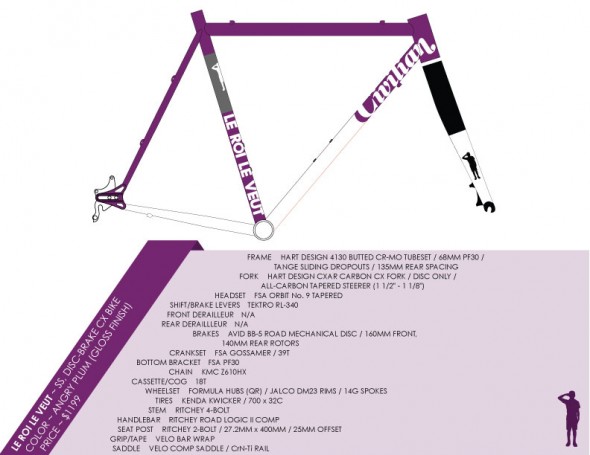 Getting your 2013 Civilian cyclocross call-up is easy. Simply pick your model and size, email [email protected] with your order, make sure to include your address, phone, and best time to call. They will give you a call to finalize the order and for you to provide them with your credit card information. Bikes will to ship around July 1st, 2013.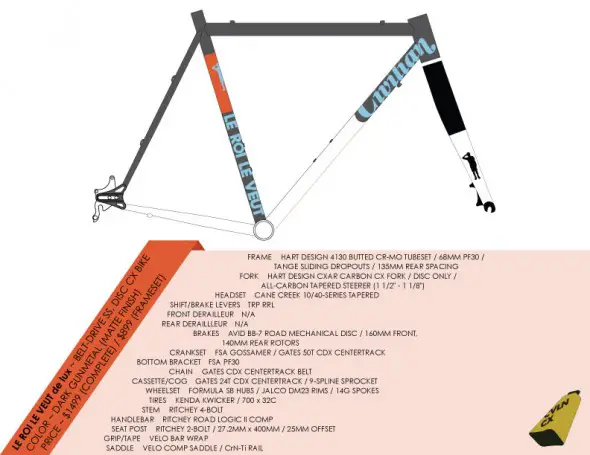 This is a limited-time offer with limited quantities (more than 1, less then 100) available, so get your call-up now.